Monday 5th December 2011 Queen's Park in Chesterfield will be getting festive this Saturday 10th December, with the return of the annual "Winter Festivities in the Park" event.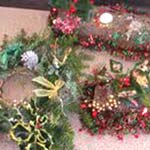 The event takes place from 10am - 3pm next to Frederick's cafe. If the weather is inclement this will be held inside the cafe.

Members of the public are invited to come along, get creative and make their own Christmas wreath to take home or a festive Yuletide log for the table.

There will also be a hunt for Santa's reindeer and the chance to make your own bird feeder.

The event is subject to cancellation if bad weather develops.

For more information please contact Sarah West, Queen's Park Development Officer Tel: 01246 345123 or Email: sarah.west@chesterfield.gov.uk
Links to Relevant Websites

RELATED STORIES
£47k AWARD FORM BIFFA AWARD FOR STAND ROAD PARK -
The Friends of Stand Road Park has been awarded £47,000 from Biffa Award to build an adventure play area for young children at Whittington Moor, Chesterfield. More...
KING V PARLIAMENT THIS BANK HOLIDAY CHESTERFIELD STYLE! -
History will come alive as the English Civil War is staged in Holmebrook Valley Park in Chesterfield this Bank Holiday weekend More...
CHESTERFIELD'S QUEEN'S PARK SAYS 'FEED THE BIRDS' -
More than 100 bird lovers flocked to Queen's Park to take part in a nest box building event organised by Chesterfield Borough Council. More...
DIAMOND JUBILEE FUNDING BOOST FOR EASTWOOD PARK -
News today that Hasland has received a £25,000 funding boost from SITA Trust's QE2 Fields Fund to provide an outdoor gym and piece of dynamic play equipment at Eastwood Park More...

WHAT ARE YOUR MEMORIES OF EASTWOOD PARK? -
Chesterfield residents are being invited to share their special memories of Eastwood Park in Hasland, as part of a project to create a magnificent feature archway. More...
EASTWOOD PARK CLOSES FOR RESTORATION WORK -
Eastwood Park in Hasland, Chesterfield closes it's gates for 4 weeks from Monday 3rd September as work starts on major restoration project. More...
GET READY TO RAMBLE IN POOLSBROOK COUNTRY PARK -
Local residents are being encouraged to pull on their wellies or walking boots and to take a healthy stroll around Poolsbrook Country Park this Summer. More...
FAMILY FESTIVE FUN IN HASLAND -
Christmas is coming early in Hasland with a free family fun day to be held in Eastwood Park on Saturday, December 10th. More...