Thursday 21st November 2019



Woodlands Care Home have created a revamp of the Cinderella panto (basically re-writing it!) and invite you to come along and join in the fun!




They are introducing a twist to the usual funny people such as the much loved Buttons and the hysterical Dame... Will cinderella go to the ball?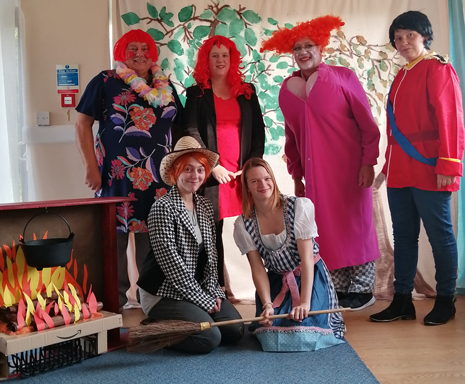 Come and see this new and funnier version with some qwerky, adapted songs (such as the 12 days of Christmas) being hilarious - but also including things which are associated with the interesting and amazing Woodlands Care Home in Holme Hall which has bounced back from its past!

The Woodlands Care Home is at Wardgate Way, Holme Hall in Chesterfield
The date to remember is Friday 20th December with the performance starting at 5pm (interval with snacks will be provided for a small charge whoch will go towards the residents fund).
The Admission/Ticket Price is just £1.00!

See you there!
OTHER STORIES
2018 IS SET TO BECOME THE YEAR
OF E-COMMERCE -
E-commerce has come to dominate marketing and is set to continue as it's going in 2018, with an emphasis on carrying on the incredible sales growth it's seen already More...
WHY HAS UK HOUSEHOLD DEBT BEEN RISING? -
Since the 2008 financial crisis, which saw countless banks and businesses go bust, the world has been in a state of recovery. More...
THE 'GAMIFICATION' OF ONLINE SLOTS -
Gamification is the process of adding more features to classic games such as slots or mini-games. More...
WHY IT MIGHT BE
TIME TO RETHINK YOUR BUSINESS FLEET -
The electric car revolution may be here sooner than first thought. What are the Options? More...
IS CHESTERFIELD'S TOWN CENTRE ENJOYING A RENAISSANCE? -
With the festive season underway, Chesterfield's shops will be helping everyone enjoy the retail boom that accompanies this time of year. More...
CHESTERFIELD'S REMEMBRANCE SUNDAY -
They came to remember and, in scenes replicated across the UK, Chesterfield's veterans shared their private memories of war on the most public of occasions - Remembrance Sunday. More & Audio...
ARMISTICE DAY IS HONOURED IN CHESTERFIELD -
On a day of Remembrance, Chesterfield came to a standstill to pay respects to serviceman who lost their lives in conflicts passed and present. More & Video...
CHESTERFIELD REMEMBERS THE FALLEN -
Chesterfield residents can remember those who have lost their lives in war at a series of events organised by Chesterfield Borough Council.
More & Video...
LOCAL AND BRITISH HIGH STREETS SEE SHARP DECLINE IN SHOPPERS -
Figures released by the British Retail Consortium show that in September 2017, there was 2.2% decline in the number of shoppers visiting British high streets. More...
LOCAL INDUSTRIES CONCERNED BY LEAKED POST BREXIT IMMIGRATION PLANS -
The leaked post-Brexit immigration plans could have a concerning impact upon many industries in Chesterfield and nationally if they are followed through once the UK leaves the EU. More...