Friday 6th December 2019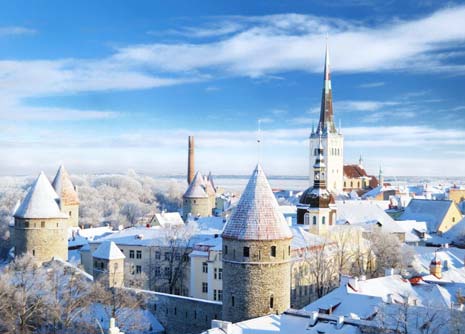 The weather is pretty miserable in Chesterfield right now and summer feels like a very long way off.
So, if you are thinking about getting away from the cold and the rain, here are some ideas for a last minute winter break:
Tenerife
The Canary Islands offer warm weather for the majority of the year, meaning that it is one of the places within a five-hour flight that will get you some sunshine.

Of course, it isn't guaranteed but the weather this week in Tenerife has been over 20 degrees Celsius and not too much cloud either. If you are dreaming about getting some warm sun on your skin before the busy Christmas period, then Tenerife is a good option.
Berlin
If you would rather leave the sun and get in the Christmas spirit early with a visit to the best Christmas markets in the world, then head to Berlin for a few days.

With flights of just under two hours, you will be able to squeeze in a long weekend and enjoy the Christmassy vibrancy of the beautiful city of Berlin. There are plenty of cultural trips to do around Berlin too, with some amazing architecture to see. The Berlin Wall Memorial and Checkpoint Charlie are worth a visit.
New York
One of the most magical places in the world to visit at Christmas time is New York.

It will be cold and probably snowing, but it looks very pretty and is the ultimate White Christmas scenery. If you visit over New Year then you can experience the amazing gathering at Times Square where the famous Ball-drop happens for the New Year countdown. If you want to celebrate in style then that is definitely the place to be, with famous singers entertaining the huge volumes of crowds that make their way to Times Square.
If you are planning to visit New York or anywhere else in the US, then it is important to remember that you will require some travel authorization such as a visa or an ESTA. UK citizens are eligible to apply for an ESTA USA, which is a quicker process then applying for a full visa and it is quick and easy to apply for.
The Maldives
If you are happy to travel for longer in search of some warm weather then the Maldives has temperatures of around 30 degrees Celsius at this time of year.

Sit back and relax on the beach as you recharge the batteries and prepare yourself for the excitement of Christmas. Flights are around 13 hours long from the UK to the Maldives but you will probably find it is worth it just to get the sun.

Whatever you decide to do, it is always nice to have a break in the lead up to the festive period, as this time of year can be very draining, with family commitments, shopping, cooking etc. and often the family quarrels that tend to break out over Christmas!
OTHER STORIES
2018 IS SET TO BECOME THE YEAR
OF E-COMMERCE -
E-commerce has come to dominate marketing and is set to continue as it's going in 2018, with an emphasis on carrying on the incredible sales growth it's seen already More...
WHY HAS UK HOUSEHOLD DEBT BEEN RISING? -
Since the 2008 financial crisis, which saw countless banks and businesses go bust, the world has been in a state of recovery. More...
THE 'GAMIFICATION' OF ONLINE SLOTS -
Gamification is the process of adding more features to classic games such as slots or mini-games. More...
WHY IT MIGHT BE
TIME TO RETHINK YOUR BUSINESS FLEET -
The electric car revolution may be here sooner than first thought. What are the Options? More...
IS CHESTERFIELD'S TOWN CENTRE ENJOYING A RENAISSANCE? -
With the festive season underway, Chesterfield's shops will be helping everyone enjoy the retail boom that accompanies this time of year. More...
CHESTERFIELD'S REMEMBRANCE SUNDAY -
They came to remember and, in scenes replicated across the UK, Chesterfield's veterans shared their private memories of war on the most public of occasions - Remembrance Sunday. More & Audio...
ARMISTICE DAY IS HONOURED IN CHESTERFIELD -
On a day of Remembrance, Chesterfield came to a standstill to pay respects to serviceman who lost their lives in conflicts passed and present. More & Video...
CHESTERFIELD REMEMBERS THE FALLEN -
Chesterfield residents can remember those who have lost their lives in war at a series of events organised by Chesterfield Borough Council.
More & Video...
LOCAL AND BRITISH HIGH STREETS SEE SHARP DECLINE IN SHOPPERS -
Figures released by the British Retail Consortium show that in September 2017, there was 2.2% decline in the number of shoppers visiting British high streets. More...
LOCAL INDUSTRIES CONCERNED BY LEAKED POST BREXIT IMMIGRATION PLANS -
The leaked post-Brexit immigration plans could have a concerning impact upon many industries in Chesterfield and nationally if they are followed through once the UK leaves the EU. More...