Saturday 25th January 2020



Ever since the end of November 2019, when Chesterfield's local bingo hut put up £43,200-worth of prize money across several events, residents all over the town have been looking for ways to enhance their bingo play.

Some want to experience the thrills of jackpot-winning competition, while others want to perfect their bingo play so that the next time a big-money bingo bonanza comes to Chesterfield, they'll be ready to land all of the prizes.

As bingo has made a tremendous comeback in the UK - enough to attract Nadine Coyle to headline the upcoming Bongo's Bingo event in Blackpool - some will be online looking for tips and hints for when they come around to play the classic British game of numbered balls.

Here, to prepare the people of Chesterfield for the best night of bingo, we're revealing some proper bingo life hacks to enhance your gaming.
Maximise Playing Time
With Available Jackpot Games

Source: Pixabay

One of the biggest reasons why people are starting to perk up to bingo is that it's no longer just hours of slow gaming for relatively small prizes: it can be whenever you want, and it gives access to big jackpot prizes.

While sometimes big in-house prizes are going, the more common space of bingo has brought in these eye-catching prizes by combining its online platforms with other popular online games to offer progressive jackpots.

Now, when you're playing online bingo, you can play jackpot bingo games while you wait for the next game in your favourite room to get underway.

The progressive jackpots continue to climb in value until they are won, at which point they return to a hefty seed price. Best of all, the Daily Jackpot has to be won every day by someone, adding another element of excitement to the whole bingo experience while playing online.

With jackpots readily available to be played for on the same platform, bingo fans can enjoy the classic game and seamlessly move over to the jackpot games.

It makes for a much more varied but still bingo-oriented gaming experience.
Playing Multiple Cards With
As Many Different Numbers As Possible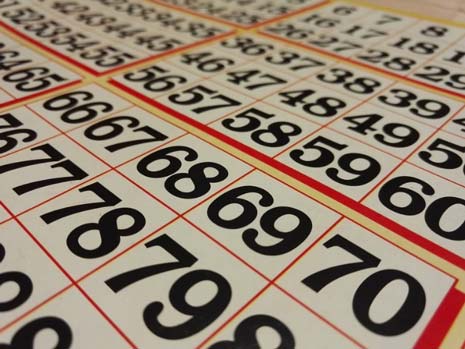 Source: Pixabay

As bingo is fully designed to be a game of luck and randomness, there are very few ways that you can increase your chances of winning.

However, by buying multiple cards and playing as many different numbers as you can across those cards, you greatly increase your odds of winning a game of bingo.

In bingo, if everyone in the hall buys X amount of cards as a standard, the best way to get the edge is to buy more cards. The more cards that you have, the greater your chances are of winning. Given the amount of prize money on offer and taking into consideration the number of other cards in play, you won't want to go too mad as having more cards still doesn't entirely guarantee you a win.

To streamline this strategy, you'll want to make sure that your cards don't duplicate any numbers. By having a wide selection of the numbers - preferably one of each across your cards - you're guaranteed to be able to dot a card on every call.

If you want to enjoy the jackpot bingo thrills seen in Chesterfield in November last year, be sure to play on a platform that offers big progressive prizes, play multiple cards, and cover as many different numbers as you can per game.
OTHER STORIES
2018 IS SET TO BECOME THE YEAR
OF E-COMMERCE -
E-commerce has come to dominate marketing and is set to continue as it's going in 2018, with an emphasis on carrying on the incredible sales growth it's seen already More...
WHY HAS UK HOUSEHOLD DEBT BEEN RISING? -
Since the 2008 financial crisis, which saw countless banks and businesses go bust, the world has been in a state of recovery. More...
THE 'GAMIFICATION' OF ONLINE SLOTS -
Gamification is the process of adding more features to classic games such as slots or mini-games. More...
WHY IT MIGHT BE
TIME TO RETHINK YOUR BUSINESS FLEET -
The electric car revolution may be here sooner than first thought. What are the Options? More...
IS CHESTERFIELD'S TOWN CENTRE ENJOYING A RENAISSANCE? -
With the festive season underway, Chesterfield's shops will be helping everyone enjoy the retail boom that accompanies this time of year. More...
CHESTERFIELD'S REMEMBRANCE SUNDAY -
They came to remember and, in scenes replicated across the UK, Chesterfield's veterans shared their private memories of war on the most public of occasions - Remembrance Sunday. More & Audio...
ARMISTICE DAY IS HONOURED IN CHESTERFIELD -
On a day of Remembrance, Chesterfield came to a standstill to pay respects to serviceman who lost their lives in conflicts passed and present. More & Video...
CHESTERFIELD REMEMBERS THE FALLEN -
Chesterfield residents can remember those who have lost their lives in war at a series of events organised by Chesterfield Borough Council.
More & Video...
LOCAL AND BRITISH HIGH STREETS SEE SHARP DECLINE IN SHOPPERS -
Figures released by the British Retail Consortium show that in September 2017, there was 2.2% decline in the number of shoppers visiting British high streets. More...
LOCAL INDUSTRIES CONCERNED BY LEAKED POST BREXIT IMMIGRATION PLANS -
The leaked post-Brexit immigration plans could have a concerning impact upon many industries in Chesterfield and nationally if they are followed through once the UK leaves the EU. More...