Thursday 16th April 2020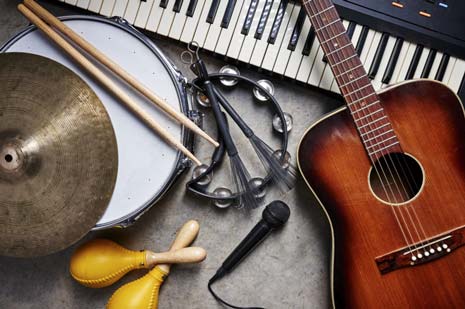 These days, you can play online roulette anytime and anywhere! But back in the day it was quite different.

To play Roulette, along with many other casino-based games, you would have to go and visit an in-house location. This grew into a large party-like atmosphere and many entertainers flocked to join the scene!

Over the years, many artists have taken inspiration from the atmosphere and themes of the casino to create great songs across all available genres.

Deals with the devil, ladies filled with luck and the ace of spades feature in some of our musical favourites, creating the perfect playlist for any casino lover.

Below you will find a list of the very best we can find of melodic tributes to the world of gambling!

No compilation of casino-based songs would be complete without mentioning the one and only Frank Sinatra.

In the 1960s Sinatra was a regular at Las Vegas casinos, also performing at quite a few along the way!

He also went on to play prolific gambler Nathan Detroit in the much-loved movie Guys and Dolls. Prior to his time in Las Vegas, in 1950 Sinatra released the well-known jazz classic Luck Be A Lady, where listeners hear the singer beg for the casino gods to be on his side as he places a risky bet.

Listen to his woes below:
The King of Rock and Roll himself, Mr. Elvis Presley, went on to perform numerous songs based on the bright lights and money-charged theme of Vegas gambling.

Presley appeared in and produced a number of questionable films over the span of his early career, perfecting the role of the soft and gentle heart throb that every girl would dream of.

Within these entertaining feature films, the King would never fail to break out into song and give a performance that all could enjoy. In 1963, Presley starred in Viva Las Vegas, penning a song of the exact same name. The film sees the star play an out-of-luck race-driver who is tiresomely trying to win enough cash to buy himself a new car.

The song promotes a glamorous image of "a thousand pretty women" and having a "whole lot of money that's ready to burn", truly adding to the hype of the casino capital.
Elvis Presley's next gambling theme tune came with the release of a Little Less Conversation in 1968.

At this point, Presley had played Las Vegas on numerous occasions, by popular demand, and earned a level of prestige which meant that he will now be forever associated with the bright lights of the city.

As the song says, any avid Casino player will ferociously be of the opinion that "a little less conversation, a little more action please" is how any gambler's game should be played.

The song went on to be featured in many films, with a resurgent remix seeing the track used in that iconic scene from Ocean's Eleven.
The last honourable mention goes to the pop bombshell Katy Perry.

In 2009, Perry released the track, alongside her debut album. Waking up in Vegas features everything that you would expect to find in a tune about Sin City.

Quoted is the infamous line "what happens in Vegas, stays in Vegas" - if only that was true!

The accompanying video to this hit single shows the singer dolled up to the nines and trying her luck on the Blackjack tables, ending up at the alter with a faux Elvis priest. Somewhat cliché, yes, but simply has to be done.
OTHER STORIES
2018 IS SET TO BECOME THE YEAR
OF E-COMMERCE -
E-commerce has come to dominate marketing and is set to continue as it's going in 2018, with an emphasis on carrying on the incredible sales growth it's seen already More...
WHY HAS UK HOUSEHOLD DEBT BEEN RISING? -
Since the 2008 financial crisis, which saw countless banks and businesses go bust, the world has been in a state of recovery. More...
THE 'GAMIFICATION' OF ONLINE SLOTS -
Gamification is the process of adding more features to classic games such as slots or mini-games. More...
WHY IT MIGHT BE
TIME TO RETHINK YOUR BUSINESS FLEET -
The electric car revolution may be here sooner than first thought. What are the Options? More...
IS CHESTERFIELD'S TOWN CENTRE ENJOYING A RENAISSANCE? -
With the festive season underway, Chesterfield's shops will be helping everyone enjoy the retail boom that accompanies this time of year. More...
CHESTERFIELD'S REMEMBRANCE SUNDAY -
They came to remember and, in scenes replicated across the UK, Chesterfield's veterans shared their private memories of war on the most public of occasions - Remembrance Sunday. More & Audio...
ARMISTICE DAY IS HONOURED IN CHESTERFIELD -
On a day of Remembrance, Chesterfield came to a standstill to pay respects to serviceman who lost their lives in conflicts passed and present. More & Video...
CHESTERFIELD REMEMBERS THE FALLEN -
Chesterfield residents can remember those who have lost their lives in war at a series of events organised by Chesterfield Borough Council.
More & Video...
LOCAL AND BRITISH HIGH STREETS SEE SHARP DECLINE IN SHOPPERS -
Figures released by the British Retail Consortium show that in September 2017, there was 2.2% decline in the number of shoppers visiting British high streets. More...
LOCAL INDUSTRIES CONCERNED BY LEAKED POST BREXIT IMMIGRATION PLANS -
The leaked post-Brexit immigration plans could have a concerning impact upon many industries in Chesterfield and nationally if they are followed through once the UK leaves the EU. More...