Saturday 2nd May 2020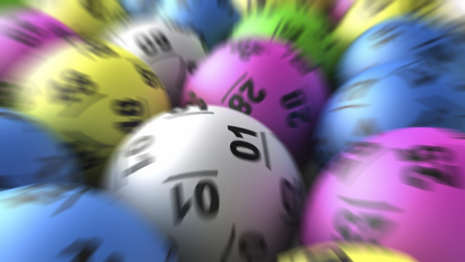 The UK National Lotto (famously known as the National Lottery) is currently the most popular lottery in the United Kingdom.

Launched in 1994, it's simple and offers multiple games, including Lotto, Thunderball, and Lotto Hot Picks.

Tickets cost just £2, and you have a 1-in-14 million chance of winning the jackpot. Better still, over six million people win a prize of some sort on the lottery every week.

To date, more than 5 million people have won at least £1 million in the lottery.
For the above reasons, the National Lottery is incredibly popular. More than 70% of the UK population play in it each year.

So, what if you're not a fan?
Here Are Ten Exceptional Alternatives...
1. The Euromillions
The Euromillions is a transnational lottery where you pick seven correct numbers to win the jackpot.

It has 13 different prize tiers meaning that the chances of winning any prize are 1-in-13. The odds of winning the jackpot, meanwhile, is 1-in-139.8 million. Euromillion jackpot prices are enormous - occasionally rising to over £100 million. Tickets cost £2.50.
2. The People's Post Code Lottery
Here, your entry is your postcode. But, there's a twist; when you win, you share the prize money with all the players in your postcode.

The Post Code lottery has a monthly jackpot worth £2 million. Each winner takes home a maximum of £400,000. You have a 1-in-162,000 chance of winning the jackpot.
3. The Health Lottery
The Health Lottery isn't a lottery in itself but a partnership between 51 lotteries representing local authorities in the United Kingdom.

Winnings are capped at £100,000 per person. But, you're seven times more likely to win here than in the UK Lottery. Tickets are also much cheaper at just £1 or 50p.
4. The Irish Lotto
You may also want to try the Irish Lottery here to see if it makes a good alternative to the UK national lottery.

A few quick facts on the Lotto include a lower (1-in-10.74 million) chance of winning the jackpot and fair ticket prices of just £2. The primary jackpot, however, is small at £14 million.
5. The French Lotto
Created in 1976, the French Lotto has a minimum jackpot of €2 million (£1.76 million), though the pot increases by €1 (£0.88) million every week if there's no winner - for a maximum of 34 draws.

Ticket prices cost €3.20 (approximately £2.80), and the chances of winning the main jackpot are 1-in-19.07 million.
6. The Swedish Lotto
This Lotto offers two main entries - Lotto 1 and Lotto 2.

If you play Lotto 1, you get the chance to play Lotto 2. Lotto 1 prizes start at one million Swedish Krona (£80,808.52) but have previously risen to 237 million Krona (£19.5 million). Tickets cost £2, and you have a 1-in-6.72 million chance of winning the jackpot.
7. The Polish Lotto
The Polish Lotto is a low-cost option (tickets cost £0.24) that's also easier to win as you only need to pick six numbers from 1-to-49.

For an additional $1 (£0.096), you also get to play the Lotto Plus draw. The minimum jackpot prize is 2 million Polish Zloty (£0.39 million) though prizes sometimes rise past £9 million. The chances of winning the jackpot are 1-in-13.98 million.
8. The EuroJackpot
Created in 2012, the EuroJackpot is currently available to players in more than 15 countries.

The jackpot starts at €10 (£8.79) million and can roll over up to €90 (£79.07) million. A €2 (£1.76) ticket gives you the chance to match five correct numbers out of 50. The odds of winning are 1-in-95.34 million, but there are several other prizes up for grabs.
9. The Superenalotto
The Italian lottery, SuperEnaLotto, is arguably the world's biggest national lottery, with massive jackpots, often reaching €177 (£155.51) million.

Draws are held each Thursday and Saturday. It's, however, one of the more difficult lotteries to win. You have a 1-in-622.6 million chance of winning the main jackpot. Tickets cost $3 (£2.41).
10. The Spanish Lotto
Finally, the Spanish lottery, El Gordo De La Primitiva, allows you to pick five numbers from 1 to 54 for a chance to win amazing prices.

Tickets cost $2.50 (£2.01), and you have a 1-in-10 chance of winning any prize. For the jackpot, however, chances of winning are 1-in-31.62 million. The minimum jackpot is €5 (£4.39) million.
Others
There are several other lotteries out there that may prove worthy alternatives to the UK Lotto.

But, the ten on this list are, by far, your best options.
OTHER STORIES
2018 IS SET TO BECOME THE YEAR
OF E-COMMERCE -
E-commerce has come to dominate marketing and is set to continue as it's going in 2018, with an emphasis on carrying on the incredible sales growth it's seen already More...
WHY HAS UK HOUSEHOLD DEBT BEEN RISING? -
Since the 2008 financial crisis, which saw countless banks and businesses go bust, the world has been in a state of recovery. More...
THE 'GAMIFICATION' OF ONLINE SLOTS -
Gamification is the process of adding more features to classic games such as slots or mini-games. More...
WHY IT MIGHT BE
TIME TO RETHINK YOUR BUSINESS FLEET -
The electric car revolution may be here sooner than first thought. What are the Options? More...
IS CHESTERFIELD'S TOWN CENTRE ENJOYING A RENAISSANCE? -
With the festive season underway, Chesterfield's shops will be helping everyone enjoy the retail boom that accompanies this time of year. More...
CHESTERFIELD'S REMEMBRANCE SUNDAY -
They came to remember and, in scenes replicated across the UK, Chesterfield's veterans shared their private memories of war on the most public of occasions - Remembrance Sunday. More & Audio...
ARMISTICE DAY IS HONOURED IN CHESTERFIELD -
On a day of Remembrance, Chesterfield came to a standstill to pay respects to serviceman who lost their lives in conflicts passed and present. More & Video...
CHESTERFIELD REMEMBERS THE FALLEN -
Chesterfield residents can remember those who have lost their lives in war at a series of events organised by Chesterfield Borough Council.
More & Video...
LOCAL AND BRITISH HIGH STREETS SEE SHARP DECLINE IN SHOPPERS -
Figures released by the British Retail Consortium show that in September 2017, there was 2.2% decline in the number of shoppers visiting British high streets. More...
LOCAL INDUSTRIES CONCERNED BY LEAKED POST BREXIT IMMIGRATION PLANS -
The leaked post-Brexit immigration plans could have a concerning impact upon many industries in Chesterfield and nationally if they are followed through once the UK leaves the EU. More...