Thursday 7th May 2020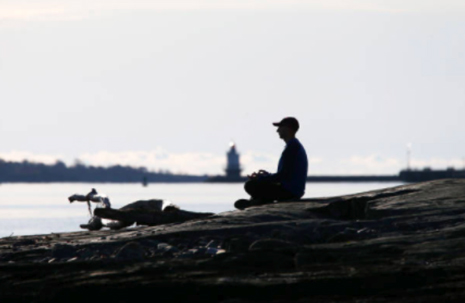 (Staff photo by Ben McCanna/Portland Press Herald via Getty Images)
We exist during a period of history which is full of distractions, whether it be technology, work or social commitments. It can be exhausting!

This is especially so for our mental health - how do we find the time to stop and appreciate what we have?

Despite our busy schedules, we must always find the time and the composure to ensure we have periods of the day when we are fully present in the moment.

This article will hopefully help you find techniques to allow you to retain calmness, tranquility and presence in a world that often feels like it wants us to do anything but.
What Is Mindfulness?
According to the famous app headspace, "Mindfulness is the quality of being present and fully engaged with whatever we're doing at the moment - free from distraction or judgment, and aware of our thoughts and feelings without becoming caught up in them".
Why Be Mindful?
Mindfulness has been proven to have numerous health benefits. This ranges from reducing stress and other negative emotions to improving focus and positive emotions.

Below are some quick techniques to help in the modern age.

Different activities work for different people, so if you don't find one exercise useful, try another.

Or, it is also possible to try adapting them so that they better suit you and are more compatible with your daily life routines.
1. Mindful walking, moving or jogging.
Be aware of and enjoy the feeling of your body in action. It might be helpful to focus on the light breeze against your skin, the feeling of your feet or hands on different textures, and the various smells that float around you. Exercise is exceptionally good for you - make the most of it!

2. Body scan.
This is a technique where you move your attention slowly through different parts of the body, starting from the top of your head moving all the way down to the end of your toes. Not one to do in public, maybe, but perfect for time alone in the house.

3. Appreciate nature.
In our busy world, do you find the time to appreciate the sunshine on your skin? Listened to the branches of trees rustle in a gentle breeze? If not, now is the time to start! Experiencing nature is essential for our wellbeing.

4. Be mindful when eating.
This technique involves paying close attention to the taste, sight and textures of what you consume. Take time to really appreciate the different ingredients. We often eat without appreciating.

5. Early morning 'presence'.
Trying to practice first thing in the morning helps set the 'tone' of your nervous system for the day ahead, increasing the likelihood of other mindful moments.

6. Keep it short.
According to research, our brains will respond better to short periods of mindfulness, rather than long, drawn-out sessions. 20 minutes is usually referred to as the gold standard, but starting for even a minute or two a day is worthwhile, too.
Begin applying these techniques when possible - maybe start a few times a week and slowly work your way towards creating a daily schedule.

Once a mindfulness session is complete, you'll be far better equipped to enjoy your day to day luxuries, whether that be your Rolex explorer, watching sport or spending quality time with your family. Namaste!
OTHER STORIES
2018 IS SET TO BECOME THE YEAR
OF E-COMMERCE -
E-commerce has come to dominate marketing and is set to continue as it's going in 2018, with an emphasis on carrying on the incredible sales growth it's seen already More...
WHY HAS UK HOUSEHOLD DEBT BEEN RISING? -
Since the 2008 financial crisis, which saw countless banks and businesses go bust, the world has been in a state of recovery. More...
THE 'GAMIFICATION' OF ONLINE SLOTS -
Gamification is the process of adding more features to classic games such as slots or mini-games. More...
WHY IT MIGHT BE
TIME TO RETHINK YOUR BUSINESS FLEET -
The electric car revolution may be here sooner than first thought. What are the Options? More...
IS CHESTERFIELD'S TOWN CENTRE ENJOYING A RENAISSANCE? -
With the festive season underway, Chesterfield's shops will be helping everyone enjoy the retail boom that accompanies this time of year. More...
CHESTERFIELD'S REMEMBRANCE SUNDAY -
They came to remember and, in scenes replicated across the UK, Chesterfield's veterans shared their private memories of war on the most public of occasions - Remembrance Sunday. More & Audio...
ARMISTICE DAY IS HONOURED IN CHESTERFIELD -
On a day of Remembrance, Chesterfield came to a standstill to pay respects to serviceman who lost their lives in conflicts passed and present. More & Video...
CHESTERFIELD REMEMBERS THE FALLEN -
Chesterfield residents can remember those who have lost their lives in war at a series of events organised by Chesterfield Borough Council.
More & Video...
LOCAL AND BRITISH HIGH STREETS SEE SHARP DECLINE IN SHOPPERS -
Figures released by the British Retail Consortium show that in September 2017, there was 2.2% decline in the number of shoppers visiting British high streets. More...
LOCAL INDUSTRIES CONCERNED BY LEAKED POST BREXIT IMMIGRATION PLANS -
The leaked post-Brexit immigration plans could have a concerning impact upon many industries in Chesterfield and nationally if they are followed through once the UK leaves the EU. More...