Thursday 11th October 2012


Residents and businesses across Derbyshire are being asked for their views to help Derbyshire County Council draw-up a new plan to help address flooding.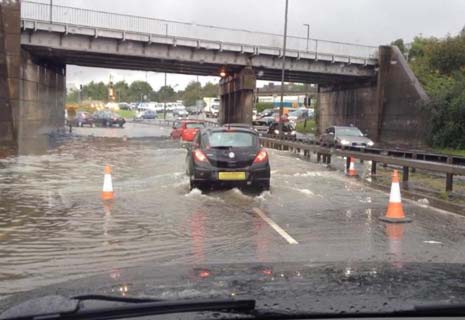 Previous and recent flooding problems in Chesterfield to be addressed by plans by Derbyshire County Council. Pic courtesy Sean Carrington

New powers were given to the county council, and others like it, by the Government to help prevent, protect and prepare against the effects of possible flooding in the future.

One of the first tasks is to produce a plan for Derbyshire called the Local Flood Risk Management Strategy. But first the county council wants to know what local people think.

A consultation has been launched to find out where the problems are and what should be done about them.

The comments will be used to help decide:
The roles and responsibilities of the various organisations involved in preventing, preparing and protecting against the risk of flooding
What these organisations wants to achieve, how they will do it and when
What the costs and benefits are likely to be of any measures proposed
Where the problems are and how they might be addressed
How progress will be reviewed
The consultation and strategy will focus on the risk of flooding from the following sources:
Surface water caused by extreme rainfall
Small 'ordinary' watercourses such as ditches, streams and brooks. Larger main rivers such as the Derwent, Dove and Wye are still the responsibility of the Environment Agency and will be covered in a separate plan
Ground water rising up from underlying rocks or water flowing from underground springs
Drainage on roads.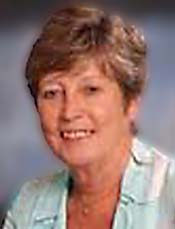 Councillor Carol Hart, Derbyshire County Council's cabinet member for public health, (left) said: "Flooding is a serious issue. It can cause damage, disruption and destruction wherever it occurs.

"Increasingly heavy rainfall here in the UK over the past few years suggests the risk of flooding could be getting worse. That's why we need to help prevent, protect and prepare for the future."

She added: "We work closely with other organisations responsible for helping to deal with flooding. But people living and working in Derbyshire are also well-placed to tell us where there are problems and we want to know what they think we should be doing about them.

"We hope people will take part in the consultation which can be found online at www.derbyshire.gov.uk/floodrisk"

Questionnaires are also available from libraries. The closing date for responding is 7th December 2012.

A draft strategy will be available for comment next year.

There will be a separate plan for the city to be produced by Derby City Council.
RECENT STORIES
BLUE BADGE CONTROVERSY QUESTIONED BY LOCAL MP -
NE Derbyshire MP, Natascha Engel, has picked up the mantle on behalf of Blue Badge holders over mobility being assessed by a brief phone call. More...
HAVE YOUR SAY IN 'NAME THAT STREET' COMPETITION -
Supporters of Chesterfield FC and residents of Chesterfield are being asked to make their final vote in the 'Name That Street' competition. More...
NATASCHA ENGEL MP VISITS TWO LOCAL JUNIOR SCHOOLS -
MP for North East Derbyshire Natascha Engel took part in a different sort of Question time on Friday 12th October when she visited two of the constituency's local schools More...
PM PRESSED ON EU VOTE BY LOCAL MP NATASCHA ENGEL -
PM's Questions this week saw Natascha Engel, MP for N E Derbyshire, question David Cameron on how he would vote in a referendum on Britain's continued membership of the EU. More...
WE WILL FIND YOU AND WE WILL FINE YOU! -
Chesterfield Borough Council has collected nearly £4,000 in fixed penalty notices for dog fouling and littering during the past 3 months (June - Sept 2012). More...
COUNCIL JOB SCHEME HAILED A SUCCESS -
Chesterfield Borough Council has received praise for its handling of the WNF scheme to get people back into work. More...
NEW REGISTER OF FIREWORK SELLERS LAUNCHED FOR SAFER CELEBRATIONS -
A public register of authorised firework stores has been launched by Derbyshire County Council ahead of this year's bonfire night celebrations. More...
OPEN DAY INVITE TO DRONFIELD JOBSEEKERS -
Jobseekers are being urged to find out more about free, independent and confidential help which is available as part of a project running in North East Derbyshire. More...
MARKET HALL TRADERS SET UP TEMPORARY SHOP -
This week, traders from Chesterfield's Market Hall will move into temporary accommodation in preparation for the Hall's major refurbishment project. More...
SKYDIVING 'SUPERGRAN' RAISES £430 FOR COUNCIL APPEAL -
Supergran' Pam Evans has raised £430 for North East Derbyshire District Council's Chair's Appeal, after taking part in an indoor skydive. More...
DO YOU KNOW 'KIZZY' THE DOG? -
NE Derbyshire District Council are trying to trace the owners of a white and tan Jack Russell who was found wandering on North Side in Tupton on Tuesday 2nd Oct More...
CHESTERFIELD TOWN CENTRE GETS A HEALTH CHECK -
Chesterfield Borough Council is taking a snapshot view of the number of people visiting the town centre over four days in October. More...
LOCAL SPORTING TALENT RECEIVES TOP AWARDS -
Local athletes, sports coaches and volunteers celebrated success across a variety of categories at the recent Chesterfield & North East Derbyshire Sports Awards 2012. More...
SCOUTS PREPARED FOR CHESTERFIELD MP TOBY PERKINS -
Scouts from across the UK have lit up the first of the three major party conferences this year. More...
CHESTERFIELD NEW BUILD SEEKS SUPPLIERS AND SUBCONTRACTORS -
Opportunities for suppliers and sub-contractors in the construction industry will be made available at a 'Meet the Buyer' event in Chesterfield. More...
SEARCH IS ON FOR DERBYSHIRE'S YOUNG ACHIEVERS 2012 -
The search is on to find the county's most deserving youngsters, who could pick up one of Derbyshire County Council's Young Achiever Awards 2012. More...
EGG CRACKDOWN LAUNCHED TO PROTECT LOCAL CONSUMERS -
Shops and restaurants in Derbyshire are being warned to make sure the eggs they are selling and cooking with comply with the law. More...
'I'LL NAME THAT STREET IN ONE!' SALTERGATE NEEDS YOU -
The Council and Chesterfield FC say they are keen that Saltergate is not forgotten, and have launched a competition to name the arterial street running through the site. More...

GAS SAFE WEEK: TAKE CARE, BE GAS SAFE! -
Chesterfield Borough Council has said that it is proud to be supporting Gas Safety Week More...
LOCAL MP WELCOMES CPP LIFELINE -
Toby Perkins MP has welcomed improvements at CPP - a multimillion financial services company and major Chesterfield employer. More...
MP NATASCHA ENGEL RAISES CONCERN OVER NEW PLANNING RULES -
A local MP has raised her concerns on planning issues in Parliament during the last week. More...

CHESTERFIELD MP VOTES FOR WEST BARS TANDOORI -
West Bars Tandoori has won the regional runners up prize in the Tiffin Cup, following their nomination by Chesterfield MP Toby Perkins. More...
MOBILITY COMPANY BOSSES ADMIT DEFRAUDING ELDERLY OF OVER £40,000 -
Bosses of two former Derbyshire mobility companies have admitted defrauding elderly victims of over £40,000. More...
LAST CHANCE TO APPLY FOR COUNCIL'S £1.000 SPORTS ACTION GRANT -
Sports clubs and groups are reminded there's just one week left to apply for funds in the last round of Derbyshire County Council's Sports Action Grant scheme. More...