Monday 31st January 2011

The Chesterfield and District Caledonian Association hosted a Dinner Dance at the Chesterfield Hotel on Saturday 22nd January in Celebration of the birth, 252 years ago, of Robert Burns, Scotland's National poet.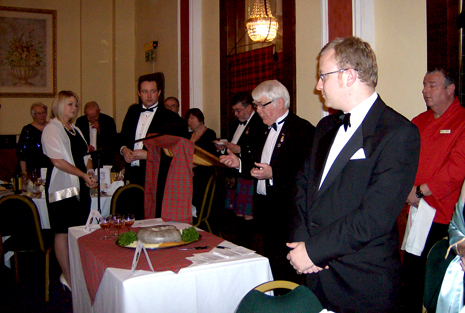 Past President Ian Gordon addresses the haggis at the recent Burns Night celebrations

President Andrew Boswell and Committee welcomed over 100 guests including Chesterfield's Mayor, Councillor Keith Morgan and Mayoress Mrs Patricia Morgan, with the Mayor also giving the Loyal Toast.

Senior Vive President Mark Macartney proposed the Immortal Memory, President's son Tim Boswell did the Toast to the Lassies, and President's Consort Mrs Margaret Boswell (Tim's mother) followed up with the response, saying she had waited 29 years for the chance to sort Tim out!

In giving the Immortal Memory, Mark said, "Burns lived a full life. He loved beauty and honesty, he loved a good party and a good drink with friends, he loved life and being one of the boys. That's why we love celebrating his spirit, and toasting his memory even today, over 200 years after his death."

M.C. for the evening was Past President, Tim Cobb. Past President Ian Gordon addressed the Haggis.

After the formalities, dancing started again with Tim doing his MC part assisted by Beacken Rigg who supplied the music, the evening concluding with the singing of "Auld Lang Syne"

To contact the Caledonian Association about our various activities, contact Mark Macartney on 01623 812110.

UPCOMING EVENTS FOR YOUR DIARY
There is a presentation by Mr Tom Aitchison - "My Boyhood in the Highlands"
at Walton Village Hall on Walton Back Lane, on Saturday 19th Feb at 7.30pm

Admission £3.00 per person

Bring your own food and drink for after the presentation - All Are Welcome!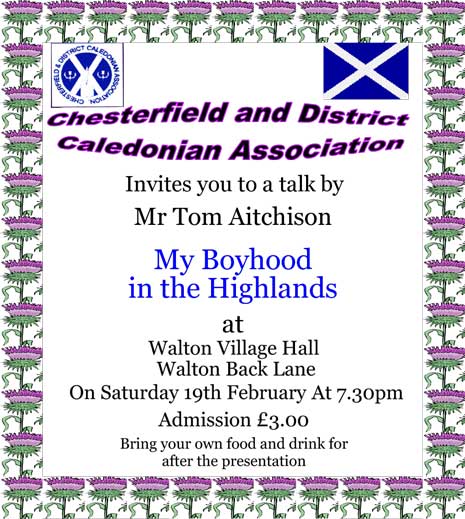 RECENT STORIES
ORCHID SHOW RETURNS TO CHATSWORTH -
Each May for nearly 30 years the Sheffield and District Orchid Society has presented an orchid show in the Cavendish Hall, Chatsworth. More...
TALKING 'COFFEE' -
The Chesterfield And District Caledonian Association are hosting a talk by James Pogson of Northern Tea Merchants on 'Coffee'. More...
HELP MAKE IT A TRIP TO REMEMBER -
The 1st Calow Scouts are holding a 'Pub Quiz' at the White Hart, Calow on Thursday 31st March, commencing at 8.30pm More,,,
BRINGING BESS OF HARDWICK TO LIFE -
Chesterfield and District Caledonian Association hosted Sonia Preece who gave a talk on Hardwick Hall and it's most famous resident 'Bess of Hardwick'. More...
BESS OF HARDWICK -
The Chesterfield And District Caledonian Association are hosting a talk by Sonia Preece on Bess Of Hardwick. More...
SCOUTING ... FOR NEW RECRUITS -
The European Scout Federation is still going strong all these years later and looking for new recruits. More...
ROLLING ON... -
It began life as a gift to Lord Baden Powell at the 21st birthday of Scouting and, after several different owners, Rolls Royce 'Jam Roll' has returned to the Scouting fold. More...
A GUIDING LIGHT -
She is referred to as 'The mother of millions' and nearly 40 years after her death, is still a huge influence to over 10,000 girls throughout Derbyshire... More...
JOG ON... -
Getting fit will probably be one of the most common resolutions made in the New Year and now people in Derbyshire have no excuse... More...
HORSES FOR GOOD CAUSES -
A local Scout group is appealing for help in raising enough money to enable a delegation of young local people to travel to Ontario, Canada More...
THE CHESTERFIELD & DISTRICT CALEDONIAN ASSOCIATION -
Founded 100 years ago in October 1910, the Association was not the first collective of Scots in Chesterfield and the surrounding District. More...
CHESTERFIELD ROTARY CHARTER ANNIVERSARY CELEBRATION -
The Rotary Club of Chesterfield celebrated its 88th birthday with a Charter Anniversary luncheon at the Ringwood Hall Hotel. More...
PROMOTE YOUR DIRECTORY IN NEW LOCAL DIRECTORY - Chesterfield Borough, North East Derbyshire and Bolsover District Councils have teamed up to create a free directory for Sports clubs and Physical Activity groups across our area. More...
THE CHESTERFIELD WALK THIS WAY GROUP -
CWtW began in 2001 as a collaborative project between Chesterfield Borough Council and Derbyshire County Council Countryside Service to start Walking for Health (WfH) groups in the Chesterfield Borough. More...