Friday 22nd April 2011

Harley Hanson, International Singer and Songwriter returns to his home town of Chesterfield to launch his music video's and CD "WHEN MY GUITAR CRYS" and to film for his new video.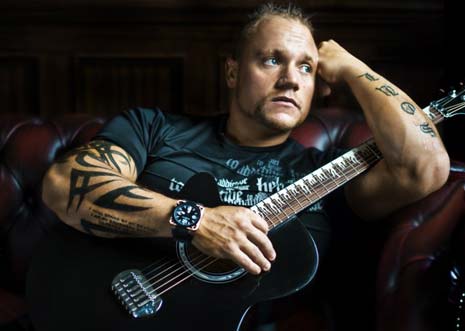 Filming will take place on Friday 29th of April from 9pm at Harley's Bar, Staveley,

The film crew are also hoping to get interviews with David Hewitt of Traitors Gate, long time friend and inspiration along with gaining live footage of family and friends Live at Harley's Bar, everyone is welcome to come along and join the party.

'When my Guitar Cries' became a hit across Scandinavia getting daily radio airplay with over 100 stores and over 100 download sites selling the album.

Harley who now lives in Norway and works in his spare time in the field of child psychology working with young adults with behavioural difficulties, wishes we could all take the time to try with all our hearts to follow our dreams and simply live life to the full, leaving no stone left unturned.

He explains, "All I want to do is sing and reach out to inspire those that hear my music."

Harley - who was born with a congenital heart defect and has a pace maker fitted - is hoping to ensure a donation to the British Heart Research Department from British sales of the Album.

Harley will be returning to Norway on the 1st of May to begin talks for tour dates in American and Milan.
You can visit Harley's WEBSITE HERE.
RELATED STORIES
2CELLOS TO SUPPORT ELTON JOHN AT THE B2NET -
Sir Elton John has announced that very special guests 2CELLOS will join him for his forthcoming live show this summer. More...
SUCH SWEET THUNDER -
Steve Steinhaus, the charismatic singer with the big personality who fronts both his Swing Band and the Dr Teeth Big Band, returns to Whitwell with his brand new show More...
MAGNETS ATTRACTED TO CHESTERFIELD -
They've performed with Blondie and at private parties for the likes of Hugh Grant and Elle McPherson - and now The Magnets are coming to Chesterfield. More...
ELTON JOHN PLAYS CHESTERFIELD FC'S B2NET! -
Superstar Elton John will be the first ever artist to perform at the B2net when he plays there in Summer 2012. More...

600 FOLLOW FEROCIOUS DOG AT MUSIC FESTIVAL! -
Whitwell Forward Community Group and 4Ward Promotions have extended Whitwell Festival Of Music 2011 and attracted 23 top quality bands More...
DO YOU HAVE TALENT? -
For the third year running, the Mayor of Chesterfield will once again be hosting 'Chesterfield's Got Talent' and is looking for talented acts from across the Borough. More...
ON SONG FOR TOWN, CARL NEWTON -
A day of firsts at the B2net on Saturday - first home game of the season and the first unfurling of the Champions Flag - also the first time the new 'Town song' rang out across the terraces More...
A STAR IS BORN... AND SHE'S FROM CHESTERFIELD -
One young girl from Chesterfield says she has to pinch herself every single day after hitting the big time and with her band preparing to launch its first single, next month. More...
Music Event Diary -
Here is the place to find the latest Live Music Gigs from around Chesterfield. More...