Tuesday 21st February 2012



A mini mobile theatre project may soon be a star turn in Sheffield thanks to a local firm.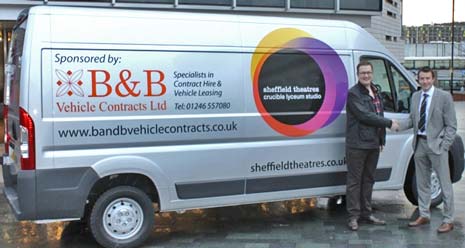 The road ahead - Andrew Loretto (left) from Sheffield Theatres receives the keys to the van from B&B's Steve Barker

In a show of support for the city's Lyceum Theatre, Chesterfield-based B&B Vehicle Contracts, which operates across South Yorkshire and Derbyshire, has given the theatre one of it's new vans for a year.

And, as well as transporting props around, the vehicle, which carries the Lyceum logo, will also be used for school visits and, with its back doors open, as a miniature performance area.

Steve Barker. a Director at B&B, said: "The Lyceum is involved in all kinds of important projects in the community, such as school visits, and deserves every encouragement to continue with this valuable work. It's the company's way of giving something back to the city where we do much of our vehicle leasing and contract work."

Steve, of Whirlow, Sheffield, added: "As a family, we've always had a natural affinity with the theatre and that's another reason for supporting the Lyceum. It's the first time we've been involved in this sort of project and we're delighted with the way it's working out."

B&B Vehicles was established 15 years ago and supplies all makes and models of both cars and vans to many local and national companies.

Andrew Loretto, Creative Producer at Sheffield Theatres said: "We are delighted to be working with B&B Vehicle Contracts and want to thank them for recognising and supporting the work we do both at Sheffield Theatres and across the city.

"The vehicle will make a big difference to helping us realise our plans to work with artists, communities and spaces throughout the greater Sheffield area, and will also help staff working on Crucible Theatre productions such as The Way of the World."
RECENT STORIES
CHESTERFIELD'S POMEGRANATE THEATRE WINS TRIPADVISOR AWARD-
Chesterfield's Pomegranate Theatre has won a prestigious award from the online review site, TripAdvisor. More...
CHESTERFIELD'S YOUNG DANCERS SOUGHT FOR DANCE PROGRAMME -
Talented young dancers in Derby and Derbyshire are being urged to come forward for a chance to perform in a professional venue in front of 100s of people. More...
'BOUNCERS' AT THE POMEGRANATE - A NIGHT OUT, BUT NOT AS YOU KNOW IT!
We were promised laughter from start to finish on opening night - and we were not disappointed. More...
WIN 2 TICKETS FOR THE VAGINA MONOLOGUES -
A great, free competition to win 2 tickets to see the world famous show 'The Vagina Monologues', by Eve Ensler - at the Pomegranate Theatre on Friday 28th September More...
STARS OF SCREEN COME TO TOWN WITH RENOWNED SHOW -
The Vagina Monologues - Britain's funniest and sexiest show - comes to The Pomegranate, Chesterfield on 28th September at 7.30pm for ONE night only! More...
GROUNDFORCE FAIRY CHARLIE TO TACKLE FLESHCREEP -
There'll be a 'ground force' to be reckoned with on stage this Christmas when the nation's favourite gardener swaps her spade for a magical wand More...
JOSEPH DREAMS IN CHESTERFIELD -
In what's seen as a huge coup for Chesterfield, Keith and his company will be the first West End production show to perform at the town's Winding Wheel More...
CHOIR WARMS UP FOR CHESTERFIELD'S BIG PRODUCTION -
The final choir has now been selected for the hit show Joseph, which comes to the Winding Wheel in Chesterfield in May. More...
TRIBUTE TO POMEGRANATE THEATRE DIRECTOR -
A tribute to one of Chesterfield's most well known and loved artistic producers and directors, Colin McIntyre, took place on 9th March at the Pomegranate Theatre in Chesterfield. More...
TICKET SALES BOOST FOR WEST END'S JOSEPH -
It's been announced that The West End production of Joseph, due to come to Chesterfield in May, is already proving popular - and that there is now local interest in the production too. More...
JOSEPH TRAVELS TO THE WINDING WHEEL -
The West End production of Joseph and the Amazing Technicolour Dreamcoat is coming to Chesterfield in May 2012 More...
PRICE INCREASE FOR CHESTERFIELD VENUES -
We've been informed that Chesterfield Borough Council has agreed to a small increase in ticket prices at the Pomegranate Theatre and the Winding Wheel. More...
ARKWRIGHT'S STORY RELIVED -
The unique history of this North East Derbyshire village has been brought to life as part of a community art and drama project. More...