Friday 10th January 2014
by Ian Richardson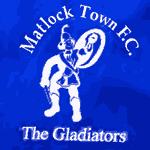 After ending high flying Worksop Town's unbeaten run at the thirteenth game, Matlock Town face a different challenge when they travel to Grantham on Saturday.

While the Tigers were bang in form, Grantham are stuck in a terrible sequence which has seen them slip from being play-off outsiders to being on the cusp of the Evo-Stik NPL Premier Division relegation zone.

Since beating Blyth Spartans at the South Kesteven Stadium on November 9th, the Gingerbreads have not tasted victory in the league, collecting just our points from nine matches.

A 5-0 home defeat to Nantwich Town on the Saturday before Christmas saw the sacking of their joint managers Ian Robinson and former Matlock defender Gary Sucharewycz. They have been replaced by Jimmy Albans and Wayne Hallcro.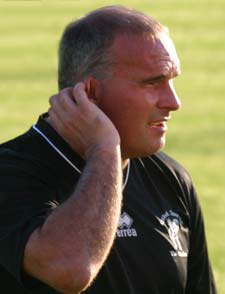 Gladiators' boss Mark Atkins, (left), who will be without strikers Shaun Tuton and Danny Holland through suspension, believes his 13th placed Matlock side will face a tough tie on the open Grantham pitch, which is akin to an athletics stadium, with the running track encircling the arena.

"I expected Grantham to have a good season, particularly with the money I was told they were offering players during the summer.

"They have some good players there, so again, we'll need to be on our toes and show the same kind of commitment and desire which saw us through the Worksop game" said Atkins.

"On their day, Grantham can give anyone a very difficult afternoon and we must be prepared for them."

Matlock ought not to take Grantham lightly, particularly having within the last six weeks been beaten at the two clubs immediately behind the fifth from bottom Gingerbreads - namely Witton Albion and Stocksbridge Park Steels.

Tuton would probably have been fit had it not been for a one game ban after accumulating five yellow cards, having trained on Tuesday night. A hamstring problem would have forced him to miss last Saturday's scheduled home meeting with Blyth Spartans, which was called off at 9 am due to a waterlogged surface.

Skipper Liam Needham missed Tuesday's training having been laid low with a virus but he was expected to make Thursdays session and be fit for the weekend.

Atkins believes that it was mainly a good thing that the Blyth match was off. "I think it helped us a bit" he admitted. "After a tough match against Worksop on the Wednesday, the rain that followed would have made it another very heavy surface and there would have been a lot of very tired legs out there.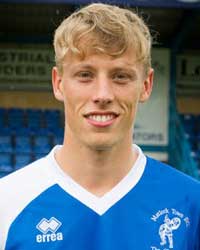 "While we always like to play if we possibly can, not playing didn't do us any harm. The downside though, was that with our very good home record, it would have been nice to try and build on the Worksop performance and try and gain another three points."

Meanwhile, defender and current fans player of the year Adam Yates, (left), who suffered a fractured cheekbone in the Derbyshire Senior Cup defeat at Glossop North End on December 10th, was at the Worksop clash with some good news for Matlock supporters.

"Everything's gone very well and I'm delighted with how things are progressing. I was told not to do any contact work for six weeks but there's definite light at the end of the tunnel and I'm targeting the Droylsden game on February 1st for a return" said Yates.

Atkins added, "Adam's started the physical 'no contact' work to build his fitness and stamina up again and we hope he feels confident and fit enough to come straight back in if everything's right."
RECENT STORIES
MATLOCK FACE SIX POINTER AT RUSHALL AS 2 NEW SIGNINGS ARE ANNOUNCED -
Matlock face a play off contending six pointer at Rushall Olympic on Saturday as two young faces sign for the Gladiators. More...
ATKINS PRAISES PLAYERS AFTER DIFFICULT WIN AT FRICKLEY & NEWS -
Mark Atkins praised his players after their 3-1 victory at a wet and windy Frickley Athletic last Saturday, going unbeaten in 5 games, 4 of which have brought maximum points. More...
GLADIATORS GO
FIVE UNBEATEN
WITH AWAY WIN AT FRICKLEY -
Matlock extended their unbeaten run to five games and secured their first away win in four months in terrible weather at Westfield Lane on Saturday. More...
GLADIATORS EARN A HARD FOUGHT WIN AT HOME TO DROYLSDEN. MATCH REPORT -
Matlock got the win everyone expected against the basement side, but it was a more difficult challenge than the 4-1 win at the Butchers Arms in October More...
THIS WEEK'S NEWS FROM MATLOCK AND
A PREVIEW OF THE DROYLSDEN GAME -
"We take nothing for granted" will be the message from Matlock boss Mark Atkins as they welcome basement club Droylsden to the Reynolds Stadium on Saturday. More...
MATLOCK'S MATCH AT STORMY STAMFORD
IS ABANDONED. MATCH REPORT -
Referee David Plowright halted proceedings after 23 minutes when a fierce thunderstorm engulfed the ground and left the pitch saturated. More...
McMAHON SCORES TWO TO GIVE MATLOCK THREE. MATCH REPORT -
Lewis McMahon's brace earned Matlock their victory, but others behind him put in sterling effort to ensure another clean sheet at home. More...
LATE PENALTY DENIES MATLOCK A WIN AFTER SCRAPPY ENCOUNTER -
A 78th minute penalty leveller denied Matlock all three points from a scrappy encounter at The Meres against Grantham Town. More...
MATLOCK'S INABILITY TO FINISH COSTS THEM ANOTHER 3 POINTS -
For this week's report, see last weeks and probably many before! More points go astray for Matlock simply because they could not finish chances off. More...
MATLOCK'S DERBY DRAW IN THE DARK
AS BUXTON'S BULBS BLOW! -
The lights went out with a bang at the Silverlands to end this Boxing Day A6 derby early at half time. More...
MATLOCK GET THE CLEAN SHEET - BUT NOT THE THREE POINTS -
Again this was a tale of Matlock being unable to take the few chances that came their way in a dour stalemate at home against Marine. More...
ALL THE GLADIATORS' NEWS AHEAD OF THE CHRISTMAS WEEK FIXTURES -
"Individual mistakes are killing us!" declared Matlock boss Mark Atkins after the disappointing and frustrating recent run of form More...
MATLOCK DEFEAT AT STOCKSBRIDGE WAS "LARGELY SELF INFLICTED" -
Matlock Town's disappointing defeat away to struggling Stocksbridge Park Steels, was largely self inflicted. More...
MATLOCK MAKE IT AN UNWANTED HAT TRICK WITH A THIRD CUP EXIT -
Matlock made it an unwanted hat-trick of cup exits against lower league opposition this term, as Glossop knocked them out of the Derbyshire Senior Cup. More...
MATLOCK GET THEIR FIRST WIN IN SIX AS THEY BEAT
TRAFFORD -
This first league win in six matches for Matlock Town was achieved with a little more difficulty than was envisaged at the half time break which came at a bad time for the home side. More...
MATLOCK HAVE 'ONLY THEMSELVES TO BLAME' AFTER
DEFEAT TO WITTON -
Matlock had only themselves to blame for not winning a game they dominated at Witton Albion. More...
MATLOCK MAKE HARD WORK OF A WIN OVER HALLAM IN MID-WEEK FRIENDLY -
The Gladiators made hard work of beating Toolstation NCEL First Division visitors Hallam, in a hastily arranged friendly game at the Reynolds Stadium on Tuesday night More...
MATLOCK SUFFER UNDESERVED FA TROPHY EXIT AT CHORLEY -
Chorley secured a hat-trick of victories against Matlock with this FA Trophy result at Victory Park last Saturday, but the 2-0 scoreline fails to tell the whole story as Matlock deserved at least a replay. More...
MATLOCK MAKE A POINT AGAINST HIGH FLYERS AFC FYLDE. MATCH REPORT -
Danny Holland had given Matlock a deserved interval lead against title contenders AFC Fylde, but the Coasters got a fortunate break five minutes into the second half to level through Andy Russell. More...
TOUGH FIXTURES AND A FAIR PLAY AWARD IN A GLADIATORS NEWS ROUND-UP -
If Monday's FA Trophy draw seemed tough - a visit to Chorley on November 16th - then Mark Atkins' men received confirmation that would be the case in Tuesday night's 3-1 league defeat on the same ground. More...
GLADIATORS FALL AT THE HANDS OF LIKELY DIVISION CHAMPIONS. MATCH REPORT -
Sometimes it's a case of holding hands up and admitting the better side won! This was the case for away fans at Victory Park on Bonfire Night, as the fireworks came from Chorley, who completed a league double over Matlock More...
Related Links