Sunday 19th January 2014
by Ian Richardson





Matlock Town 2 - 0 King's Lynn Town
Saturday 18th January, 3pm
EvoStik League, Premier Division
Lewis McMahon's brace earned Matlock their victory, but others behind him put in sterling effort to ensure another clean sheet at home.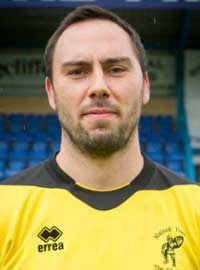 The Linnets - fourth in the table prior to kick off - will have travelled back down the A17 probably reflecting that a two goal defeat was harsh, but they came up against a solid and resilient Matlock outfit who had chances themselves to score more than two.

There were lots of top performances from the boys in blue, but Jon Kennedy (left), in his stand out lime green kit was a candidate for man of the match. Not only did he pull off some tremendous saves, but he dominated his box and marshaled the excellent Matlock back four, who have let in just a miserly eight goals now in their thirteen home league games so far.

McMahon should probably have scored in the 5th minute when he found himself free ten yards from goal - but, with only goalkeeper Alex Street to beat, his first time volley was sliced wide.

The Linnets' George Thomson followed McMahon's example, albeit from a far more difficult opportunity three minutes later, before winger Andrew Hall shot wide from the edge of the box in the 12th minute.

The chance count was equalised by the 15th minute when Darryl Thomas burst through the middle but allowed Street to grab the ball off his toes as he bore down on goal.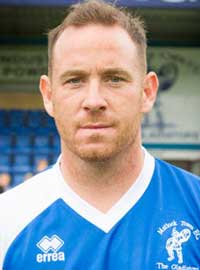 King's Lynn were looking the more dangerous having more of the play and Kennedy excelled on 19 minutes with a brilliant tip over the bar from a stinging effort by Jack McGovern but in the main, Matlock were halting the Linnets attacks before they became potent and their resilience would become even more praiseworthy as they took a 38th minute lead.

Hall was booked for bringing down Joe Leesley on the left and James Ashmore's teasing free kick found McMahon (left), free in the box to slip a smart finish beyond Linnets' keeper Street.
1-0
The lead might have been doubled five minutes later after a fine flowing move which ended with Leesley breaking from deep only to fire wildly over the bar when composure was required.

HT: 1-0

Lynn made a half time substitution bringing on Charley Sanders for George Thomson and Sanders nearly made an immediate impact. In an amazing escape for Matlock, Jason Lee's header rebounded off the bar to Sanders inside the six yard box but Sanders struck the bar as well - and a relieved Matlock hacked the ball clear.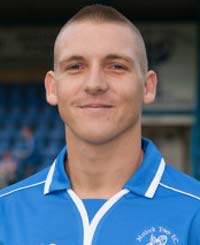 The Visitors piled on the pressure but Matlock stood firm with David Haggerty and Oscar Radford (left), again outstanding at the heart of the defence.

The introduction of Shaun Tuton, not fit to start having not trained in the week due to a hamstring problem, gave Matlock extra mobility and balance in attack, but Matlock were still having to defend stoutly with a magnificent block by Leesley preventing Hall's shot from causing any damage.

Matlock then broke swiftly to the other end and after a Needham cross was headed out by Lee, James Ashmore shot narrowly wide from a good chance to give the Gladiators that extra breathing space.

But that daylight came in the 71st minute when Danny Holland found McMahon in the box. Needham made a clever decoy run to give McMahon the space to beat two defenders before placing a precision low shot into the corner.
2-0
McMahon headed another opportunity too high as Lynn became frustrated, this being shown in a flare up on the half way line which saw substitute Ewan Clarke booked.

Haggerty, still searching for his first Matlock goal had another near miss with an 83rd minute header, from a free kick which was too high and late on, substitute Corey Gregory headed Micky Harcourt's centre straight at Street.

King's Lynn were still fighting though and it took a magnificent save from Kennedy to deny Dan Quigley and keep Matlock's third clean sheet in a row at home.

FT: 2-0

It was a great win for Matlock against a very capable side. The win earned the Gladiators their first league double of the campaign after a 4-0 victory at The Walks in September, and the Linnets will be glad to see the back of McMahon - all of his four goals this season have come against them!
Skipper Liam Needham was the only Matlock booking for a late challenge on Quigley in the second half.
MATLOCK TOWN:
1 Jon Kennedy, 2 Micky Harcourt, 3 Joe Leesley, 4 Martin Foster,
5 David Haggerty, 6 Oscar Radford, 7 Liam Needham, 8 James Ashmore,
9 Danny Holland (16 Cecil Nyoni, 88), 10 Daryl Thomas (12 Shaun Tuton, 57),
11 Lewis McMahon (15 Corey Gregory, 76)`
Subs not used: 14 Lavell White, 17 Matty Leese
KING'S LYNN TOWN:
1 Alex Street, 2 Peter Bore, 3 Jordan Yong (15 Gary Mills, 80)
4 Jason Lee, 5 Ryan Fryatt, 6 Jack McGovern, 7 Andrew Hall,
8 Dan Quigley, 9 Robert Duffy (12 Ewan Clarke, 70),
10 George Thomson (14 Charley Sanders, 46) 11 Jake Jones
Subs not used: 16 Ryan Clarke, 17 Christopher Ward
REFEREE: G Law - Leicester
ATTENDANCE: 336
BEST GLADIATOR: Oscar Radford
RECENT STORIES
MATLOCK AGREE LUCRATIVE NEW SPONSORSHIP DEAL WITH AUTOWORLD -
Matlock Town's ground will now be known as the 'Autoworld Arena', as details of the exciting new sponsorship deal emerged this week. More...
MATLOCK HIT FOR SIX AS THEIR UNBEATEN RUN COMES TO AN ABRUPT END -
What a way to lose your unbeaten start to 2014! Matlock conceded six goals in a crazy second half, after leading at half time against Rushall Olympic More...
MATLOCK FACE SIX POINTER AT RUSHALL AS 2 NEW SIGNINGS ARE ANNOUNCED -
Matlock face a play off contending six pointer at Rushall Olympic on Saturday as two young faces sign for the Gladiators. More...
ATKINS PRAISES PLAYERS AFTER DIFFICULT WIN AT FRICKLEY & NEWS -
Mark Atkins praised his players after their 3-1 victory at a wet and windy Frickley Athletic last Saturday, going unbeaten in 5 games, 4 of which have brought maximum points. More...
GLADIATORS GO
FIVE UNBEATEN
WITH AWAY WIN AT FRICKLEY -
Matlock extended their unbeaten run to five games and secured their first away win in four months in terrible weather at Westfield Lane on Saturday. More...
GLADIATORS EARN A HARD FOUGHT WIN AT HOME TO DROYLSDEN. MATCH REPORT -
Matlock got the win everyone expected against the basement side, but it was a more difficult challenge than the 4-1 win at the Butchers Arms in October More...
THIS WEEK'S NEWS FROM MATLOCK AND
A PREVIEW OF THE DROYLSDEN GAME -
"We take nothing for granted" will be the message from Matlock boss Mark Atkins as they welcome basement club Droylsden to the Reynolds Stadium on Saturday. More...
MATLOCK'S MATCH AT STORMY STAMFORD
IS ABANDONED. MATCH REPORT -
Referee David Plowright halted proceedings after 23 minutes when a fierce thunderstorm engulfed the ground and left the pitch saturated. More...
LATE PENALTY DENIES MATLOCK A WIN AFTER SCRAPPY ENCOUNTER -
A 78th minute penalty leveller denied Matlock all three points from a scrappy encounter at The Meres against Grantham Town. More...
MATLOCK NEWS AND PREVIEW OF SATURDAY'S AWAY TRIP TO GRANTHAM -
After ending high flying Worksop Town's unbeaten run at the thirteenth game, Matlock Town face a different challenge when they travel to Grantham on Saturday. More...
MATLOCK'S INABILITY TO FINISH COSTS THEM ANOTHER 3 POINTS -
For this week's report, see last weeks and probably many before! More points go astray for Matlock simply because they could not finish chances off. More...
MATLOCK'S DERBY DRAW IN THE DARK
AS BUXTON'S BULBS BLOW! -
The lights went out with a bang at the Silverlands to end this Boxing Day A6 derby early at half time. More...
MATLOCK GET THE CLEAN SHEET - BUT NOT THE THREE POINTS -
Again this was a tale of Matlock being unable to take the few chances that came their way in a dour stalemate at home against Marine. More...
ALL THE GLADIATORS' NEWS AHEAD OF THE CHRISTMAS WEEK FIXTURES -
"Individual mistakes are killing us!" declared Matlock boss Mark Atkins after the disappointing and frustrating recent run of form More...
MATLOCK DEFEAT AT STOCKSBRIDGE WAS "LARGELY SELF INFLICTED" -
Matlock Town's disappointing defeat away to struggling Stocksbridge Park Steels, was largely self inflicted. More...
MATLOCK MAKE IT AN UNWANTED HAT TRICK WITH A THIRD CUP EXIT -
Matlock made it an unwanted hat-trick of cup exits against lower league opposition this term, as Glossop knocked them out of the Derbyshire Senior Cup. More...
MATLOCK GET THEIR FIRST WIN IN SIX AS THEY BEAT
TRAFFORD -
This first league win in six matches for Matlock Town was achieved with a little more difficulty than was envisaged at the half time break which came at a bad time for the home side. More...
MATLOCK HAVE 'ONLY THEMSELVES TO BLAME' AFTER
DEFEAT TO WITTON -
Matlock had only themselves to blame for not winning a game they dominated at Witton Albion. More...
MATLOCK MAKE HARD WORK OF A WIN OVER HALLAM IN MID-WEEK FRIENDLY -
The Gladiators made hard work of beating Toolstation NCEL First Division visitors Hallam, in a hastily arranged friendly game at the Reynolds Stadium on Tuesday night More...
MATLOCK SUFFER UNDESERVED FA TROPHY EXIT AT CHORLEY -
Chorley secured a hat-trick of victories against Matlock with this FA Trophy result at Victory Park last Saturday, but the 2-0 scoreline fails to tell the whole story as Matlock deserved at least a replay. More...
MATLOCK MAKE A POINT AGAINST HIGH FLYERS AFC FYLDE. MATCH REPORT -
Danny Holland had given Matlock a deserved interval lead against title contenders AFC Fylde, but the Coasters got a fortunate break five minutes into the second half to level through Andy Russell. More...
TOUGH FIXTURES AND A FAIR PLAY AWARD IN A GLADIATORS NEWS ROUND-UP -
If Monday's FA Trophy draw seemed tough - a visit to Chorley on November 16th - then Mark Atkins' men received confirmation that would be the case in Tuesday night's 3-1 league defeat on the same ground. More...
GLADIATORS FALL AT THE HANDS OF LIKELY DIVISION CHAMPIONS. MATCH REPORT -
Sometimes it's a case of holding hands up and admitting the better side won! This was the case for away fans at Victory Park on Bonfire Night, as the fireworks came from Chorley, who completed a league double over Matlock More...
Related Links