Monday 24th February 2014
by Ian Richardson





Rushall Olympic 6-1 Matlock Town FC
Saturday 22nd February 2014, ko 3pm
EvoStik League, Premier Division
What a way to lose your unbeaten start to 2014! Matlock conceded six goals in a crazy second half, after leading at half time, as Rushall took full advantage of the conditions, plus some dubious refereeing, to put Matlock to the sword.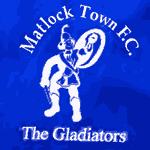 But referee Smart, (whose name did not match his performance!), cannot be blamed for some of the crass defensive play that Matlock produced, which is really out of keeping with their usual solidity.

Some of the mistakes were embarrassing, the hope being is that Matlock have made all of their mistakes in one game. Next time out they have to get back to the basics of no nonsense defending which has served them well so far this campaign.

Matlock named an unchanged side from the one victorious at Frickley a fortnight earlier but added under 19's striker Matt Andrews to their bench.

Rushall, a big physical unit, left out former Football League marksman Dele Adebola, but had several six footers in their line up, and in the second half particularly, were too strong for the Gladiators.

Matlock had the wind and the slope with them in the opening half but did not take full advantage of this.

There was little quality from either side in the opening exchanges. An off balance James Ashmore sliced wide from the edge of the box in the 12th minute before Rushall created a more clear cut chance six minutes later when winger Stan Mugisha forced Jon Kennedy into a fine blocking save.

But Matlock settled down and the match took a nasty turn in the 25th minute when at a Matlock free kick, both Micky Harcourt and Josh Craddock were booked after Mr Smart had a lengthy talk with his assistant following a clash in the box.

Danny Holland was unlucky not to give Town a 34th minute lead when after being well picked out by striking partner Shaun Tuton, he smashed a fierce strike goal wards only for Pics goalkeeper Chris Gemmell to pull off an outstanding save.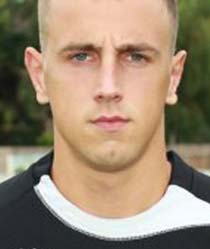 But two minutes afterwards the partnership worked in reverse as Matlock went in front.

A neat assist from Holland saw Gladiator's Man of the Match, Shaun Tuton (left), with time and space - and he drew Gemmell, before sliding home a precise low shot.

Now Matlock had something to build on - but unfortunately - that was as good as it got for them.

HT: 0-1

Just three minutes after the restart, the Pics were awarded a free kick 25 yards out.

James Dance punishing the Gladiators to the full as his drive could only be parried into the net by the diving Kennedy.

1-1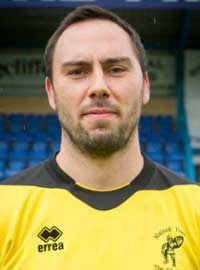 Kennedy (left) then came to Matlock's rescue with a hat-trick of excellent stops, denying Dance from another free kick and also keeping out efforts from Josh Craddock and home skipper Carl Palmer.

There was no doubt now that Matlock were up against it, their cause not being helped when Harcourt left the action through injury in the 58th minute.

Adam Yates moved from midfield to right back and Matlock had then lost some of the physical presence in midfield needed to combat the burly number six Christian Dacres, who stood as a tall barrier in protecting his back four.

Yet another free kick led to Rushall overturning their deficit in the 67th minute. Dance this time struck the bar, the ball dropping invitingly for Karl Ashton to fire home the rebound from close range.

2-1

Tuton was harshly booked, presumably for simulation as he was challenged in the Rushall box.

Then it went spectacularly worse for Matlock. On 72 minutes, Oscar Radford, in trying to nod a long punt upfield by Gemmell back to Kennedy, looked on in horror as the ball bounced apologetically into an unguarded net.

Now it was game over!

3-1

Another horrible error by Radford who passed straight to Mugisha saw the Rushall number eleven gratefully snap up the gift.

4-1

It was soon five when Joe Leesley was adjudged to have handled in the box and Dance stepped up to comfortably convert the penalty.

5-1

There was still time for Matlock to hand Rushall yet another present which was again taken by Mugisha, who made it six with three minutes remaining.

FT: 6-1


So where did that defensive horror show come from?

The Gladiators conceded a fifth of their season's total in thirty games during that crazy second half. The most frustrating aspect was that Rushall did not have to work hard for their goals.

Matlock hope it will be just one blip and that normal service will be resumed for the rest of the season.


RUSHALL OLYMPIC:
1 Chris Gemmell, 2 Jimmy Turner, 3 Matty Wood, 4 Sam Smith,
5 Jack Duggan, 6 Christian Dacres, 7 Carl Palmer,
8 Josh Craddock (12 Liam Spink, 85), 9 Karl Ashton (14 Dele Adebola, 79),
10 James Dance, 11 Stan Mugisha
Subs not used: 15 Wayne Daniel, 16 Gavin Caines, 17 Jamie Spencer
MATLOCK TOWN:
1 Jon Kennedy, 2 Micky Harcourt (15 Lavell White, 58), 3 Joe Leesley,
4 Martin Foster (12 Daryll Thomas, 77), 5 David Haggerty, 6 Oscar Radford,
7 Liam Needham, 8 James Ashmore, 9 Danny Holland (14 Corey Gregory, 77),
10 Shaun Tuton, 11 Adam Yates
Subs not used: 16 Matt Andrews, 17 Matty Leese
REFEREE: E Smart (West Midlands)
ATTENDANCE: 176
BEST GLADIATOR: Shaun Tuton
RECENT STORIES
MATLOCK LOSE AN 'EASILY FORGETTABLE GAME' AWAY AT STAMFORD -
An easily forgettable game was settled after 21 minutes when Ryan Robbins netted to give the hosts a vital three points in their escape bid against the drop. More...
A NIGHTMARE DEFEAT FOR MATLOCK AGAINST STRUGGLING STAFFORD -
A home banker turned into a nightmare for Matlock who were on the end of a shock defeat. Match Report More...
MATLOCK MARCH ON WITH A THIRD LEAGUE WIN IN A WEEK - AWAY AT ILKESTON -
The damage was done in the first half as Matlock thoroughly deserved their third league win in a week at the New Manor Ground on Saturday. More...
MATLOCK'S NEWS AS THEY PREPARE FOR LOCAL DERBY WITH ILKESTON -
Mark Atkins hailed a fantastic three days for Matlock Town and praised his players and the club's fans in the process. More...
MATLOCK EARN AN IMPRESSIVE FIFTH SUCCESSIVE HOME WIN -
Matlock's impressive home record was maintained as they earned a fifth successive win at the Autoworld Arena in a thrilling game with Grantham on Tuesday night. More...
MAGNIFICENT MATLOCK EARN THE WIN AGAINST SKELMERSDALE -
A magnificent performance from the boys in blue earned the hosts a deserved win against second in the table Skelmersdale, in spite of having to play the final sixty four minutes with only ten men. More...
MATLOCK HOPING
FOR A DEBUT WIN AT THE NEWLY NAMED AUTOWORLD ARENA -
Matlock will be wanting their debut game at their newly named Autoworld Arena to be a memorable one, as they aim to bounce back from an out of character hammering at Rushall last weekend. More...
MATLOCK AGREE LUCRATIVE NEW SPONSORSHIP DEAL WITH AUTOWORLD -
Matlock Town's ground will now be known as the 'Autoworld Arena', as details of the exciting new sponsorship deal emerged this week. More...
MATLOCK FACE SIX POINTER AT RUSHALL AS 2 NEW SIGNINGS ARE ANNOUNCED -
Matlock face a play off contending six pointer at Rushall Olympic on Saturday as two young faces sign for the Gladiators. More...
ATKINS PRAISES PLAYERS AFTER DIFFICULT WIN AT FRICKLEY & NEWS -
Mark Atkins praised his players after their 3-1 victory at a wet and windy Frickley Athletic last Saturday, going unbeaten in 5 games, 4 of which have brought maximum points. More...
GLADIATORS GO
FIVE UNBEATEN
WITH AWAY WIN AT FRICKLEY -
Matlock extended their unbeaten run to five games and secured their first away win in four months in terrible weather at Westfield Lane on Saturday. More...
GLADIATORS EARN A HARD FOUGHT WIN AT HOME TO DROYLSDEN. MATCH REPORT -
Matlock got the win everyone expected against the basement side, but it was a more difficult challenge than the 4-1 win at the Butchers Arms in October More...
THIS WEEK'S NEWS FROM MATLOCK AND
A PREVIEW OF THE DROYLSDEN GAME -
"We take nothing for granted" will be the message from Matlock boss Mark Atkins as they welcome basement club Droylsden to the Reynolds Stadium on Saturday. More...
MATLOCK'S MATCH AT STORMY STAMFORD
IS ABANDONED. MATCH REPORT -
Referee David Plowright halted proceedings after 23 minutes when a fierce thunderstorm engulfed the ground and left the pitch saturated. More...
McMAHON SCORES TWO TO GIVE MATLOCK THREE. MATCH REPORT -
Lewis McMahon's brace earned Matlock their victory, but others behind him put in sterling effort to ensure another clean sheet at home. More...
LATE PENALTY DENIES MATLOCK A WIN AFTER SCRAPPY ENCOUNTER -
A 78th minute penalty leveller denied Matlock all three points from a scrappy encounter at The Meres against Grantham Town. More...
MATLOCK NEWS AND PREVIEW OF SATURDAY'S AWAY TRIP TO GRANTHAM -
After ending high flying Worksop Town's unbeaten run at the thirteenth game, Matlock Town face a different challenge when they travel to Grantham on Saturday. More...
MATLOCK'S INABILITY TO FINISH COSTS THEM ANOTHER 3 POINTS -
For this week's report, see last weeks and probably many before! More points go astray for Matlock simply because they could not finish chances off. More...
MATLOCK'S DERBY DRAW IN THE DARK
AS BUXTON'S BULBS BLOW! -
The lights went out with a bang at the Silverlands to end this Boxing Day A6 derby early at half time. More...
MATLOCK GET THE CLEAN SHEET - BUT NOT THE THREE POINTS -
Again this was a tale of Matlock being unable to take the few chances that came their way in a dour stalemate at home against Marine. More...
ALL THE GLADIATORS' NEWS AHEAD OF THE CHRISTMAS WEEK FIXTURES -
"Individual mistakes are killing us!" declared Matlock boss Mark Atkins after the disappointing and frustrating recent run of form More...
MATLOCK DEFEAT AT STOCKSBRIDGE WAS "LARGELY SELF INFLICTED" -
Matlock Town's disappointing defeat away to struggling Stocksbridge Park Steels, was largely self inflicted. More...
MATLOCK MAKE IT AN UNWANTED HAT TRICK WITH A THIRD CUP EXIT -
Matlock made it an unwanted hat-trick of cup exits against lower league opposition this term, as Glossop knocked them out of the Derbyshire Senior Cup. More...
MATLOCK GET THEIR FIRST WIN IN SIX AS THEY BEAT
TRAFFORD -
This first league win in six matches for Matlock Town was achieved with a little more difficulty than was envisaged at the half time break which came at a bad time for the home side. More...
MATLOCK HAVE 'ONLY THEMSELVES TO BLAME' AFTER
DEFEAT TO WITTON -
Matlock had only themselves to blame for not winning a game they dominated at Witton Albion. More...
MATLOCK MAKE HARD WORK OF A WIN OVER HALLAM IN MID-WEEK FRIENDLY -
The Gladiators made hard work of beating Toolstation NCEL First Division visitors Hallam, in a hastily arranged friendly game at the Reynolds Stadium on Tuesday night More...
MATLOCK SUFFER UNDESERVED FA TROPHY EXIT AT CHORLEY -
Chorley secured a hat-trick of victories against Matlock with this FA Trophy result at Victory Park last Saturday, but the 2-0 scoreline fails to tell the whole story as Matlock deserved at least a replay. More...
MATLOCK MAKE A POINT AGAINST HIGH FLYERS AFC FYLDE. MATCH REPORT -
Danny Holland had given Matlock a deserved interval lead against title contenders AFC Fylde, but the Coasters got a fortunate break five minutes into the second half to level through Andy Russell. More...
TOUGH FIXTURES AND A FAIR PLAY AWARD IN A GLADIATORS NEWS ROUND-UP -
If Monday's FA Trophy draw seemed tough - a visit to Chorley on November 16th - then Mark Atkins' men received confirmation that would be the case in Tuesday night's 3-1 league defeat on the same ground. More...
GLADIATORS FALL AT THE HANDS OF LIKELY DIVISION CHAMPIONS. MATCH REPORT -
Sometimes it's a case of holding hands up and admitting the better side won! This was the case for away fans at Victory Park on Bonfire Night, as the fireworks came from Chorley, who completed a league double over Matlock More...
Related Links