Monday 17th March 2014
by Ian Richardson





Matlock Town FC 0-2 Stafford Rangers
Autoworld Arena, Saturday 15th March 2014, ko 3pm
EvoStik League, Premier Division
A home banker turned into a nightmare for Matlock who were on the end of a shock defeat.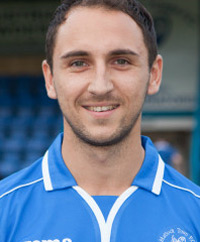 Struggling Stafford, in third bottom spot before kick off, with just two away wins at already doomed Droylsden and all but relegated Stocksbridge, rode their luck, due to atrocious Matlock finishing, to inflict only the Gladiators second defeat of the season at the Autoworld Arena.

Matlock's afternoon was made much worse when David Haggerty, (left), potentially Matlock's player of the season, was stretchered off in the 65th minute and taken by ambulance to Chesterfield Royal Hospital with a facial injury after a collision with Stafford goalkeeper Andrew Jones.

Haggerty was later released from hospital but the diagnosis is a couple of broken bones around the eye which looks like his season is over.

Matlock badly missed the suspended Shaun Tuton, the striker commenced a three match ban following his harsh dismissal against Skelmersdale a fortnight earlier.

His replacement, Darryl Thomas, had an afternoon to forget, missing a hatful of chances, ones which would have put the game beyond Stafford, who in the first half, looked the poorest side to visit Matlock this season.

Oscar Radford failed a fitness test, so Adam Yates dropped back into central defence with Thomas and Lavell White coming into the starting eleven.

White looked lively early on but all too often he lacked the quality final product. As Matlock bombarded the Rangers' goal, Haggerty had a 4th minute header cleared off the line.

Chances to break the deadlock and ease the nerves came regularly for Matlock.

Thomas was unlucky with a diving header from a left wing cross at the far post but then missed some far easier opportunities, including one from less than a yard out.

Then on 42 minutes, James Ashmore drove too high from an excellent position.

But there was a nasty and painful sting in the tail for Matlock. Stafford had scarcely been over the half way line but they broke forward through Daniel Cope down the right, his cross caught Leesley on the hand and a penalty was awarded.

Andrew Griffiths confidently tucked away the spot kick and Rangers had a valuable, but undeserved lead having had the wind at their backs.

HT: 0-1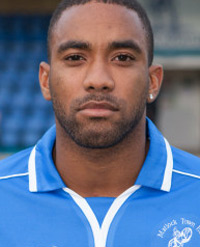 Straight after the restart, Darryl Thomas (left), somehow headed against the bar from two yards out to increase his own personal - and his side's - frustration.

Jones then spilled an Ashmore free kick but escaped punishment as the ball was scrambled untidily away.

The game was handed to Stafford on 57 minutes when from a free kick, Jon Kennedy hesitated and substitute James McCarthy looped a header into the net.

0-2

Haggerty's injury came when a corner was incorrectly awarded after White had shot too high from another fine position, and even with a two goal lead, Rangers looked vulnerable. Equally though, their confidence increased, perhaps subconsciously knowing it was going to be their day.

Jones saved superbly from Leesley and then Danny Holland before Thomas spurned another great chance, his shot skimming wide from sixteen yards with only Jones to beat.

FT: 0-2

The defeat has in all probability extinguished Matlock's play off hopes, while Stafford still need a miracle to stay up. It proves that nothing should be taken for granted in football!


MATLOCK TOWN:
1 Jon Kennedy, 2 Micky Harcourt, 3 Joe Leesley,
4 Martin Foster (12 Corey Gregory, 58), 5 David Haggerty (14 Cecil Nyoni, 65),
6 Adam Yates, 7 Liam Needham, 8 James Ashmore, 9 Danny Holland,
10 Darryl Thomas (16 Alex Bradshaw, 89), 11 Lavell White
Subs not used: 15 Liam Gaughan, 17 Matty Leese
STAFFORD RANGERS:
1 Andrew Jones, 2 Andrew Griffiths, 3 Oliver Davies, 4 Joseph Ballinger,
5 Darren Bullock, 6 Lewis Chalmers (15 Chris Smith, 65), 7 Levi Reid,
8 Ian Craney, 9 Matthew Berkeley (12 James McCarthy, 53),
10 Daniel Cope (14 Saul Henderson, 78), 11 Alex Curtis
Subs not used: 16 Jack Lees, 17 Matthew Johnson
REFEREE: D Street (West Yorkshire)
ATTENDANCE: 346
BEST GLADIATOR: Micky Harcourt
RECENT STORIES
MATLOCK NEWS ROUND UP AND WHITBY PREVIEW -
Matlock boss Mark Atkins and indeed - the club's fans - wanted a positive reaction from the players in the derby at Buxton on Wednesday night and my word, they got one! More...
A WELL DESERVED POINT FOR MATLOCK AFTER A 'FEISTY' DERBY AT BUXTON -
Martin Foster's penalty at the death, earned Matlock a well deserved point in a feisty derby at the Silverlands, after substitute Mark Reed had headed Buxton in front in the 84th minute. More...
GLADIATORS SURRENDER TO A BATTLING WITTON ALBION -
This was probably Matlock's worst home performance all season as they succumbed to a Witton side battling to avoid relegation. More...
MATLOCK SETTLE
FOR A POINT AFTER LIVELY BATTLE WITH BLYTH -
The Gladiators had to settle for a point in a feisty clash at the Autoworld Arena on Tuesday night which saw eight yellow cards and a Blyth equalizer six minutes from the end. More...
MATLOCK SUFFER NARROW DEFEAT AFTER BATTLING FC UNITED ALL THE WAY -
Matlock made league leaders FC United battle all the way for their eleventh successive league victory, with a spirited performance in front of a 2,044 crowd at Gigg Lane. More...
MATLOCK BRING A HARD EARNED POINT HOME FROM BARWELL. -
Matlock earned a well deserved and hard earned point from a physical and direct encounter when they made their first ever visit to Barwell on Saturday. More...
ATKINS - 'STILL A LOT TO PLAY FOR' MATLOCK TOWN'S NEWS ROUND UP -
Two costly defeats in three days seem to have scuppered Matlock's play off aspirations, but manager Mark Atkins insists there is still plenty to play for. More...
MATLOCK LOSE AN 'EASILY FORGETTABLE GAME' AWAY AT STAMFORD -
An easily forgettable game was settled after 21 minutes when Ryan Robbins netted to give the hosts a vital three points in their escape bid against the drop. More...
MATLOCK MARCH ON WITH A THIRD LEAGUE WIN IN A WEEK - AWAY AT ILKESTON -
The damage was done in the first half as Matlock thoroughly deserved their third league win in a week at the New Manor Ground on Saturday. More...
MATLOCK'S NEWS AS THEY PREPARE FOR LOCAL DERBY WITH ILKESTON -
Mark Atkins hailed a fantastic three days for Matlock Town and praised his players and the club's fans in the process. More...
MATLOCK EARN AN IMPRESSIVE FIFTH SUCCESSIVE HOME WIN -
Matlock's impressive home record was maintained as they earned a fifth successive win at the Autoworld Arena in a thrilling game with Grantham on Tuesday night. More...
MAGNIFICENT MATLOCK EARN THE WIN AGAINST SKELMERSDALE -
A magnificent performance from the boys in blue earned the hosts a deserved win against second in the table Skelmersdale, in spite of having to play the final sixty four minutes with only ten men. More...
MATLOCK HOPING
FOR A DEBUT WIN AT THE NEWLY NAMED AUTOWORLD ARENA -
Matlock will be wanting their debut game at their newly named Autoworld Arena to be a memorable one, as they aim to bounce back from an out of character hammering at Rushall last weekend. More...
MATLOCK AGREE LUCRATIVE NEW SPONSORSHIP DEAL WITH AUTOWORLD -
Matlock Town's ground will now be known as the 'Autoworld Arena', as details of the exciting new sponsorship deal emerged this week. More...
MATLOCK HIT FOR SIX AS THEIR UNBEATEN RUN COMES TO AN ABRUPT END -
What a way to lose your unbeaten start to 2014! Matlock conceded six goals in a crazy second half, after leading at half time against Rushall Olympic More...
MATLOCK FACE SIX POINTER AT RUSHALL AS 2 NEW SIGNINGS ARE ANNOUNCED -
Matlock face a play off contending six pointer at Rushall Olympic on Saturday as two young faces sign for the Gladiators. More...
ATKINS PRAISES PLAYERS AFTER DIFFICULT WIN AT FRICKLEY & NEWS -
Mark Atkins praised his players after their 3-1 victory at a wet and windy Frickley Athletic last Saturday, going unbeaten in 5 games, 4 of which have brought maximum points. More...
GLADIATORS GO
FIVE UNBEATEN
WITH AWAY WIN AT FRICKLEY -
Matlock extended their unbeaten run to five games and secured their first away win in four months in terrible weather at Westfield Lane on Saturday. More...
GLADIATORS EARN A HARD FOUGHT WIN AT HOME TO DROYLSDEN. MATCH REPORT -
Matlock got the win everyone expected against the basement side, but it was a more difficult challenge than the 4-1 win at the Butchers Arms in October More...
THIS WEEK'S NEWS FROM MATLOCK AND
A PREVIEW OF THE DROYLSDEN GAME -
"We take nothing for granted" will be the message from Matlock boss Mark Atkins as they welcome basement club Droylsden to the Reynolds Stadium on Saturday. More...
MATLOCK'S MATCH AT STORMY STAMFORD
IS ABANDONED. MATCH REPORT -
Referee David Plowright halted proceedings after 23 minutes when a fierce thunderstorm engulfed the ground and left the pitch saturated. More...
McMAHON SCORES TWO TO GIVE MATLOCK THREE. MATCH REPORT -
Lewis McMahon's brace earned Matlock their victory, but others behind him put in sterling effort to ensure another clean sheet at home. More...
LATE PENALTY DENIES MATLOCK A WIN AFTER SCRAPPY ENCOUNTER -
A 78th minute penalty leveller denied Matlock all three points from a scrappy encounter at The Meres against Grantham Town. More...
MATLOCK NEWS AND PREVIEW OF SATURDAY'S AWAY TRIP TO GRANTHAM -
After ending high flying Worksop Town's unbeaten run at the thirteenth game, Matlock Town face a different challenge when they travel to Grantham on Saturday. More...
MATLOCK'S INABILITY TO FINISH COSTS THEM ANOTHER 3 POINTS -
For this week's report, see last weeks and probably many before! More points go astray for Matlock simply because they could not finish chances off. More...
MATLOCK'S DERBY DRAW IN THE DARK
AS BUXTON'S BULBS BLOW! -
The lights went out with a bang at the Silverlands to end this Boxing Day A6 derby early at half time. More...
MATLOCK GET THE CLEAN SHEET - BUT NOT THE THREE POINTS -
Again this was a tale of Matlock being unable to take the few chances that came their way in a dour stalemate at home against Marine. More...
ALL THE GLADIATORS' NEWS AHEAD OF THE CHRISTMAS WEEK FIXTURES -
"Individual mistakes are killing us!" declared Matlock boss Mark Atkins after the disappointing and frustrating recent run of form More...
MATLOCK DEFEAT AT STOCKSBRIDGE WAS "LARGELY SELF INFLICTED" -
Matlock Town's disappointing defeat away to struggling Stocksbridge Park Steels, was largely self inflicted. More...
MATLOCK MAKE IT AN UNWANTED HAT TRICK WITH A THIRD CUP EXIT -
Matlock made it an unwanted hat-trick of cup exits against lower league opposition this term, as Glossop knocked them out of the Derbyshire Senior Cup. More...
MATLOCK GET THEIR FIRST WIN IN SIX AS THEY BEAT
TRAFFORD -
This first league win in six matches for Matlock Town was achieved with a little more difficulty than was envisaged at the half time break which came at a bad time for the home side. More...
MATLOCK HAVE 'ONLY THEMSELVES TO BLAME' AFTER
DEFEAT TO WITTON -
Matlock had only themselves to blame for not winning a game they dominated at Witton Albion. More...
MATLOCK MAKE HARD WORK OF A WIN OVER HALLAM IN MID-WEEK FRIENDLY -
The Gladiators made hard work of beating Toolstation NCEL First Division visitors Hallam, in a hastily arranged friendly game at the Reynolds Stadium on Tuesday night More...
MATLOCK SUFFER UNDESERVED FA TROPHY EXIT AT CHORLEY -
Chorley secured a hat-trick of victories against Matlock with this FA Trophy result at Victory Park last Saturday, but the 2-0 scoreline fails to tell the whole story as Matlock deserved at least a replay. More...
MATLOCK MAKE A POINT AGAINST HIGH FLYERS AFC FYLDE. MATCH REPORT -
Danny Holland had given Matlock a deserved interval lead against title contenders AFC Fylde, but the Coasters got a fortunate break five minutes into the second half to level through Andy Russell. More...
TOUGH FIXTURES AND A FAIR PLAY AWARD IN A GLADIATORS NEWS ROUND-UP -
If Monday's FA Trophy draw seemed tough - a visit to Chorley on November 16th - then Mark Atkins' men received confirmation that would be the case in Tuesday night's 3-1 league defeat on the same ground. More...
GLADIATORS FALL AT THE HANDS OF LIKELY DIVISION CHAMPIONS. MATCH REPORT -
Sometimes it's a case of holding hands up and admitting the better side won! This was the case for away fans at Victory Park on Bonfire Night, as the fireworks came from Chorley, who completed a league double over Matlock More...
Related Links