Wednesday 12th January 2011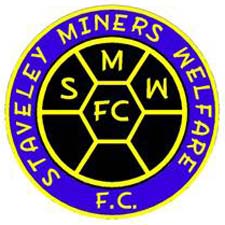 Staveley MWFC went to the top of the NCEL Division 1 with a 6-1 victory against bottom of the league Brodsworth Welfare whose players put up a spirited and sportsmanlike performance.

It was amazingly only Staveley's 2nd league game in 8 matches and the fist league game since mid November.

Laurance Matthewson was given his first game after breaking his ankle in the Shirebrook game in September and Joe Thorton was handed his first start and new signing Scott Ellis was on the bench with Swan, Fawcus and Staley all absent through illness and injury as Manager Billy Fox adopted an all out attack philosophy.

It started badly for Brodsworth when just after 2 minutes Ryan Damms scored from the edge of the area and it seemed the visitors could have a problem looming, but just 2 minutes later Tom Hyde jinxed his way through the Staveley defence to score a very well taken goal and Brodsworth quite rightly were jubilant in celebrating only their second away goal all season.

Staveley's adventurous approach was in turn giving the visitors opportunitie,s but Staveley looked to have goals in them from so many options as attack after attack threatened the Brodsworth goal.

On 21 minutes, a flowing move gave Staveley the lead. Ryan Damms shielded the ball well spinning the ball out to Jamie Smith whose hard driven cross was neatly back heeled by Chris Coy and Joe Thornton had the simple task of scoring Staveley's second and his second goal in as many games.

Just after the half hour Jamie Smith burst through the middle and had options right and left and he slipped in Andrew Fox whose deft outside foot chip over the keeper nestled nicely in to the top corner to give Staveley a 3-1 lead.

The half time whistle went and the teams returned for the second period with Staveley looking for more goals.

Dean Walters was forced off after 48 minutes to be replaced by Richard Patterson. Brodsworth were not rolling over and kept Staveley at bay for an half an hour period where the home side didn't stick to the basics, unlike the visitors, whose hard work was very evident.

Adam Houghton replaced Ryan Damms on 60 minutes and Scott Bates replaced Joe Thornton 10 minutes later. On 70 minutes the young Staveley substitute Adam Houghton was thwarted by the Brodsworth keeper who was now centre stage, but 7 minutes later the keeper was beaten when the youngsters shot hit the crossbar and the rebound was smashed home by Chris Coy to make it 4-1.

It was now one way traffic with the woodwork, spirited defending and some wayward finishing all contributing to the score line remaining at 4-1.

However, Staveley's bright young substitute, Adam Houghton, poached his first senior goal on 85 minutes after some good work by Chris Coy down the left and in injury time the youngster grabbed his second goal and Staveley's 6th after Chris Coy's good work again down the side of a tired looking Brodsworth defence.

In an effort to give players games plus illness and injuries to several players a change of formation was adopted, but it was not the best team performance but a late flurry perhaps gave the score line a just reflection of the game and the many chances that Staveley created.

At the end of the day it was 3 points and a 5 goal increase in goal difference that sent Staveley to the top of the league for the first time this season as Barton Town were held 1-1 yet again.

Having reached the half way stage in the 38 game league programme 5 months after it started, Staveley face a hectic time in getting in so many games in the next 4 months. For example in January, a 22 day period sees no fewer than 7 games and a fully committed and fully fit squad is paramount for Staveley to push for honours.

On Wednesday night, Staveley travel down the road to Shirebrook Town FC with an opportunity to take further points and place pressure on the teams around them although new Shirebrook boss Rudy Funk will be keen to get Shirebrook on a winning run having beaten AFC Emley 2-1 yesterday.
RECENT STORIES
STAVELEY EARN A DRAW -
Yorkshire Amateurs push for promotion seemed to necessitate that the 3 points be taken against Staveley and the loss of another 2 points by the Ammers is giving the chasing pack hope. More...
STAVELEY PUSH ON -
Staveley MWFC pushed further ahead at the top of the NCEL Division 1 with a 1-0 victory against AFC Emley, courtesy of a brilliant strike from Chris Fawcus on 68 minutes. More...
LUCKY NUMBER 7 -
Staveley MWFC made it 7 league wins from 7 beating AFC Emley 2-0 at Inkersall Road with 2 goals from the impressive Joe Thornton, one a thunderous 30 yard free kick. More...
STAVELEY LEAD THE PACK AFTER 3-0 WIN -
Staveley MWFC increased their lead at the top of the NCEL to 4 points with 2 games in hand and also maintain an 11-point gap on 3rd More...
A TEST OF CHARACTER -
Staveley MWFC faced a few questions about their character after the weekend's disappointments when Glasshoughton Welfare came to Inkersall Road. More..
STAVELEY GRIND OUT 2-1 WIN OVER LEEDS MET-
Staveley had one hell of a fight to put 3 more points on the board against Leeds Met Carnegie... More...
STAVELEY MWFC ON RECORD SEQUENCE -
Staveley's 2-1 victory against Grimsby Borough brought the club's best ever sequence of results with 20 wins, 3 draws and just 1 defeat in a 24 game run. More...
SHIREBROOK v STAVELEY MATCH REPORT -
Staveley MWFC came away from Shirebrook Town FC with 3 deserved points in a game that they dominated from start to finish. More...