Wednesday 19th May 2012
by Leah Stafford, Student of Film Studies at Chesterfield College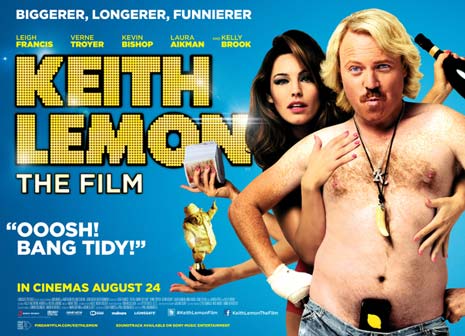 Released: August 24th 2012

Certificate: 15

Director: Paul Angunawela

Cast: Leigh Francis, Kelly Brook, Verne Troyer, Fearne Cotton, Laura Aikman, Kevin Bishop, David Hasselhoff and Holly Willoughby

Running Time: 85 minutes

Plot: The story shows the journey of dim-witted Leeds entrepreneur Lemon travelling to London to make his fortune; while his pregnant "girlfriend" is kidnapped by a comedic evil debt collector (Francis again). The chance of a lifetime appears, and a TV gig with David Hasselhoff lands Lemon millions and millions encouraging the attention of gold-digging model Kelly Brook. The whole story is to help Lemon decide which is more important, money or love?
Watch the trailer:
REVIEW
Should have realised really! Leigh Francis as Keith Lemon has gone a little (when I say a little, I mean drastically) wayward: Celebrity Juice gets naughtier by the week, Lemon Aid was a flop and well, Lemon La Vida Loca is like marmite, you love it or hate it.

However, you can't deny the fact that the character is still hilarious and his comedy is very infectious with his catchy phrases, such as 'bang tidy' and 'potato'.

Then came the news that he had written his own film, and the excitement struck. The opportunity to see him on the big-screen felt like a joke - but it was true; a silly make-believe character having a movie about his life, with a lot of crude humour held our expectations very low.

Although critics are saying this film fails on almost every level, I'm quite torn between my verdict.

The effort is minimum, both artistically and technically, and the film content is on the moronic appeal of unknown swear-words and inappropriate vulgar gags, which works for Lemon in the Celebrity Juice format however, the film holds no intellectual or humorous form.

Private parts jokes and rude words every 5 minutes cannot drive a film on for 85 minutes. I don't mean to be too opinionated or bad mouth the film for being a little bit 'out there' compared to others in its genre, because in fact I'm a huge Keith Lemon fan.

His inappropriate shenanigans and adolescence makes him the funniest man on television at this moment in time. However the use of his comedic tactics in this film go a little too far, there is no freedom ad-lib and genuine shock value which makes him a success.

Throughout the film, the comic impact goes to blow, with his 'jokes' lacking any impact at all - bar one silly but disturbing gag - and the plot, well that is utterly terrible.

If the film had been more tongue-and-cheek and less offensive to most people around the world, then it might have worked for most of the population it's aimed at. On the other hand, I feel as though the best part of the film, is the cameo appearances of Jedward and Paddy McGuiness all the way through it although, some viewers could find them very upsetting.

The film seems to be emerging without any positive credibility and could be seen as a big joke pulled by Leigh Francis! Of course the Keith Lemon 'brand' will entice people to the cinema, but when the product is a dangerous flop, it'll be confirmed that he has failed as a big screen icon.

But then, perhaps Francis saw it all as a joke and actually intended on it being a flop. I mean come on - Keith Lemon, making a film? Everyone knew it'd be the worst film ever. God bless his soul, he almost succeeded.
Verdict
Keith Lemon: The Film shows the extent that some actors go to in an attempt to make a comedic film, however this one shows it for all the wrong reasons. I'm still torn between the humour of the cameos and the disappointment of the 'Lemon'.
RECENT STORIES
DIRECTOR JOE WRIGHT SEEKS
PETER FOR UPCOMING FILM 'PAN' -
One aspiring young actor will have the opportunity to portray one of the most iconic characters ever created, in an all-new big screen adventure based on J.M. Barrie's beloved character Peter Pan More...
MAN OF STEEL -
John Morgan reviews the just released Superman Story remake. More...
SPRING BREAKERS -
John Morgan reviews Harmony Korine's latest film. More...
WELCOME TO THE PUNCH -
John Morgan reviews this British action thriller. More...
THE LAST STAND -
Sarah Wilmot reviews king of the action movie, Arnold Schwarzenegger's return to form More...
AMERICAN PIE: THE REUNION -
Leah Stafford reviews the 4th and latest outing for the outrageous 'school gang' comedy. More...
'HUNGER GAMES' & 'HEADHUNTERS' -
James Mahon reviews 2 films that are creating waves in different ways. More...
'FISHING UNDER THE ICE' SENSATION HOOKS THE WORLD -
James Mahon reviews the YouTube Hit that has garnered over 2 million hits in 6 days. He has also spoken exclusively with the makers of the film. More...
'THE INBETWEENERS MOVIE'
Review by Leah Stafford.
More...
'GREEN HORNET' Review by Jack Grasby. More...
'127 HOURS' Review by Jordan Lee. More...
'BURKE AND HARE' Review by Ben Mapletoft. More...
'RED' Review by Aaron Price. More...
'Eclipse' Review by
Millie Jepson. More...