Monday 22nd September 2014




Jesse McClure, star of Storage Hunters - currently airing on satellite channel Dave - was in town on Friday visiting the PROACT stadium.

Chesterfield supporters have no need to be alarmed however; he wasn't rooting through the trophy cabinet - but simply paying a visit to meet fans of the show.



Jesse checks out the merchandise in the Spireites Superstore!

After meeting manager Paul Cook, and being presented with a personalised shirt (below), he took time out to speak with The Chesterfield Post, telling us, "I got invited here to hang with fans and see what it's all about. I'm really excited to be here. I'm still trying to get into the 'football zone' so hopefully, I can learn a thing or two along the way. I'm a Stoke fan, I bash Port Vale any time I can."



Chesterfield Manager Paul Cook presents Jesse with a personalised shirt

For those of us who haven't heard of Storage Hunters (and it sounds a fun job!) Jesse filled us in, "It's a show on Dave here in the UK and it's following around a group of bidders, going round bidding on storage auctions. When you don't pay your storage bill, it goes up for auction and the highest bidder gets it - so I go round storage units and punch people in the face!"

A popular show in the UK, it's not just the punching which makes it so watchable, as the bidder will bid on a storage container which has indeterminate contents, "You'll never know what you'll get, or what condition it will come in and that" says Jesse "adds to the fun! Everyday is something new, you get gross stuff - ashes of something or someone, adult stuff to crazy stuff, antiques and the like.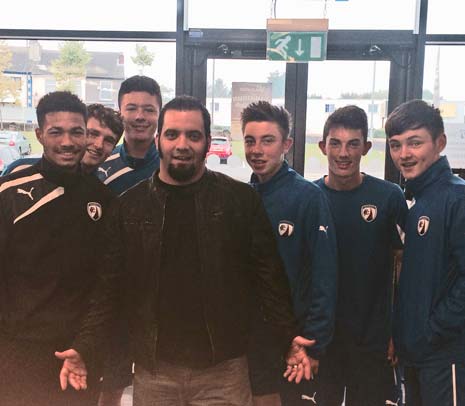 Jesse meets some of the CFC Development Squad

"My family owns an antique mall in Los Angeles so I've being doing this since I was 12 so it was a perfect fit. I have been doing this my entire life!

"I think re-sell in general isn't an exciting topic but when you have that anticipation (of buying unseen lots), it adds that entertainment value and that makes it so popular here."

His most valuable find was, "$42,000 of vintage cameras. I sold them for a $1,000 dollars apiece, so that was a good day!

"Everyone thinks all their stuff is worth it but you have to find someone who's willing to pay it - that's the tough thing!"

Asked if the recession had led to an upsurge in people doing this, Jesse admitted there had been some impact, but that the success comes from knowing your market, "It kinda goes both ways, with the recession, there's more items available and more bargains to be had, but it's finding someone whose willing to pay what it was before the recession.

"You try to sell on the little things and hold on to the bigger things, hoping there'll be an upswing. Collections come and go so you don't want to hold on to the 'beanie babies' for too long as now they're worthless, so you need to pick the right time!"
Listen to the interview with Jesse McClure in full here...
OTHER STORIES
CHESTERFIELD APPRENTICE SCOOPS FOUR NATIONAL AWARDS -
An auto-electrician apprentice from Chesterfield has been recognised as one of the best in the country after scooping four awards at a national ceremony. More...
"ALL ABOUT LOVE!" CHESTERFIELD UNVEILS NEW CANNELE TWIST RING-
An award-winning designer was at a Chesterfield jewellery store on Saturday - showcasing his range of statement pieces and unveiling his Cannele twist engagement ring.
More...
FUNERAL PLANS FOR DOWAGER DUCHESS OF DEVONSHIRE ARE ANNOUNCED -
It's been announced that the funeral service for Deborah, Dowager Duchess of Devonshire will be held at 12 noon, at St Peter's Church, Edensor on Thursday 2nd October 2014. More...
POSSIBLE STRIKE ACTION MAY HIT
TRAIN SERVICES
THIS WEEKEND -
Chesterfield train commuters may face a week of disruption to services as East Midlands Trains' engineering and maintenance staff will strike unless an agreement can be reached More...
BOROUGH COUNCIL SCHEME TO HELP FIRST TIME BUYERS
IS EXTENDED -
A scheme to get house buyers in Chesterfield on the first step of the property ladder is being extended so applicants can buy homes costing up to £150,000. More...
POUNDLAND DOUBLES IT'S VALUE AS NEW STORE OPENS IN CHESTERFIELD -
Poundland, Europe's biggest single price discount retailer, will be opening a second store in Chesterfield on Ravenside Retail Park on 27th September - creating 30 jobs for the local community. More...
DEBORAH, DOWAGER DUCHESS OF DEVONSHIRE DIES, AGED 94 -
Chatsworth has announced that Deborah, Dowager Duchess of Devonshire passed away this morning, Wednesday, September 24th. More...

STAGECOACH BUS DRIVERS BIDDING FOR PASSENGERS VOTES TO WIN STAR TITLE -
Bus passengers in Chesterfield are being encouraged to vote for their favourite driver and be in with a chance of winning a top prize. More...
CASA ADDS UNIQUE WEDDING SPLENDOUR AT WALTON LODGE AND WEDDING FAYRE-
Casa Hotel is adding a further string to its wedding bow by offering weddings at the captivating Walton Lodge as well as staging their own Autumn Wedding Fayre on Sunday 21st September. More...
HIGHWAYS AGENCY WANT YOUR VIEWS
ON PLANNED M1 IMPROVEMENTS -
The Highways Agency has said it is planning to undertake improvements to the M1 through delivering a smart motorway between junctions 28 to 31 and between junctions 32 to 35a. More...
CLARENCE HOUSE ANNOUNCE A NEW ROYAL BABY IS ON THE WAY! -
It's been announced this morning that HRH The Duke and Duchess of Cambridge are expecting their second baby. More...
JEWELLERY DESIGNER PAYS HOMAGE TO HER DERBYSHIRE ROOTS -
One local designer, who says the hills and landscapes of her home county - Derbyshire - provides inspiration for her unique creations, is now showcasing her wares in Chesterfield More...
INQUEST RESPONSE TO INSPECTION REPORT ON HMYOI HINDLEY -
The Chief Inspector of Prisons has today published an inspection report on HMYOI Hindley that notes, despite 'significant improvements', Hindley was 'still struggling to keep some of the boys it held safe'. More...
CHESTERFIELD ARMY CADET PASSES OUT FROM SANDHURST MILITARY ACADEMY -
A young cadet from Chesterfield has joined around 200 fellow graduates in a prestigious ceremony as she passed out from the Royal Military Academy Sandhurst More...
'FARM TO FORK' ROADSHOW HITS CHESTERFIELD'S TESCO EXTRA -
Tesco customers are being invited TODAY (Friday, 125th August) to the Chesterfield Tesco Extra store at Lockoford Lane, for a 'Farm to Fork' roadshow. More...
THE SHORTLIST FOR THE 2014 FOOD AND DRINK AWARDS IS ANNOUNCED -
24 food and drink businesses have been shortlisted across nine categories in the 2014 Chesterfield Food and Drink Awards, organised in association with Chesterfield College - headline sponsor of the awards for the second year running. More...
FLOODING AND ROAD COLLAPSE CHAOS FOLLOWING HEAVY DOWNPOURS -
Chesterfield was once again left struggling with flooding at major junctions into the town tonight following heavy rain in the early evening. More...
NEW MARKHAM DEVELOPMENT BRINGS FURTHER JOBS BOOST -
A new family pub and restaurant development is to open on Derbyshire County Council's flagship regeneration site bringing 40 jobs to the area. More...
LOCAL MCDONALD'S VOLUNTEERS CLEAN UP CHESTERFIELD SKATE PARK -
Local McDonald's franchisee, Walter Wright and crew from the two restaurants in Chesterfield joined forces to tackle litter in the local skate park situated in-between the two restaurants. More...
DERBYSHIRE COMPANIES URGED TO EXPLORE OMAN AND QATAR -
Forward-thinking local companies are being urged to make the most of business opportunities in some of the fastest growing areas in the world, as export body UK Trade & Investment (UKTI) launch a high profile market visit to Oman and Qatar. More...
HAVE WE GOT A HANDLE ON ONLINE GAMBLING? (GUEST ARTICLE) -
With the World Cup finally ended, sports betting and online gambling in general has been making the headlines for more than a few reasons recently. More...
COUNCILLORS CAMPAIGN FOR
SAFER EXIT FROM WHITTINGTON STORE -
Cllrs David and Paul Stone have been campaigning on behalf of local residents for a clearer and improved view of passing vehicles when cars are exiting the Tescos Store on the High Street at Whittington. More...
NEXT STOP, AWARD WINNING APPRENTICESHIP PROGRAMME -
Three talented young people are being given the opportunity to join one of the transport industry's leading engineering apprenticeship programmes. More...

CHESTERFIELD TURNS OUT TO WELCOME HOME THE LANCERS -
The 9/12th Lancers, marched through Chesterfield this morning as part of their homecoming parade after returning from an eight month tour of duty in Afghanistan.
More, Pics & Audio...
CHESTERFIELD SOLDIER READY TO PARADE THROUGH HER HOME TOWN -
Soldiers from the 9/12th Royal Lancers (Prince of Wales') are looking forward to marching through the streets of Chesterfield tomorrow - Thursday, 3rd July More...
NEW FOOTBRIDGE IS OPENED AT CHESTERFIELD CANAL FESTIVAL -
The new Constitution Hill Footbridge, built over Chesterfield Canal in Staveley has been officially opened More...