Tuesday 20th November 2012


Local people and supporters of Chesterfield Panthers Rugby Union Football Club are being given the opportunity to put forward suggested road names for the new housing development that is being built on the Club's former Sheffield Road site.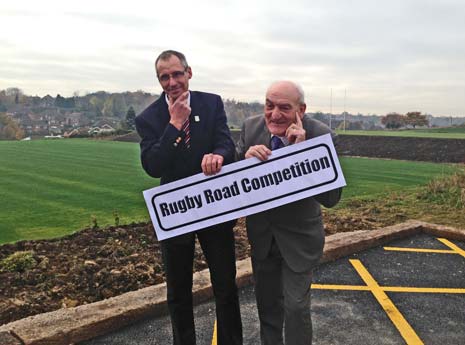 Panthers' Chris Johnson (left) with Cllr John Burrows launch the 'Rugby Road' competition

Councillor John Burrows, Leader of Chesterfield Borough Council (above right) said: "We ran a similar competition recently for the old Saltergate ground and this was a bit hit with local people. The old rugby ground has been at Sheffield Road since 1927, so there's a lot of history attached to the site. so it's important that local residents and supporters are included in the naming of the new roads."

The Council has teamed up with the Panthers Rugby Club to run a competition that will see a number of suggestions put out to public vote - and the most popular choices will be allocated to the two roads that will run through the new housing development. There are two prizes up for grabs - a pair of international tickets to a match at Twickenham and a £100 prize voucher.

Graham Bell, Chair at Chesterfield Panthers RUFC said: "I think it's very fitting that the new housing development should recognise the historical significance of the rugby club, so we're pleased to support this competition and hope many fans get involved and come up with some great ideas."

To enter, either visit www.chesterfield.gov.uk/rugbyroads or you can post your entries to Adelle Chapell, Rugby Roads, Chesterfield Borough Council, Town Hall, Rose Hill, Chesterfield S40 1LP.

Whilst at the new Rugby Club, sited on Dunston Lane, we caught up with club Chairman, Chris Johnson, who told us that the new ground had been worth the wait.

Asked first of all if he was pleased with the new facility he said...
"I'm absolutely delighted - and all credit must go to the men over there who have worked tirelessly to do this over the last 16 years or so.

"It's been a hard graft but we're now seeing the fruits of that labour and everyone who has put work and effort into it, I just can't thank them enough!

"It was a proud day when I refereed on that pitch last weekend, it's absolutely wonderful and it will be a credit to the town."

What does it mean to the club having such a lovely facility, we all knew and loved the old one?
"Well, it's a new era. We can step off from this now and grow the club even further. We've got a wonderful junior section which gives a lot of pleasure to about 250 young people every week, and we just hope to expand that.

"And we've now got community facilities to attract other sports in with us as well and hopefully provide not just a rugby facility, but a community facility as well.

"The clubhouse will be built over the next 20 weeks or so, so should be ready about May time and we will have a big opening ceremony. Again, that will be a community facility, for playgroups and scouts as well as sporting activities."

How can people get in touch if they want to get involved?
"The contact details for the club secretary are on the club website and we hope to become a community centre and people can come and use us.

"Rugby is a social game and people need to come and get involved - the more people we can attract here, we can attract into rugby."

And of course the last club not far away to have a new ground had Elton John to perform, have you got any plans along those lines?
"Well we don't have a stadium, but we will be putting on social activities - festivals and things over the summer when we're not playing rugby."
RECENT STORIES
FREE PARKING IN CHESTERFIELD FOR CHRISTMAS SHOPPERS -
Christmas cheer comes early for local bargain hunters as Chesterfield Borough Council agrees to free parking for late night shoppers this Christmas. More...
FROM FLOOD TO FREEZE - COUNTY COUNCIL'S ADVICE ON STAYING SAFE -
Motorists are being warned by Derbyshire Country Council to take extra care on the roads over the next few days.
More...
DERBYSHIRE'S FLAGSHIP APPRENTICESHIP SCHEME GROWS -
Good news for young people in Derbyshire as Derbyshire County Council say a further 300 to be helped into work through £300k extension of nationally-acclaimed apprenticeship drive. More...
Y6 PUPILS GRILL CHESTERFIELD MP TOBY PERKINS -
Some thought-provoking questions were put to Chesterfield MP Toby Perkins, by Y6 pupils at Whitecotes Primary School in Chesterfield, during a recent visit there. More...
OPEN DAY FOR
NORTH DERBYSHIRE JOBSEEKERS -
Jobseekers are being urged to find out more about free, independent and confidential help which is available as part of a project running in NE Derbyshire. More...
DERBYSHIRE COUNCIL URGES TO PREPARE FOR FURTHER FLOODING -
With weather conditions set to deteriorate again this weekend, residents and motorists are being urged by Derbyshire County Council to get prepared for further flooding. More...
DEALING WITH FLOODING - HAVE YOUR SAY -
Given the current weather, it's a good time for a reminder that local residents and businesses can make their views known to help Derbyshire County Council draw-up a new plan to help address flooding More...
CHESTERFIELD MP SPEAKS OUT OVER PCC ELECTION 'FIASCO' -
After the furore over the PCC elections last Thursday which attracted nationwide vilification from voters, Chesterfield MP Toby Perkins has now spoken out More...
CALLING FORMER MARKHAM MINERS TO HELP SHAPE EXCITING NEW MEMORIAL -
Chesterfield's former miners and families are invited to share their memories to help shape an exciting new artwork on the site of Markham Vale. More...
PARK PATROLS STEPPED UP AFTER DAMAGE -
Chesterfield Borough Council and Derbyshire Police are working together to clamp down on anti-social behaviour which is causing damage to the town's much loved Queen's Park. More...
DERBYSHIRE COUNCIL PLEDGES SUPPORT TO ARMED FORCES -
Derbyshire Council leaders have joined together to pledge their on-going support for the country's Armed Forces by signing a new community covenant More...
MISSING CANAL LINK COULD BE RESTORED IN KILLAMARSH -
A 'missing link' of the Chesterfield Canal could be restored as part of a housing regeneration scheme in Killamarsh. More...
COUNCIL'S MEET THE BUYER EVENT PAYS OFF FOR LOCAL COMPANY -
Tudor Stone, based at Storforth Lane in Chesterfield, attended the Council's Meet The Buyer event in September and has now been appointed by the contractor More...
'SAY NO TO COLD CALLERS' CAMPAIGN -
Residents are being urged to use traders whose work has been vetted and turn away cold callers as part of a week-long national campaign. More...
COUNCIL BACKS CALL TO BE ADOPTIVE PARENTS -
A national call to find more adoptive families for children in care is being backed by Derbyshire County Council. More...
MARKHAM VALE GOES FROM STRENGTH TO STENGTH -
Work has begun on a new link road which will open up further land for jobs creation at Derbyshire's flagship regeneration site. More...
COUNCILLOR 'VERY CONCERNED' OVER POLICE STATION CLOSURE -
One Derbyshire County Councillor says he's "very concerned" that the closing of a vital police office will affect the local area and has urged the Chief Constable to think again before withdrawing it from service. More...
NATASCHA ENGEL MP VISITS ONE OF SMALLEST SCHOOLS IN CONSTITUENCY -
Natascha Engel MP spent time answering questions about her life as an MP from pupils and parents in the morning family assembly, when she visited Penny Acres Primary School More...
TEENAGE KICKS GIVES A FICTION FIX -
Authors interested in writing for young adults, Teachers looking for new ideas to capture student interest, keen teen readers or budding young writers, Teenage Kicks will spark your interest and spur your creativity. More...
KILLAMARSH BENEFIT CHEAT SENTENCED -
A Killamarsh man has a jail sentence hanging over his head after illegally claiming over £12,000 worth of benefits. More...
BLUE BADGE CONTROVERSY QUESTIONED BY LOCAL MP -
NE Derbyshire MP, Natascha Engel, has picked up the mantle on behalf of Blue Badge holders over mobility being assessed by a brief phone call. More...
HAVE YOUR SAY IN 'NAME THAT STREET' COMPETITION -
Supporters of Chesterfield FC and residents of Chesterfield are being asked to make their final vote in the 'Name That Street' competition. More...
NATASCHA ENGEL MP VISITS TWO LOCAL JUNIOR SCHOOLS -
MP for North East Derbyshire Natascha Engel took part in a different sort of Question time on Friday 12th October when she visited two of the constituency's local schools More...
PM PRESSED ON EU VOTE BY LOCAL MP NATASCHA ENGEL -
PM's Questions this week saw Natascha Engel, MP for N E Derbyshire, question David Cameron on how he would vote in a referendum on Britain's continued membership of the EU. More...
WE WILL FIND YOU AND WE WILL FINE YOU! -
Chesterfield Borough Council has collected nearly £4,000 in fixed penalty notices for dog fouling and littering during the past 3 months (June - Sept 2012). More...
COUNCIL JOB SCHEME HAILED A SUCCESS -
Chesterfield Borough Council has received praise for its handling of the WNF scheme to get people back into work. More...
NEW REGISTER OF FIREWORK SELLERS LAUNCHED FOR SAFER CELEBRATIONS -
A public register of authorised firework stores has been launched by Derbyshire County Council ahead of this year's bonfire night celebrations. More...
OPEN DAY INVITE TO DRONFIELD JOBSEEKERS -
Jobseekers are being urged to find out more about free, independent and confidential help which is available as part of a project running in North East Derbyshire. More...
DEALING WITH FLOODING IN DERBYSHIRE -
Residents and businesses across Derbyshire are being asked for their views to help Derbyshire County Council draw-up a new plan to help address flooding. More...
MARKET HALL TRADERS SET UP TEMPORARY SHOP -
This week, traders from Chesterfield's Market Hall will move into temporary accommodation in preparation for the Hall's major refurbishment project. More...
SKYDIVING 'SUPERGRAN' RAISES £430 FOR COUNCIL APPEAL -
Supergran' Pam Evans has raised £430 for North East Derbyshire District Council's Chair's Appeal, after taking part in an indoor skydive. More...
DO YOU KNOW 'KIZZY' THE DOG? -
NE Derbyshire District Council are trying to trace the owners of a white and tan Jack Russell who was found wandering on North Side in Tupton on Tuesday 2nd Oct More...
CHESTERFIELD TOWN CENTRE GETS A HEALTH CHECK -
Chesterfield Borough Council is taking a snapshot view of the number of people visiting the town centre over four days in October. More...
LOCAL SPORTING TALENT RECEIVES TOP AWARDS -
Local athletes, sports coaches and volunteers celebrated success across a variety of categories at the recent Chesterfield & North East Derbyshire Sports Awards 2012. More...
SCOUTS PREPARED FOR CHESTERFIELD MP TOBY PERKINS -
Scouts from across the UK have lit up the first of the three major party conferences this year. More...
CHESTERFIELD NEW BUILD SEEKS SUPPLIERS AND SUBCONTRACTORS -
Opportunities for suppliers and sub-contractors in the construction industry will be made available at a 'Meet the Buyer' event in Chesterfield. More...
SEARCH IS ON FOR DERBYSHIRE'S YOUNG ACHIEVERS 2012 -
The search is on to find the county's most deserving youngsters, who could pick up one of Derbyshire County Council's Young Achiever Awards 2012. More...
EGG CRACKDOWN LAUNCHED TO PROTECT LOCAL CONSUMERS -
Shops and restaurants in Derbyshire are being warned to make sure the eggs they are selling and cooking with comply with the law. More...
'I'LL NAME THAT STREET IN ONE!' SALTERGATE NEEDS YOU -
The Council and Chesterfield FC say they are keen that Saltergate is not forgotten, and have launched a competition to name the arterial street running through the site. More...

GAS SAFE WEEK: TAKE CARE, BE GAS SAFE! -
Chesterfield Borough Council has said that it is proud to be supporting Gas Safety Week More...
LOCAL MP WELCOMES CPP LIFELINE -
Toby Perkins MP has welcomed improvements at CPP - a multimillion financial services company and major Chesterfield employer. More...
MP NATASCHA ENGEL RAISES CONCERN OVER NEW PLANNING RULES -
A local MP has raised her concerns on planning issues in Parliament during the last week. More...

CHESTERFIELD MP VOTES FOR WEST BARS TANDOORI -
West Bars Tandoori has won the regional runners up prize in the Tiffin Cup, following their nomination by Chesterfield MP Toby Perkins. More...
MOBILITY COMPANY BOSSES ADMIT DEFRAUDING ELDERLY OF OVER £40,000 -
Bosses of two former Derbyshire mobility companies have admitted defrauding elderly victims of over £40,000. More...
LAST CHANCE TO APPLY FOR COUNCIL'S £1.000 SPORTS ACTION GRANT -
Sports clubs and groups are reminded there's just one week left to apply for funds in the last round of Derbyshire County Council's Sports Action Grant scheme. More...