Chesterfield FC is supporting a major fund-raising initiative in support of The Football League's official charity partner for the 2010/11 season as chosen in a recent supporters survey.
The Marie Curie Cancer Care Charity cares for people with cancer and other life limiting illnesses, provides services which are always free of charge to patients and their families and is best known for its network of Marie Curie Nurses working in the community to provide end-of-life care for patients in their own homes.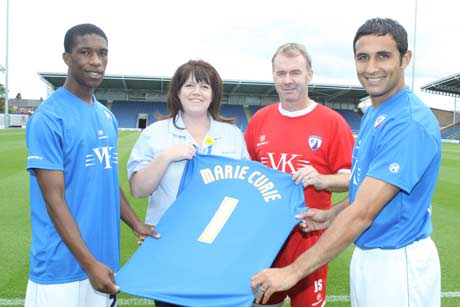 (l to r) Tendayi Darwikwa, local Marie Curie Cancer Nurse Michelle King,
CFC Manager John Sheridan and Jack Lester
Their work is done across the UK and covers every one of the local communities covered by Football League clubs like Chesterfield. The charity also has nine hospices, conducts palliative care research to find better ways of caring for terminally ill people and funds scientific teams investigating the causes of and treatments for cancer.
Chesterfield FC is playing it's part in the campaign by setting up a dedicated 'Just Giving' website to enable supporters to make a donation for this good cause if they wish to. Go to www.justgiving.com/Chesterfield-Football-Club.
Chesterfield Chairman Barrie Hubbard said: "There is no doubt this is an excellent cause that provides a service none of us wishes to use, but it is so crucial that it is there when it is needed that we want to give our supporters the chance to show their support."
Last season's support for Help for Heroes by Football League clubs was tremendously successful and helped raise awareness and more than £300,000 through bucket collections and initiatives. This year, it is hoped to do even more for Marie Curie Cancer Care. An overall fundraising target of £500,000 has been set for the season.
To raise it, fans up and down the country will be raising monies for the charity through a number of 'challenges', such as runs, bike rides and even a climb of Mount Kilimanjaro. And, aiming to repeat the success of last year's 'Football for Heroes Week', the Football League is to stage a week of action from 7th to 13th March 2011, encouraging all clubs to hold a home game dedicated to raising the profile of, and funds for, the charity. For Chesterfield, that special game will be the home fixture against Northampton Town on Tuesday 8 March 2011.

Any Chesterfield supporters wishing to get involved by arranging a fund-raising initiative for Marie Curie Cancer Care should contact CFC community director John Croot at the club on 01246 209765.
In the meantime, go to www.justgiving.com/Chesterfield-Football-Club

For more information and other CFC news, go to www.chesterfield-fc.co.uk



RELATED STORIES
FANS KICK OFF A GREAT START TO THE SEASON -
It's been a record-breaking start to the season at the B2 NET stadium, with home games pulling in a 46% increase in crowds. More...
MAKING SURE FAMILIES ENJOY THE MATCH -
As bigger crowds at the B2 Net testify - these days there's a real family atmosphere at Chesterfield matches. More...
DEMA GLASS
REUNION -
Former employees of any of the companies that were located on the former Dema Glass site on Whittington Moor More...
CAN YOU HELP CFC? -
If you're based near Chesterfield Football Club's B2 Net stadium and you can offer match day parking facilities, More...
BUY TICKETS EARLY -
If you're planning on going to Saturday's game at the B2 Net stadium to see The Spireites take on Cheltenham Town then you're being encouraged to buy a ticket in advance. More...
SOMETHING BLUE... -
One lucky bride in Chesterfield made history when she became the first to marry at the B2 Net stadium. More...
OWLS CUP DATE FIXED - Chesterfield's Johnstone's Paint Trophy second round game against Sheffield wed at Hillsborough has been fixed for Wed 6th Oct - kick off 7.15 pm. More...
TICKETS FOR
TROOPS - Chesterfield Football Club is proud to announce that it is to participate in
the 'Tickets For Troops' scheme More...

Related Tags