Wednesday 15th September 2010

As bigger crowds at the B2 Net testify - these days there's a real family atmosphere at Chesterfield matches. The Spireites are therefore proud to support the Football league's 20010/11 "Enjoy the Match" campaign, which aims to promote a family friendly atmosphere at the B2net Stadium.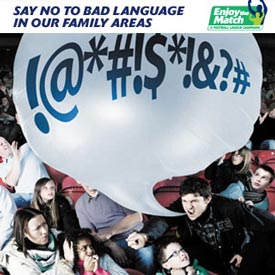 This season, across the Football Leagues, there's renewed focus on removing abusive language and aggressive behaviour from the terraces, especially from family areas. Chesterfield Football Club is keen to ensure anyone's enjoyment is not spoiled by having to hear bad language from other fans.
Chesterfield FC's Stadium Manager Colin Nellist said: "Everyone is enjoying the new matchday experience at the B2net Stadium and we want to ensure that families can watch their favourite team without having crude language being inflicted on them by other supporters."

"It was a problem we had at Saltergate from some supporters and we want to ensure it is one bad habit that has been left behind. It's not necessary, it's not wanted, and we want all those who can spoil if for others to take heed of our clear and simple message - watch your language or we will stop you coming."

He added: "Fans can text 07919 053 664 to report individuals during the match so immediate action can be taken. This could even lead to those found guilty being banned from the ground."

For more information and other CFC news, go to www.chesterfield-fc.co.uk


RECENT STORIES
SPIREITES HERO DEBUTS FOR ENGLAND -
Former Spireites player Kevin Davies earned his first England Cap tonight, as England took on Montenegro at Wembley in the Group G Euro qualifier. More...
SHRIMPERS FALL THROUGH THE SPIREITES NET -
We all thought the Spireites had used their "get out of jail" card last week at home to Crewe in the epic 5-5 match so where this one came from I've no idea. More...
YOU KNOW WHERE YOU'D RATHER BE THIS WEEKEND! -
The Football League has launched a new campaign encouraging fans to get their football fix at a local League 1 or League 2 club. More...
SPIREITES STAR PICKED FOR ENGLAND SQUAD -
Former Chesterfield Player Kevin Davies has been announced as part of the England squad named by manger Fabio Capello. More...

I WAS THERE! A FAN'S VIEW -
It was a game Hollywood would be interested in or at least some low budget football movie that could go straight to DVD... More...

ALL IN A GOOD
CAUSE -
It was a far cry from the heat of South Africa when this year's World Cup Final Referee came to the Spireite's new home... More...
FANS ADVISED TO SIT IN ALLOCATED SEAT -
Chesterfield Football Club is warning that anyone who cannot prove they're in the right seat at matches at the B2 Net may be moved. More...
FANS KICK OFF A GREAT START TO THE SEASON -
It's been a record-breaking start to the season at the B2 NET stadium, with home games pulling in a 46% increase in crowds. More...
DEMA GLASS
REUNION -
Former employees of any of the companies that were located on the former Dema Glass site on Whittington Moor More...
CAN YOU HELP CFC? -
If you're based near Chesterfield Football Club's B2 Net stadium and you can offer match day parking facilities, More...
BUY TICKETS EARLY -
If you're planning on going to Saturday's game at the B2 Net stadium to see The Spireites take on Cheltenham Town then you're being encouraged to buy a ticket in advance. More...
OWLS CUP DATE FIXED - Chesterfield's Johnstone's Paint Trophy second round game against Sheffield wed at Hillsborough has been fixed for Wed 6th Oct - kick off 7.15 pm. More...
SOMETHING BLUE... -
One lucky bride in Chesterfield made history when she became the first to marry at the B2 Net stadium. More...
CFC PROUD TO SUPPORT MARIE CURIE CANCER CARE - Chesterfield FC is supporting a major fund-raising initiative in support of The Football League's official charity partner for the 2010/11 season as chosen in a recent supporters survey More...
TICKETS FOR
TROOPS - Chesterfield Football Club is proud to announce that it is to participate in
the 'Tickets For Troops' scheme More...

Related Tags