Friday 24th September 2010

It was a far cry from the heat of South Africa when this year's World Cup Final Referee came to the Spireite's new home to participate in a seminar for local businesses.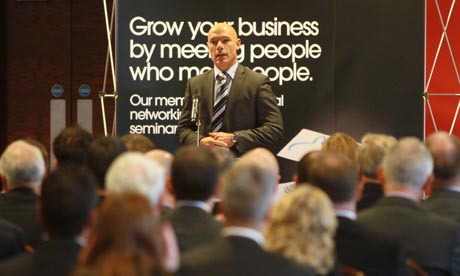 Howard Webb, who was the first English Ref to take charge in a final since Jack Taylor in 1974, was at the event to promote the Yorkshire Bank's partnership with Help the Hospices, a national charity which raises funds for, amongst others, The Ashgate Hospice.
Local business leaders not only got a unique insight into the life of the world's top referee, but they were also given helpful charitable advice on the best ways of supporting the local community with volunteering programmes, community partnerships, fund raising activities and community donations.
Howard Webb said: "Raising the profile of the hospice movement is such a worthy cause and I was doubly delighted that Yorkshire Bank organised the event at the Spireites new stadium."
Although Webb is no stranger to Chesterfield, and refereed in last year's home match against Grimsby Town, the 39-year-old was more than impressed with the move from 'traditional' Saltergate.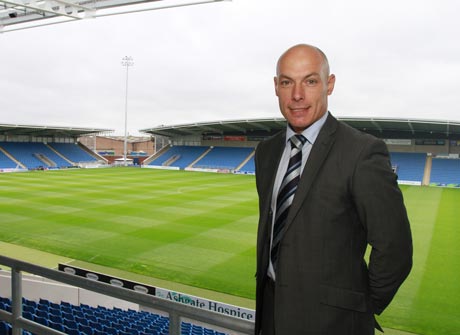 Despite refereeing in some of the world's biggest stadia, he said: "I am massively impressed with the B2net Stadium and I think it's ideal for Chesterfield Football Club's needs at the present.

It's been put together really well and has some great finishes to it, and it's more than perfect for corporate events like the one today."

Steve Wicks, Partner of Business Banking for Yorkshire Bank said: "Help the Hospices is a national charity but we have also been focusing on the local Ashgate Hospice as we wanted to help bring in more local firms to help the cause."

He added: "Having such a high profile name as Howard Webb as this new venue will no doubt boost the support for local hospices, which our employees have already been doing for some time, and we hope other local businesses will continue with their support as well."

Ashgate Hospice fund-raiser Emily Evans said: "We welcome the generosity of the general public and the vital support that the business community plays in helping with our funding needs. There is more information on how to help at www.ashgatehospice.org or ring 01246 567250."

Howard Webb has donated his fee for the Yorkshire Bank event to the Help the Hospices charity.




pictures © and courtesy of Tina Jenner


For more information and other CFC news, go to www.chesterfield-fc.co.uk





RECENT STORIES
B2net STADIUM ON EURO SHORTLIST -
Chesterfield's new flagship stadium has been named as one of six venues to host the Under-21 European Championship in 2013. More...
DAVIES AT THE DOUBLE. WYCOMBE V CFC - A FAN'S VIEW -
It was another international though who made his name yesterday with a brace of goals and confirmed himself as the clubs leading scorer. Craig Davies kept up his fine run of form More...
KICK BOREDOM INTO TOUCH -
As half term approaches, Chesterfield FC will be holding October Soccer camps for boys and girls every day during the holidays. More...
SPIREITES HERO DEBUTS FOR ENGLAND -
Former Spireites player Kevin Davies earned his first England Cap tonight, as England took on Montenegro at Wembley in the Group G Euro qualifier. More...
SHRIMPERS FALL THROUGH THE SPIREITES NET -
We all thought the Spireites had used their "get out of jail" card last week at home to Crewe in the epic 5-5 match so where this one came from I've no idea. More...
YOU KNOW WHERE YOU'D RATHER BE THIS WEEKEND! -
The Football League has launched a new campaign encouraging fans to get their football fix at a local League 1 or League 2 club. More...
SPIREITES STAR PICKED FOR ENGLAND SQUAD -
Former Chesterfield Player Kevin Davies has been announced as part of the England squad named by manger Fabio Capello. More...
I WAS THERE! A FAN'S VIEW -
It was a game Hollywood would be interested in or at least some low budget football movie that could go straight to DVD... More...
FANS ADVISED TO SIT IN ALLOCATED SEAT -
Chesterfield Football Club is warning that anyone who cannot prove they're in the right seat at matches at the B2 Net may be moved. More...
FANS KICK OFF A GREAT START TO THE SEASON -
It's been a record-breaking start to the season at the B2 NET stadium, with home games pulling in a 46% increase in crowds. More...
MAKING SURE FAMILIES ENJOY THE MATCH -
As bigger crowds at the B2 Net testify - these days there's a real family atmosphere at Chesterfield matches. More...
DEMA GLASS
REUNION -
Former employees of any of the companies that were located on the former Dema Glass site on Whittington Moor More...
CAN YOU HELP CFC? -
If you're based near Chesterfield Football Club's B2 Net stadium and you can offer match day parking facilities, More...
BUY TICKETS EARLY -
If you're planning on going to Saturday's game at the B2 Net stadium to see The Spireites take on Cheltenham Town then you're being encouraged to buy a ticket in advance. More...
OWLS CUP DATE FIXED - Chesterfield's Johnstone's Paint Trophy second round game against Sheffield wed at Hillsborough has been fixed for Wed 6th Oct - kick off 7.15 pm. More...
SOMETHING BLUE... -
One lucky bride in Chesterfield made history when she became the first to marry at the B2 Net stadium. More...
CFC PROUD TO SUPPORT MARIE CURIE CANCER CARE - Chesterfield FC is supporting a major fund-raising initiative in support of The Football League's official charity partner for the 2010/11 season as chosen in a recent supporters survey More...
TICKETS FOR
TROOPS - Chesterfield Football Club is proud to announce that it is to participate in
the 'Tickets For Troops' scheme More...

Related Tags