Tuesday 7th February 2012
picture courtesy www.gordonbanks.org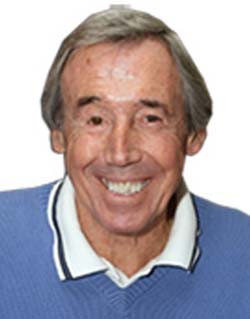 Say the name 'Gordon Banks' and most people will think of the 1966 World Cup Finals or THAT goal which he saved from Pele, 4 years later in Mexico.

His illustrious football career though began in Chesterfield at Saltergate, 57 years ago and continued, through the ranks, via Leicester and Stoke. His England career spanned 9 years and earned him 73 caps.

Ahead of the Spireites' JPT trip to Wembley, a place that Gordon knew well and, as the old Saltergate ground prepares to be demolished, we spoke to Gordon and asked him about his memories of football at the Recreation ground and what Chesterfield players can expect when they step out on the hallowed turf next month.

Gordon is retired now, aged 74, though he still works on the Pools Panel and remains a humble man, despite his great success. He's a man with loads of stories, told with humour and you get a sense that he was very proud to be able to carve a career from doing something he loved.
You can also hear the interview in full using the audio player below.



We began the interview by asking him to tell us about his early career at Saltergate...
"I started in the youth team, then went into the reserves. Then I did my National Service and when I came out, I signed on as a full time player. In my first season, Ronnie Powell the first team Goalkeeper got injured and I managed to play 23 matches - then I transferred to Leicester.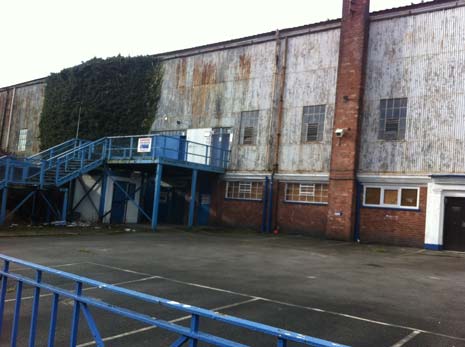 "Saltergate (above - now waiting for demolition) is a compact little ground - we didn't have a training ground in those days so just ran round the pitch to keep fit and the ball work was conducted at the far side of the ground where we walked in, near the stairs and where there was a bit of room. I had people throwing balls at me for handling skills - I couldn't get down to them though as it was a hard surface!"

Despite being a Semi Professional player contracted to a club Gordon still had to work another job...
"I was a bricklayer when I started as a semi professional, I still worked and then went training Tuesday and Thursday night to keep fit. I had to work, catch 2 buses to get to training and then work the following day, but it was worth it for the privilege of being a semi professional footballer."

One story that sticks in Gordon's head is the day he took the Chairman back to Sheffield after a game...
"I had a works van but the passenger seat wasn't screwed in, so I could get my ladders in! I took the Chairman, who lived in Sheffield, home after a game, along with a player, and he sat on this seat. I had to brake at one stage and the seat went forward and he nearly hit his head on the window. He got out at Sheffield and said 'Gordon, remind me never to ask you for another lift again!' "

That's probably why you went to Leicester?
"Probably!" (laughs)
The world of professional football is so different now - you were working then too weren't you?
"Even when I was working full time as a professional, you couldn't earn more than £20 pound - it was £3 at Chesterfield - very little money! So it was the thrill of being a full time professional player, the wage was worked out as the equivalent of the average mans working wage in those days, but it was the thrill of keeping fit and running out in front of a big crowd - and getting paid for it."

We asked about the cup final of 1966...
"It was the thrill of a lifetime! Any professional who's played in a World Cup final would tell you that.

"It was our year - the build up had been great - we'd won 14 games without losing and had beaten a lot of big countries on their soil. We couldn't go in saying 'we'll win', we just said to ourselves 'we'd do our best' because you never know in a tournament that size what's going to happen.

"But it went right to the final, to extra time and it was such a thrill, the elation, when it was over - people were jumping in the fountains in Trafalgar Square and there were so many people, they blocked the road outside our hotel. A day I'll never forget."
And all the more satisfying to do it on home soil?
"In front of your home crowd, yes. One or two people have said 'you only won because it was at Wembley' but it doesn't matter who or where you play - you have to win."

Everyone talks about the next World Cup you played in though...
"Pele! People talk about that more than anything! I'll be remembered for that more than the 1966 final I think.

"I'd worked hard out there and had lots of shooting practice with lads like Bobby Charlton - the ball came through the air very quickly because of the altitude there, so it came across very quickly and I had to get used to that. I had to anticipate how it would kick up. I had to anticipate how high it would bounce after Pele headed it and how high it was going to bounce, I got my hand to it and fortunately for me, it went over the bar."

Chesterfield won the League 2 Championship last year - and this year they're headed to Wembley for the JPT final. You've played at Wembley in Cup Finals, explain to us how it feels...
"Very proud! You only get there once in a lifetime normally, it's part of your career you don't forget.

"It's a wonderful day - win or lose - it's wonderful to walk out on that ground and hear the roar of the crowd. Get lots of photographs of walking out and of standing for the National Anthem! I want to wish them all the best.

"It's funny, I was looking the tables the other day and they'd won a couple of games and got off the bottom and I was thinking 'go on', they've lost since and are back on the bottom but if they keep working at it and battling, there's a chance, it's still tight and only a few points separate them from safety."
Although retired, Gordon still keeps busy...
"I work as a member of the Pools Panel - we have to still earn a few pounds to keep things ticking over! So I go to Liverpool and sit on the panel. Last week lots of games were cancelled, 24 were off, so we had to make a decision on all those so we were there quite a while. That keeps me ticking over and I enjoy that."

Many thanks to Gordon for his time talking to us. A true Legend!

For more information and other CFC news, go to www.chesterfield-fc.co.uk
RECENT STORIES
CAN THE SPIREITES MOVE THE SHAKERS?-
The Spireites are back on the road tonight, this time at Gigg Lane where they take on The Shakers. Asst Boss Tommy Wright talks Bury. More...
'BLUES ON THE MOVE' PRIZE WINNERS FOR WEEK 40 -
Week 40 results. Check the Chesterfield Post every week to see if you're a winner or to join in! More...
SPIREITES v CHARLTON GAME IS OFF -
Chesterfield has been cruelly denied the chance to stage today's home game against Charlton Athletic after local overnight temperatures plummeted down to -10. More...
SHERIDAN PREVIEWS CHARLTON GAME AND TALKS ENGLAND MANAGERS -
It's top v bottom this week at the b2net as the Addicks come into town More...
SPIREITES v CHARLTON GAME ON.... FOR NOW! -
With frozen temperatures predicted overnight there is some concern that The Spireites game against Charlton may have to be postponed. More...
A PROUD TIME FOR THE TOWN - CEO CHRIS TURNER -
We caught up with CEO of Chesterfield FC, Chris Turner and talked Wembley, tickets and being the talk of the town. More...
RECOGNITION FOR THE SPIREITES -
John Sheridan and goalkeeper Tommy Lee are nominated for January's npower League 1 Manager and Player of the Month Awards respectively More...
FULL JPT WEMBLEY TICKET DETAILS -
Full details have been released about the sale of tickets for the final of the Johnstone's Paint Trophy at Wembley More...
'BLUES ON THE MOVE' PRIZE WINNERS FOR WEEK 39 -
Week 39 results. Check the Chesterfield Post every week to see if you're a winner or to join in! More...
SPIREITES ANNOUNCE SUCCESSFUL START TO APPRENTICESHIPS-
10 local youngsters will shortly kick off a career in sport courtesy of a unique apprenticeship programme at Chesterfield FC More...
PROUD TO REACH WEMBLEY BUT LEAGUE IS MAIN THING - SHERIDAN -
Another busy but successful week for the Spireites, currently on their way to Carlisle where they take on the Cumbrians and hope for their 5th win in 5. More...
CLUB STATEMENT ON CARLISLE GAME -
Tomorrow's (Saturday 4th Feb) game is undoubtedly a long way to travel and the weather forecast is currently unpredictable. More...
"ONWARDS AND UPWARDS" SPIREITES DAVE ALLEN SPEAKS -
Dave Allen spoke to us about himself, his involvement with the club and his pride in the energy it has brought to the town and also, his plans for the club over the next few years. More...
WEMBLEY TICKETING ARRANGEMENTS ANNOUNCED -
Chesterfield FC has announced initial details about the ticketing arrangements for the JPT Wembley final. More...
"A GREAT ACHIEVEMENT" A DELIGHTED JOHN SHERIDAN -
It's the game the whole dressing room wanted to be involved in, having gained the advantage at home just 2 weeks ago, John Sheridan and his squad were hoping to keep on top at Boundary Park. More...
WEMBLEY HERE WE COME!!! -
It may be a bitterly cold night at Boundary Park, but 937 die hard fans made the trip up the M62 to see the Spireites make their bid for Wembley glory. More...
'BLUES ON THE MOVE' PRIZE WINNERS FOR WEEK 38 -
Week 38 results. Check the Chesterfield Post every week to see if you're a winner or to join in! More...
SPIREITES CAN ALMOST SMELL THE WEMBLEY TURF -
Spireites can, this weekend, almost smell the turf of Wembley as Chesterfield FC prepare for the 2nd leg of the JPT Northern final More...
"LIGHT AT THE END OF THE TUNNEL" MARK CROSSLEY TALKS BOURNEMOUTH -
The Chesterfield Post spoke with Spireites' Coach Mark Crossley after Friday's home win over Bournemouth. More...
RESURGENT SPIREITES PICK OFF THE CHERRIES -
After 3 wins on the bounce, John Sheridan and his squad hoped for the 'monkey' to once again keep its paws well and truly off their back More...
"WE'RE TRYING FOR PLAYERS NON STOP" JOHN SHERIDAN -
John Sheridan famously called it the 'monkey on his back' and there's no doubt that the first league win in 17 last Saturday has galvanised the team More...
A BUSY WEEK FOR THE SPIREITES -
Tomorrow, the Spirieites travel to the Community Stadium to take on 12th placed Colchester in this week's League One clash. More...
'BLUES ON THE MOVE' PRIZE WINNERS FOR WEEK 37 -
Week 37 results. Check the Chesterfield Post every week to see if you're a winner or to join in! More...
SHERIDAN HOPING LUCK CONTINUES AT COLCHESTER -
Spireites Manager John Sheridan speaks to The Chesterfield Post ahead of the game against Colchester. More...
"A GREAT RESULT" MANAGER JOHN SHERIDAN SPEAKS -
After last night's JPT victory over Oldham, a visibly relieved Gaffer John Sheridan talked to the press and said he was happy with the performance. More...
90 MINUTES TO WEMBLEY FOR SPIREITES -
The Spireites are this morning just 90 minutes away from Wembley and glory in the JPT Final after a 2-1 1st leg victory over Oldham More...
"A GREAT OPPORTUNITY" TOMMY WRIGHT -
Wembley is just two games away for the Spireites, as they prepare for the re-scheduled Johnstone's Paint Trophy clash this evening with Oldham Athletic. More...

Related Tags