Friday 10th February 2012


With Wembley just a mere 6 weeks away and tckets due to go on sale from this coming Tuesday, The Chesterfield Post caught up with CEO of Chesterfield Football Club, Chris Turner (below) and talked Wembley, tickets and being the talk of the town.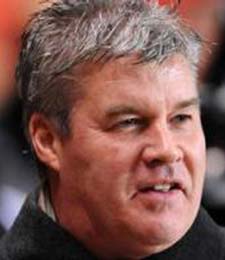 So Chris, this is the first chance we've had to chat since you reached Wembley, you must be delighted?
"I'm thrilled! It's fantastic for the club and the town, it lifts the profile for the weekend in March and for the supporters who, since moving from Saltergate - most of them can't believe it - have had the promotion in year 1 and Wembley final in year 2 with hopefully security in League one too. That would be a dream come true I'm sure, and everyone is working their hardest for that."

The club, I know really appreciates the support it's had from the town doesn't it?
"Well businesses and everything in the town get a buzz - it's not great times for business and employment all over the country and we're no different to anywhere else, to have something away from difficult times can only be good and if we are successful at Wembley, it'll be fantastic. But the achievement of getting there - the team and John and the management team have done fantastically well in a competition that's not deemed the worlds greatest at the start, but I can assure you, at the end of it - a Wembley final - you can't get any better!"

Tell us about the ticket allocation arrangements, ahead of them going on sale on Tuesday...
"It's very difficult - we're trying to keep it as simple and as least hassle as possible so that everyone can come down and get their tickets. We've got plenty of tickets, over 21,000, and even if we were to sell all those we have the option of another 15,00.

"We're trying to do it in an organised manner and it doesn't matter who we send out first, we're always going to have complaints - 'Why them first?' - so we decided to go with the KOP first, they come down on Tuesday and the other two stands come down on Wednesday and Thursday.

"Season tickets have been given priority - they're the ones who put their money in at the beginning of the season to support the club. But we do value every supporter as much as anyone else and there's no favouritism.

"The £26 tickets which are in the first couple of rows behind the goal and a little bit behind the sides - we are staggering those. There'll be a batch on sale Tuesday, Wednesday and Thursday so everyone will get the opportunity of those tickets, what aren't sold Tuesday will be passed onto the next day, so any fears that the £26 tickets will all be sold is not the case - it's the same for the family stands too - they'll be staggered over the three days."

He added, "We can either do that, where everyone has an equal opportunity, or we can put them on general sale and you could get 4,000 people coming down. That would be a nightmare to handle and I can't imagine anyone wanting to stand in a queue for 4 hours on a Tuesday!

"There's plenty of tickets for everybody and we'll try and accommodate everyone the best we can. We've got 6 window kiosks open to serve in the South stand - so once again service will be as fast as possible.

"The normal ticket offices will be opened for the Sheffield Wednesday game.

"We want the Wembley experience to be an enjoyable one and one that is organised. You'll always get people who complain, who have complained, but for the vast majority, they'll see that the systems in place will work well."

What does it mean to the club to get to Wembley in terms in kudos and financially?
"Kudos wise, there's nothing better than in cup competitions to get to Wembley and play in a final - it's the best stadium with the best atmosphere and tradition in the world for a player to play in.

"For the club financially, it is a difference from club to club, it depends on the opponents, who the two teams are. If we sell all our allocation, and Swindon have asked for 30,000 too, we could have a 50,000 crowd and we should do well out if it.

"However, there are the costs of going there though - lots of expenses to be paid out for the weekend and on the day, so I'm not going to say a figure. It's not about money for me, the weekend is for the players, the staff at the club and the supporters to be proud of the team and the town on that weekend. Whatever we make from it is a plus really."
What does it mean as a player to represent your club at Wembley?
"Well it's what dreams are made of. First you want to become a professional footballer and play at the highest level you can. Then stadium-wise, you always want to play at Wembley. You see every year teams play at Wembley and I'm sure every professional footballer will love that opportunity. This competition means that League 1 and 2 footballers also get that opportunity to play at Wembley and, for our players, it's something special.

"I'm sure the loan players that we bought in - 3 out of 5 can play - one of the things John (Sheridan) said to them was that there was a possibility of playing at Wembley, which I'm sure would have lit their eyes up a bit - and that opportunity has come true.

"Between now and then, there's a lot of league points to play for and I know John emphasises that as the focal point.

"However, further down the line, it's difficult. There are tickets to be sold, there's club shop and promotional work for this game that we have to do. As a club we can't just switch off and as a player you do think about it, but there's the matter of Sheffield Wednesday, Charlton Athletic, MK Dons to play before that."

There can't be a better incentive though to play well with a place at Wembley at stake, it's the game everyone will want to be selected for isn't it?
"That's a good point because John will look at his players as the weeks go on, he'll want to see points on the board and players playing well and they'll be selected for the final day. As a player, you won't want to miss out on a place because of not playing well in the lead up to it so, once again, players have got to have it set in their minds to have a goal - to be one of the 16 in the final - and he's only going to get that by playing well in the games leading up to it and getting the points that we need."

We spoke in December just after your arrival - how have the first weeks been, are you enjoying the role?
"Very much so! I love coming to work every day and there's a spark about the club and everyone here. I think recent results have shown everybody what we can achieve and the support for the team has been fantastic home and away, the team has had great support.

"With getting this Wembley final in the first few weeks as CEO, it's been non-stop. It's a bit of a task to organise, but we hope that it all goes off well and everyone enjoys it."

Nothing like being thrown in at the deep end!
"No, and it is the deep end! There's a lot organising to do and a lot to get through. But, with the help of all the departments and Barrie (Hubbard) and Alan Walters (Financial Director), it's being done. It's not one individual, it's everyone pulling their weight and being able to organise things and hopefully, it'll all go well on the day."

For more information and other CFC news, go to www.chesterfield-fc.co.uk
RECENT STORIES
"THE WHOLE NORTH OF THE COUNTRY WILL BE BEHIND US" -
We popped along to the b2net this morning to ask West Stand ticket holders how much the trip to Wembley meant to die hard Spireites More...
SPIREITES SHARE THE SPOILS WITH THE SHAKERS -
Another cold Tuesday night, another stadium - and the hard work of the Bury groundsmen had certainly paid off More...
LEAGUE CONFIRM NEW DATE FOR BLADES GAME -
The Football League has confirmed tonight that Chesterfield's away game against Sheffield Utd should be played on Wednesday 28th March More...
CAN THE SPIREITES MOVE THE SHAKERS?-
The Spireites are back on the road tonight, this time at Gigg Lane where they take on The Shakers. Asst Boss Tommy Wright talks Bury. More...
'BLUES ON THE MOVE' PRIZE WINNERS FOR WEEK 40 -
Week 40 results. Check the Chesterfield Post every week to see if you're a winner or to join in! More...
SPIREITES v CHARLTON GAME IS OFF -
Chesterfield has been cruelly denied the chance to stage today's home game against Charlton Athletic after local overnight temperatures plummeted down to -10. More...
SHERIDAN PREVIEWS CHARLTON GAME AND TALKS ENGLAND MANAGERS -
It's top v bottom this week at the b2net as the Addicks come into town More...
SPIREITES v CHARLTON GAME ON.... FOR NOW! -
With frozen temperatures predicted overnight there is some concern that The Spireites game against Charlton may have to be postponed. More...
RECOGNITION FOR THE SPIREITES -
John Sheridan and goalkeeper Tommy Lee are nominated for January's npower League 1 Manager and Player of the Month Awards respectively More...
FULL JPT WEMBLEY TICKET DETAILS -
Full details have been released about the sale of tickets for the final of the Johnstone's Paint Trophy at Wembley More...
FOOTBALL LEGEND GORDON BANKS TALKS '66, SPIREITES, WEMBLEY & PELE -
Say the name 'Gordon Banks' and most people will think of the 1966 World Cup Finals or THAT goal which he saved from Pele, 4 years later in Mexico. More...
'BLUES ON THE MOVE' PRIZE WINNERS FOR WEEK 39 -
Week 39 results. Check the Chesterfield Post every week to see if you're a winner or to join in! More...
SPIREITES ANNOUNCE SUCCESSFUL START TO APPRENTICESHIPS-
10 local youngsters will shortly kick off a career in sport courtesy of a unique apprenticeship programme at Chesterfield FC More...
PROUD TO REACH WEMBLEY BUT LEAGUE IS MAIN THING - SHERIDAN -
Another busy but successful week for the Spireites, currently on their way to Carlisle where they take on the Cumbrians and hope for their 5th win in 5. More...
CLUB STATEMENT ON CARLISLE GAME -
Tomorrow's (Saturday 4th Feb) game is undoubtedly a long way to travel and the weather forecast is currently unpredictable. More...
"ONWARDS AND UPWARDS" SPIREITES DAVE ALLEN SPEAKS -
Dave Allen spoke to us about himself, his involvement with the club and his pride in the energy it has brought to the town and also, his plans for the club over the next few years. More...
WEMBLEY TICKETING ARRANGEMENTS ANNOUNCED -
Chesterfield FC has announced initial details about the ticketing arrangements for the JPT Wembley final. More...
"A GREAT ACHIEVEMENT" A DELIGHTED JOHN SHERIDAN -
It's the game the whole dressing room wanted to be involved in, having gained the advantage at home just 2 weeks ago, John Sheridan and his squad were hoping to keep on top at Boundary Park. More...
WEMBLEY HERE WE COME!!! -
It may be a bitterly cold night at Boundary Park, but 937 die hard fans made the trip up the M62 to see the Spireites make their bid for Wembley glory. More...
'BLUES ON THE MOVE' PRIZE WINNERS FOR WEEK 38 -
Week 38 results. Check the Chesterfield Post every week to see if you're a winner or to join in! More...
SPIREITES CAN ALMOST SMELL THE WEMBLEY TURF -
Spireites can, this weekend, almost smell the turf of Wembley as Chesterfield FC prepare for the 2nd leg of the JPT Northern final More...
"LIGHT AT THE END OF THE TUNNEL" MARK CROSSLEY TALKS BOURNEMOUTH -
The Chesterfield Post spoke with Spireites' Coach Mark Crossley after Friday's home win over Bournemouth. More...
RESURGENT SPIREITES PICK OFF THE CHERRIES -
After 3 wins on the bounce, John Sheridan and his squad hoped for the 'monkey' to once again keep its paws well and truly off their back More...
"WE'RE TRYING FOR PLAYERS NON STOP" JOHN SHERIDAN -
John Sheridan famously called it the 'monkey on his back' and there's no doubt that the first league win in 17 last Saturday has galvanised the team More...
A BUSY WEEK FOR THE SPIREITES -
Tomorrow, the Spirieites travel to the Community Stadium to take on 12th placed Colchester in this week's League One clash. More...
'BLUES ON THE MOVE' PRIZE WINNERS FOR WEEK 37 -
Week 37 results. Check the Chesterfield Post every week to see if you're a winner or to join in! More...
SHERIDAN HOPING LUCK CONTINUES AT COLCHESTER -
Spireites Manager John Sheridan speaks to The Chesterfield Post ahead of the game against Colchester. More...
"A GREAT RESULT" MANAGER JOHN SHERIDAN SPEAKS -
After last night's JPT victory over Oldham, a visibly relieved Gaffer John Sheridan talked to the press and said he was happy with the performance. More...
90 MINUTES TO WEMBLEY FOR SPIREITES -
The Spireites are this morning just 90 minutes away from Wembley and glory in the JPT Final after a 2-1 1st leg victory over Oldham More...
"A GREAT OPPORTUNITY" TOMMY WRIGHT -
Wembley is just two games away for the Spireites, as they prepare for the re-scheduled Johnstone's Paint Trophy clash this evening with Oldham Athletic. More...

Related Tags