Friday 14th March 2014



With just 10 games left until the end of the 2013/14 campaign, Chesterfield boss Paul Cook admitted in his pre match look at this Saturday's home game against Oxford United, that the pressure is on!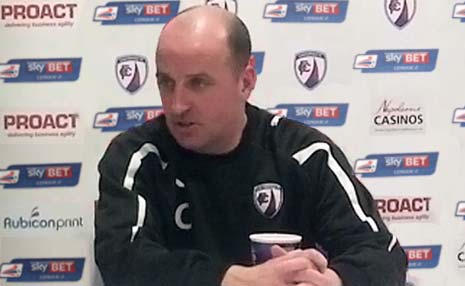 Cook (above), also reassured fans that, with football being about opinions, he does listen to all of them (even though he doesn't always agree!) and spoke about whether his half time team talks will, in future, point the way to the "little boys room!"

Firstly, asked about his thoughts on the game at Wimbledon, Cook said, "Going away from home is difficult. Our name goes before us and teams set up to play against us a certain way.

"The criticism we get is not being able to break teams down and out cutting edge in the final third. That sometimes can take you away from what you believe in."

Despite concerns that given the quality of the squad, the league should have been won by now, Cook says he doesn't feel that Chesterfield should be further ahead, "What's further ahead? Loads of managers would be sat here now moaning about sending offs and penalty decisions. We are where we are, sometimes you can look for too much."

After hinting during Monday's interview that there could be news of two new faces, Daniel Kearns, Peterborough and Mason Bennett, Derby County, have now come in to the club and the gaffer spoke about both players.


On Mason Bennett (left), he has this to say, "Our search for players is a daily one. I have massive faith in that squad, but football teams evolve, players come and go.

"We've tracked him [Bennett] for a while. Sometimes we get a bit of an indication that it might be happening but we have to be patient.

"We've been looking at improving our goalscoring all season. I'm not in the band that thinks we need more firepower but when players come in, it must be to improve the team."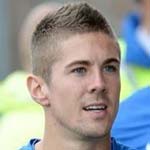 On Danny Kearns (left), Cook said "Another player I've been after a long time. I was trying to bring him in last year but he went to Rotherham and went to Peterborough's first team. The time was right, especially with Dan Gardner's injury. Daniel fits the bill - he has great ability and technically very good."

Cook hinted that the incomings mean that some will be leaving, "There are one or two players about that need to play football - I've had good relationships with all the players. I try and conduct myself with the players in a manly way and if players are unlikely to get into the team, I tell them and l do all I can to help them."

Injury news is looking better he said, "Dan's [Gardner] looking more positive and Drew [Talbot] is a week or so away. Tommy Lee however, looks like he may have a thigh strain but nothing that will stop him playing!"

This week's opponents come in the shape of Oxford United, currently sitting in 6th place - and Cook doesn't underestimate them, "Oxford are one of the sides at the start of the season that we thought would be up there. I'm really looking forward to the game.

"Sometimes the night games are good - there's always something about a night game - and we have to replicate that result on a Saturday afternoon.

"It's important that we have a result at home. it will cement us where we are. We just will concentrate on a very good opponent in Oxford."
Listen to the interview in full below...

For more information and other CFC news, go to www.chesterfield-fc.co.uk
RECENT STORIES
THE PAUL COOK INTERVIEW - DERBY DAY LOOMS FOR THE SPIREITES -
It's the biggest of derby games for Chesterfield this weekend as they travel to Field Mill to take on Paul Cox's Mansfield.
More & Audio...
SPIREITES URGED TO 'PAINT THE TOWN BLUE' AND BACK CHESTERFIELD -
The entire community of Chesterfield is helping to paint the town blue to back their football team on the road to Wembley. More...
JOHNSTONE'S PAINT TROPHY TOUR FUN ARRIVES IN CHESTERFIELD -
The countdown to the Johnstone's Paint Trophy Final intensifies this week as an action-packed Trophy Tour has arrived in Chesterfield ahead of the Wembley spectacle. More...
THE PAUL COOK INTERVIEW - "9 GAMES TO GO!" - PLYMOUTH PREVIEW -
Chesterfield made the 230 mile journey yesterday ahead of tonight's League Two clash at Home Park, against Plymouth Argyle where former Spireite gaffer John Sheridan is in charge More & Audio...
'BLUES ON THE MOVE' PRIZE WINNERS FOR WEEK 45 -
Week 45 results. Check the Chesterfield Post every week to see if you're a winner or to join in! More...
GARY ROBERTS IS NAMED SKYBET LEAGUE TWO PLAYER OF THE YEAR 2014 -
Chesterfield FC's Gary Roberts has been named the Sky Bet League Two Player of the Year at The Football League Awards 2014. More...
AND THEN THERE WERE EIGHT... SPIREITES vs OXFORD MATCH REPORT -
Chesterfield returned to winning ways with a convincing 3-0 win over eight-man Oxford at the Proact to stay top of SkyBet League Two. More...
DOVES EYE VIEW - "NICE TO SEE U'S". OXFORD PREVIEW -
Despite gaining only two points from the last three games, the Spireites are still top of SkyBet League Two as they prepare to face Oxford United at the Proact Stadium on Saturday. More...
CHESTERFIELD
SIGN TEENAGE STRIKER FROM
DERBY COUNTY -
Chesterfield have signed teenage striker Mason Bennett from Derby County on a month's loan. More...
SPIREITES MAKE A POINT AGAINST THE DONS.
MATCH REPORT -
Chesterfield picked up what could be a valuable point on the road last night - after coming from behind at Wimbledon to draw 1-1. More...
THE PAUL COOK INTERVIEW - "LOSING DAN (GARDNER) IS A BLOW!" -
It was a philosophical Paul Cook who faced the media on Monday morning - less than 48 hours after his side slumped to a 3-1 defeat at his former club, Accrington Stanley.
More & Audio...
'BLUES ON THE MOVE' PRIZE WINNERS FOR WEEK 44 -
Week 44 results. Check the Chesterfield Post every week to see if you're a winner or to join in! More...
MOLYNEUX'S HAT TRICK STUNS SPIREITES. MATCH REPORT -
Lee Molyneux's first half hat-trick earned 10-man Accrington Stanley a stunning 3-1 victory over Paul Cook's table topping Spireites at the Store First Stadium More...
THE PAUL COOK INTERVIEW - "WE'RE A POINT NEARER WHERE WE WANT TO BE!" -
It will be familiar territory for Paul Cook on Saturday when his Chesterfield side make the journey to Accrington Stanley. More & Audio...
AN OPPORTUNITY FOR YOUR MEMORIES OF SALTERGATE TO BE SEEN IN PRINT -
Email from an author who is seeking Chesterfield fans who would like to contribute to a new book - regarding leaving one football ground for a new one. More...
TOMMY LEE SAVES THE DAY FOR CHESTERFIELD. MATCH REPORT -
Not a game that had 0-0 written all over it on paper, a determined and organised Portsmouth held Chesterfield to just one point after a game of chances which neither side converted. More...
DOVES EYE VIEW - A WEEK'S A LONG TIME IN FOOTBALL! POMPEY PREVIEW -
What a difference a week makes! Last Saturday evening we were in despair, reflecting on a poor Chesterfield performance at lowly Wycombe which ended in a 1-0 defeat. More...
SPIREITES HOPE TO 'PLAY DOWN POMPEY' IN FRONT OF SKY TV CAMERAS -
It is a rare weekend without a game for Chesterfield, as they prepare to take on Portsmouth in front of the Sky cameras on Monday evening More & Audio...
A MAGNIFICENT SEVEN MINUTES
PUSH CHESTERFIELD 'FOUR'-WARD -
It may be the Cheltenham Festival week - but it was Chesterfield FC who were at the races last night, bringing home 3 points after a stunning victory at Whaddon Road - bagging 4 goals and holding onto their lead at the top of League Two. More...
THE PAUL COOK INTERVIEW - BEING POSITIVE AND LOOKING FORWARD! -
With just 14 League games to go until the end of the season, tests are coming thick and fast for the Spireites, with midweek matches scheduled for the foreseeable future.
More & Audio...
'BLUES ON THE MOVE' PRIZE WINNERS FOR WEEK 42 -
Week 42 results. Check the Chesterfield Post every week to see if you're a winner or to join in! More...
SPIREITES TAKE A BACK SEAT TO CHAIRBOYS. MATCH REPORT -
The Spireites lost a scrappy game at Adams Park to end their six match unbeaten League run, allowing Scunthorpe to draw level on points at the top of League Two, after they put five past Portsmouth. More...
THE CHRIS TURNER INTERVIEW - "WE'RE ON TARGET & ON OUR WAY TO WEMBLEY!" -
In case you hadn't heard, Chesterfield will be travelling en masse to Wembley in 5 weeks time, where, for the second time in 3 seasons, they will compete in the JPT Final More & Audio...
THE PAUL COOK INTERVIEW - "WE'RE
IN A GOOD PLACE AT THE MOMENT!" -
It was an understandably happy Paul Cook who faced the media on Friday, ahead of the upcoming game against Wycombe, after he'd seen his side progress to the JPT final at Wembley More & Audio...
TICKET DETAILS ANNOUNCED FOR CHESTERFIELD'S JPT WEMBLEY FINAL -
Ticket details for the Johnstone's Paint Trophy final, when Chesterfield face Peterborough United at Wembley, on Sunday, March 30th, have been released. More...
QUE SERA, SERA... CHESTERFIELD HEAD TO WEMBLEY! MATCH REPORT -
I'm delighted tonight for everyone connected to the club" - that was Chesterfield manager Paul Cook after seeing his side progress to the Wembley final of the JPT More...
THE PAUL COOK INTERVIEW PLUS A 'WEMBLEY WARNING' FROM ROBERTS -
Winger Gary Roberts has warned his Chesterfield team-mates the job is "only half-done" as they aim to complete their Wembley mission against Fleetwood Town.
More, Video & Audio...
Related Tags