Saturday 16th October 2010

Ashgate Hospice are holding their 'WINTER BALL' on Saturday 27th November, 7pm for 7:30 until 1am at The Winding Wheel in Chesterfield.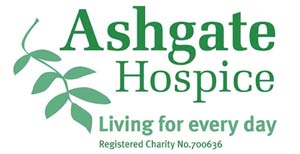 It promises to be a fun night out for family, friends and colleagues and a hugely enjoyable way to support Ashgate Hospice.

The cost for a table of ten is £350.

Reserve your table for this fantastic black tie event now.

The ticket price includes a 3 course meal, you will be entertained by the 'Fabulous Rogues' and there will of course be plenty of opportunities to support Ashgate Hospice throughout the evening with various activities.

This year, we have had a tremendous response for this event and we do urge you to book as soon as possible.

For more information contact:
Emily Evans, Corporate and Events Manager,
Ashgate Hospice, Ashgate Road, Old Brampton, Chesterfield S42 7JD.

Telephone: 01246 565048 / 568801

or email: emily.evans@ashgatehospice.nhs.uk
Website: www.ashgatehospice.org
RECENT STORIES
"BACK OF THE NET!" KICKING CASH FOR CHARITY -
Students from Chesterfield College gave a local charity a boost as they took part in a penalty shoot out to raise cash for Ashgate Hospice.More...
BEING CRUEL TO BE KIND? -
Chesterfield RSPCA are investigating the circumstances behind one of the most bizarre they've seen in 10 years at the Charity. More...
WIRKSWORTH ROTARY 5k SANTA FUN RUN -
The Rotary Club Of Wirksworth are staging a 5k 'Santa' fun-Run for the Rainbows and Ashgate Hospice Charities on Sunday 5th December 2010 at Carsington Water More...
PUPPY LOVE UPDATE -
The RSPCA in Chesterfield confirms that a woman claiming to be the owner of the pups has contacted them and after checks, they have been reunited. More...
A LONELY GOAT
HERD -
If you're an experienced goat owner (or a Military Regiment looking for your Regimental Mascot), with land to spare, then Chesterfield RSPCA is asking you to consider helping them. More...
PUPPY LOVE -
RSPCA bosses are appealing for help in tracing the people who dumped Barnaby and Benji last week in a Chesterfield field. More...
REMEMBER THEM -
The Chesterfield branch of the Royal British Legion is asking residents to do just that and buy a poppy as the town launched it's annual Poppy Appeal Saturday. More...
BARGAIN HUNT BONANZA -
There was everything to pay for as the Mayor and Mayoress took part in a charity Bargain Hunt on Chesterfield's very own flea market on Thursday, More...
WHY YOU REALLY SHOULD "GO TO SPECSAVERS" THIS WEEKEND -
Have you ever looked at the 'Mr Men' characters and thought, what about one called Mr ??? More...
MARIE CURIE CANCER CARE LOOKING FOR SUPPORTERS HELP -
Derbyshire Fundraiser, Laura Read is inviting anyone who is interested to come along to an informal meeting. More...
DROP IN CENTRE OPENS IT'S DOORS -
The Nenna Kind centre is situated in Room 5 on the 2nd floor of the Market Hall and offers support and advice in a welcoming environment for anyone affected by cancer. More...
HOPE FOR AFRICA -
As children in Chesterfield prepare to return to school this week one charity is promoting the message that 'In Africa, education is a privilege not a right'. More...