Saturday 13th November 2010

Students from Chesterfield College gave a local charity a boost as they took part in a penalty shoot out to raise cash for Ashgate Hospice.

250 penalties were taken in total, raising around £100 on the day.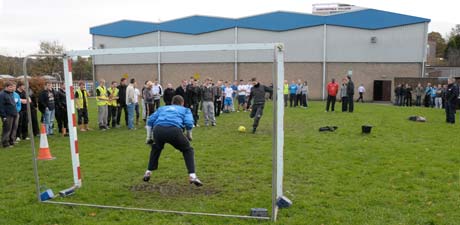 Shane Redmond in action against students at Chesterfield College

Goalkeepers from various local teams tried to stop the shots, but the star turn of the day was CFC reserve Goalkeeper Shane Redmond who went along after training with Coach Mark Crossley to lend his hand (ok, both of them!) to the cause.

Press Officer James Marples, who organised the day, told The Chesterfield Post that "It had been a great success, not only because of the cash raised but also on account of the involvement and support of the Football Club and the staff at the College."
"The event was part of 'National College Week'," he told us - "an event held every year and this year aiming to encourage healthy living and encouraging sports in colleges. Better still, as students and staff are taking penalties, they're donating money to Ashgate Hospice."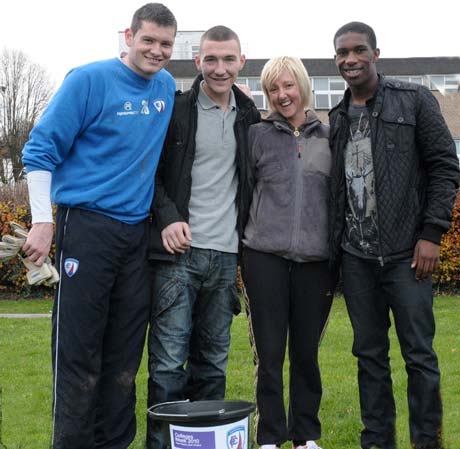 (L to R) Shane Redmond, Craig Clay, Chesterfield College Activity Co-ordinator Kerrie Robertson, Tendayi Darikwa

James is proud of the sporting facilities already on offer and well used by the students on campus, saying, "Many students take part in sporting activities, lots of students use the gym and the sports facilities in the college, play in the college footy and basketball teams. We try hard to encourage healthy living and sports in this college - but involving the local football club is a bonus and the best way to go."

Our reporter Paul Fisher also caught up with Coach Mark Crossley at the event - he told us how important sessions like this are to the club, saying "the way the season is going and the way the club is going, it's important that we respond to the community, if we can help in any way that helps with support to the club and that's very important in itself.

"It's a big thing, we try to be a family orientated football club and the interest is phenomenal at the moment. If we can give a little bit back then we are more than willing to do so as the town itself is flying at the moment. Any way that we can help, especially Ashgate Hospice then Chesterfield Football Club always will".

Mark and Shane had come to the College after training ahead of tomorrow's game against Burton Albion, and we took the opportunity to ask about what the lads get up to in training prior to Saturday's game. Mark told us, "Friday is a day of training - just a light one, work on a few set pieces and work out any threats that the opposition may have and look forward to the coming match."
RECENT STORIES
STAVELEY MWFC'S GENEROUS GESTURE FOR SCOUTS CANADA TRIP -
A local company has made a generous donation towards a local scout group's Canada trip after reading about the fundraising efforts in The Chesterfield Post. More...
ARE YOU UP FOR A CHALLENGE? -
Fairplay is a registered charity, dedicated to helping children with additional needs and their families. More...
LOVE LIGHTS UP HOSPICE -
Ashgate Hospice would like to say a huge THANK YOU to everyone who dedicated a light in this year's Lights of Love switch on More...
LOCAL CHILDREN AND B&Q MAKE XMAS SPARKLE FOR ASHGATE -
A Primary School in Chesterfield has helped to spread a little Christmas joy after a tree they decorated took pride of place at Ashgate Hospice. More...
RSPCA APPEAL -
The RSPCA is appealing for what it calls a 'special home for a very special pup' - a near-blind rottweiler called 'Mac' and his best friend - a kitten called 'Boyd'. More...
YOUR VOTE COUNTS -
The Football League would like your help to help them decide which charity The League should select to be its Official Charity Partner for Season 2010/11. More...
WILL YOU SHINE A LIGHT OF LOVE THIS CHRISTMAS THIS YEAR -
Will you be remembering someone special this Christmas? It was that time of year again, another summer had flown by and there was more than a nip in the air. More...
CAN YOU OFFER THESE HENS AN
EGG-CITING NEW
LIFE? -
The RSPCA in Chesterfield is urging people to consider buying Free range eggs after accepting 60 ex-battery hens into their kennels at Spital. More...
BEING CRUEL TO BE KIND? -
Chesterfield RSPCA are investigating the circumstances behind one of the most bizarre they've seen in 10 years at the Charity. More...
WIRKSWORTH ROTARY 5k SANTA FUN RUN -
The Rotary Club Of Wirksworth are staging a 5k 'Santa' fun-Run for the Rainbows and Ashgate Hospice Charities on Sunday 5th December 2010 at Carsington Water More...
A LONELY GOAT
HERD -
If you're an experienced goat owner (or a Military Regiment looking for your Regimental Mascot), with land to spare, then Chesterfield RSPCA is asking you to consider helping them. More...
PUPPY LOVE UPDATE -
The RSPCA in Chesterfield confirms that a woman claiming to be the owner of the pups has contacted them and after checks, they have been reunited. More...
PUPPY LOVE -
RSPCA bosses are appealing for help in tracing the people who dumped Barnaby and Benji last week in a Chesterfield field. More...
REMEMBER THEM -
The Chesterfield branch of the Royal British Legion is asking residents to do just that and buy a poppy as the town launched it's annual Poppy Appeal Saturday. More...
BARGAIN HUNT BONANZA -
There was everything to pay for as the Mayor and Mayoress took part in a charity Bargain Hunt on Chesterfield's very own flea market on Thursday, More...
WHY YOU REALLY SHOULD "GO TO SPECSAVERS" THIS WEEKEND -
Have you ever looked at the 'Mr Men' characters and thought, what about one called Mr ??? More...
ASHGATE WINTER BALL, 27/11/10 -
Ashgate Hospice are holding their 'WINTER BALL' on Saturday 27th November, 7pm for 7:30 until 1am at The Winding Wheel in Chesterfield. More...
MARIE CURIE CANCER CARE LOOKING FOR SUPPORTERS HELP -
Derbyshire Fundraiser, Laura Read is inviting anyone who is interested to come along to an informal meeting. More...
DROP IN CENTRE OPENS IT'S DOORS -
The Nenna Kind centre is situated in Room 5 on the 2nd floor of the Market Hall and offers support and advice in a welcoming environment for anyone affected by cancer. More...
HOPE FOR AFRICA -
As children in Chesterfield prepare to return to school this week one charity is promoting the message that 'In Africa, education is a privilege not a right'. More...