Monday 9th June 2014
A HUGE thanks (and courtesy and ©) to Claire Louise Davison
for the amazing pictures


It is, I think, fair to say that the nearest I get to 'cool' is when I open the fridge door, so it was with some trepidation that I went along to The PROACT on Sunday to attend The Party At The Proact, featuring acts such as Katy B, Labrinth and headliner Tinie Tempah (or as one of my senior colleagues called him when trying to explain to me who was coming, 'Little Tantrum'!)




My concern that I would be the oldest in the stadium by a mile increased when, on venturing past the stadium mid morning, there were already hundreds of teens queuing round the block in order to get a good view from the front.

Thankfully this was not the case as the PATP turned out to be a real family affair - with eight year olds through to grandmas bouncing and raising their hands.

In my more usual visits to the stadium on match day, "handbags on the pitch" means trouble, but on Sunday, it took on quite a different meaning altogether with several ladies taking advantage of the warm weather (and Pimms) and bopping around their bags.

Breakthrough artist Tich was first up - slightly late and sadly, just as she began, the heavens opened! Luckily she took it all in her stride and good humour, joking that she was sorry if her top turned out to be see-through and changing the lyrics to her songs to "Never Been So Wet!" A new girl she may be, but as well as earning herself a few fans with her fortitude, she also handled the chaos the elements caused like a long standing pro.

Ms Dynamite was next - and she thankfully fared slightly better on the weather front! Her stage set was accompanied by bright sunshine and drew crowds that had scattered to the undercover parts of the stadium, back onto the pitch!

Within minutes Ms Dynamite-ee had them bouncing and hand waving in unison - revving up the energy that Tich had begun.
Union J, who rose to prominence on the X-Factor - coming fourth - drew the predictable ear splitting screams from thousands of young girls in the crowd.

They were though, without George, who had hurt his foot and was therefore unable to attend. Whipping the crowd into a frenzy - their set ramped up the vibe a little bit more - and, as the camera panned the crowd showing several rapt young faces, it was clear that they were a huge crowd pleaser! Their debut hit 'Carry you' prompted an impromptu sing-song, and more bouncing.
Katy B (below), who virtually single handedly has made red hair sought after, was one of the bigger and well-known acts to perform on the day.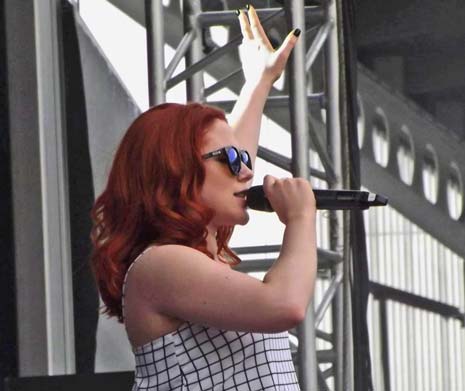 She didn't disappoint, running through an energetic catalogue of hits with a team of dancers and proving herself to be versatile. 'Slowing it all down' as she put it, with a heartfelt rendition of 'Crying For No Reason' and, again, encouraging the crowds to sing along (listen below).



It was perhaps Lawson (below), who drew the biggest reaction from the masses. Unsurprisingly really, as Ryan Fletcher is a proud Chesterfield lad, and on record as saying that he was looking forward to playing such a big gig in his hometown.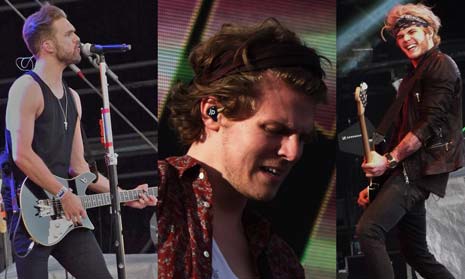 (l-r) Andy, Joel and Ryan on stage

They didn't disappoint and, after coming on stage to screams which no doubt had the Space Station ringing the stadium to ask them to turn it down a bit, performed a lively and varied set, again, proving they are not just 'pretty boy band' faces but capable of stunning and credible live sets (below).



Andy, the lead singer, has recently been hospitalised but no one would ever have known - his vocals were on point throughout.

Ryan had told us in a previous interview (HERE) that he still couldn't quite believe his luck, and would sometimes exchange glances with Joel, from Mansfield, during sets as both came to terms with the jump from performing in local pubs and clubs to some of the audiences they look out on currently.

This was clearly the case at PATP, as several looks were exchanged between the two, with Ryan smiling broadly. He pretty much summed up the evening for all when he said, just before they left the stage, "There are some really good acts on here tonight but none are from Whitt!" Quite!

Labrinth (below), by far the most 'dapper' of the acts, was the penultimate performer and proved to be an energetic and engaging act who got the crowd bouncing and waving hands once again.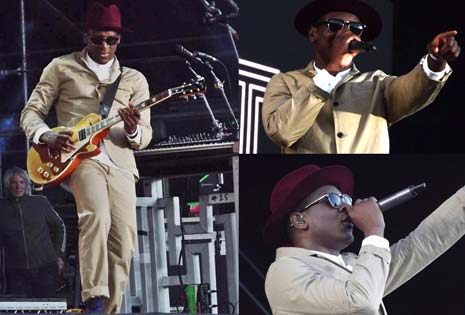 His hit 'Express Yourself' - familiar to most of us via the advertising campaign for Microsoft - went down a storm with the young crowd.

And then it was time for the main attraction.

Headline act Tinie Tempah ran through a stunning set - brightening the crowd with his Hawaiian style shorts and T- Shirt - thankfully by this time, a wise choice weatherwise.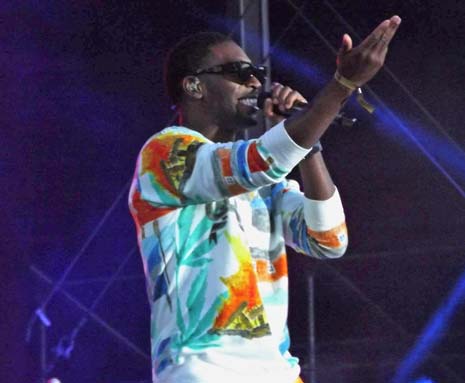 Again, some of his hits were more recognisable than others but he is a man who puts on a cracking show, energy and enthusiasm in equal measure.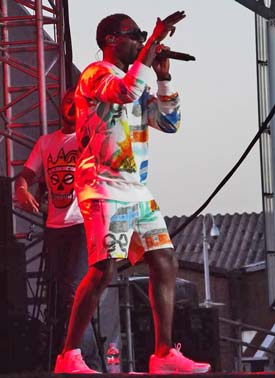 Despite nearly six hours of bouncing, the crowd came to life and, in what was perhaps the lasting memory of Sunday's party - there came the surreal sight of thousands and thousands bouncing in unison with a sea of hands, and as the sun started to fade, mobile lights.

The crowd loved Tinie and time and again Tinie (left), told the crowd that he "loved you guys" promising to return to Chesterfield again. Judging by the crowd's reaction, he will be more than welcome!

As the concert drew to a close Tinie proved he is as humble and down to earth as Ryan Fletcher had previously suggested, by almost apologetically explaining to the crowd who were demanding more that "I don't have a very big back catalogue guys, this is as far as I go!" and once again voiced his hope of returning to the town.

Here's a brief clip of the crowd's and Tinie's love-in as they joined together to give a rousing rendition of 'Written In The Stars'...



So, a pivotal weekend for Chesterfield Football Club - and the town - is now over and the post mortems will begin. Two very different concerts, different audiences, different vibes.

Speaking as someone there for both, I'd say Chesterfield handled both in equal measure and have done their growing reputation as a concert venue no harm at all.

The final figures have not yet been released by the club - but it's safe to say that the PROACT played host to thousands this week and, both concerts passed without major incident.

Credit must go to the club, the planning officers and the College staff who worked hard to organise, promote and run the events, which in terms of footfall; sales and behaviour will surely be deemed a success.

To sum the weekend up in a sentence? A good time was had by all!!



RELATED STORIES
REAL TIME LIVE'S VERY OWN 'LIVE AID' STYLE GIG THIS SUNDAY -
REAL TIME Live are holding a Live Aid style gig called 'Action for Alexander' on Sunday 6th December from 4pm onwards. More...
HASLAND BORN MOTORHEAD DRUMMER PHIL 'PHILTHY ANIMAL' TAYLOR DIES -
Former Motorhead drummer, Hasland born Phil 'Philthy Animal' Taylor has died aged 61. More...
BRIT AWARD WINNERS BLAKE ARE COMING TO TOWN -
They've performed for HM The Queen, at Wembley and Wimbledon on centre court, and now Brit-Award winners BLAKE are bringing their refined new sound to Chesterfield's Pomegranate Theatre, this Friday, 1st May 2015.
More, Audio & Video...
STAVELEY'S CENTRE SPOT SOUL CLUB STAGES FIRST NORTHERN SOUL NITE-
The 'Centre Spot' Soul Club at Staveley Miners Welfare FC is staging an inaugural Northern Soul Nite event on Saturday 11th April 2015. More...
THE BILLY FURY YEARS AT THE WINDING WHEEL TONIGHT -
The Billy Fury Years takes you on a musical journey through the musical career of Britain's best loved rock 'n' roller. At the Winding Wheel, Thursday 13th November at 7:30 More...
TIDESWELL MALE VOICE CHOIR PRESENT 'NEVER FORGET' -
In the 100th anniversary year of the First World War audiences in the Pomegranate Theatre, Chesterfield and The Buxton Opera House, Buxton can share in a stunning tribute presented by the Tideswell Male Voice Choir. More...
'BIRTHDAY BOY' SIR TOM JONES WOWS CHESTERFIELD -
"Thanks to you, I've had one of my best birthday's ever!" That was Sir Tom Jones paying homage to the thousands of people who packed the PROACT last night to hear him in concert.
More plus Audio & Video...
CHESTERFIELD'S 'HIDDEN TALENT' COMPETITION IS
OPEN FOR ENTRIES -
A competition is being held at Vicar Lane Shopping Centre, Chesterfield, to find hidden talent from around the region. More...
SUPPORT ACTS FOR SIR TOM JONES' PROACT CONCERT ARE CONFIRMED -
Sir Tom Jones will be joined by Toploader and Andrew Cole at his concert at the Proact Stadium on Saturday, June 7th More...
PARKING AND HOSPITALITY AVAILABLE FOR PROACT CONCERTS -
Those travelling to the forthcoming concerts at the Proact Stadium by vehicle are advised to book a car parking spot. More...
STUDENT DISCOUNT OFFER ANNOUNCED FOR 'PARTY AT THE PROACT' -
It's been announced this morning that students can take advantage of a discount ticket offer for next month's Party at the Proact concert which features seven top acts. More...
'MODNESS' AT STAVELEY MWFC WITH SKA, MOD & PUNK KINGS - THE NUTTY BOYS -
The brilliant 'Nutty Boys' are bringing their own brand of 'Modness' to Staveley MWFC's Inkersall Road ground club on Saturday 10th May 2014 from 7pm. More...
"LET'S GET ROCKING AT THE PROACT!" ALAN STEVENSON ON SIR TOM AND TINIE -
After securing promotion to League One this weekend, the Chesterfield faithful have a lot to look ahead to on the pitch this coming summer.
More & Audio...
TINIE TEMPAH TO HEADLINE JUNE'S 'PARTY AT THE PROACT' -
Multi-award winning rapper Tinie Tempah will headline this summer's 'Party at the Proact' on Sunday, June 8th, joining Labrinth, Katy B, Lawson, Union J and Ms Dynamite. More...
TRIO TO JOIN PARTY AT THE PROACT LINE UP -
Chesterfield Football Club has said this lunchtime that Labrinth, Katy B and Ms Dynamite have been added to the exciting line-up for this summer's Party at the Proact. More...
THERE'S A GUY WORKS DOWN THE PROACT SWEARS
HE'S ELVIS! -
A fundraising event at the Proact Stadium on Saturday night saw around £3,500 raised for the Chesterfield FC academy. More...
DIRTY STOP OUTS' LAUNCH THIS WEEKEND AT THE WINDING WHEEL -
This Saturday's (14th) launch party for the 'Dirty Stop Out's Guide to 1980s Chesterfield' is set to raise hundreds of pounds for Ashgate Hospice. More...
LAH-DI-DAH LADIES VOCAL HARMONY GROUP LOOK FOR ANOTHER 'LAH'! -
'Lah Di Dah' are a Ladies Vocal Harmony group who perform regularly around Chesterfield and The Peak District, often doing a great job fundraising for Charities. More...
AWARD WINNING FOLK ARTIST TO HEADLINE IN HIS HOME TOWN -
Captivating folk artist Blair Dunlop, who won the prestigious Radio 2 'Horizon Award' earlier this year, is heading back to his home town next month More...
HOT FINGERS POINT TO A GREAT NIGHT AT WHITWELL CENTRE -
Word has it on the streets that April 26th will see Whitwell Centre turned into Fat Sam's Speakeasy and the Hot Fingers band will show up More...
BALTIC CROSSING. IN DEMAND AND IN CHESTERFIELD. TWICE! -
Baltic Crossing are 5 young traditional musicians from Finland, Denmark and the UK - and they are appearing twice in Chesterfield in the space of a few days! More...
CHESTERFIELD JAZZ CLUB'S SEASON CONTINUES -
Following a sell-out launch night in May and an average of over 100 attendees a gig, the Chesterfield Jazz Club is proving to be a great success, and tomorrow continues with a gig by Jazz band Interplay More...
ELVIS AT NONNAS -
Elvis isn't down at the local chip shop after all - but he did hit the stage at a venue in Chesterfield recently. More...
LOCAL STARS TO LAUNCH CHRISTMAS AT VICAR LANE SHOPPING CENTRE -
Britain's Got Talent entrant and X-factor finalist Chelsea Redfern will be performing alongside Directions Theatre Arts on Sunday 25th Nov in Vicar Lane, Chesterfield. More...
LOCAL SINGER DIDIER ROCHARD SINGS AT READING FESTIVAL WITH ALT-J -
Former Barlow resident Didier Rochard of London Contemporary Voices, recently collaborated with Mercury Prize nominees Alt-J, for their set at Reading Festival More...
VINTAGE ROCK'N'ROLL WITH THE ATLANTICS -
Dust off those blue suede shoes because this 1950s rock 'n' roll band really knows how to party and they're coming to Whitwell! More...
WIN TICKETS FOR THE NEURYTHMICS AT THE PROACT -
We have two tickets to see Eurythmics tribute act - The Neurythmics - at the PROACT stadium on Friday 28th September. More...
BANDSTAND MARATHON COMES TO QUEEN'S PARK THIS WEEKEND -
Come along, watch and listen to a jam-packed musical programme at Chesterfield's Queen's Park as part of the London 2012 Festival closing celebrations. More...
CHESTERFIELD JAZZ CLUB - 2012 DIARY DATES -
Chesterfield Jazz Club meets on the third Thursday of every month at Club Chesterfield on Chester Street More...
DALEDIVA TAKE CENTRE STAGE FOR CHARITY CONCERT -
People are being invited to enjoy an evening of entertainment when the stars of local chorus, DaleDiva, take to the stage for a charity concert in Ashover. More...
WALTON & WEST COMMUNITY FORUM HOPE YOU'LL 'STAND IN LINE' -
One local Community Forum has decided to try and bring live, top class entertainment to the local area - at an affordable price. More...
LOCAL MUSICIANS TAKE TO THE BANDSTAND -
Local musicians will have a once-in-a-lifetime opportunity to take part in the largest closing cultural event of London 2012 on 9th September, thanks to Chesterfield Borough Council. More...
TAKE THE 7 PLAY THE WELLINGTON, NEW WHITTINGTON -
Take The Seven play at the Wellington, High Street, New Whittington, Chesterfield on Saturday 16th from 9pm More...
I'M STILL STANDING AFTER SIR ELTON ROCKS 'CHEZ VEGAS' -
It was THE event of the year in Chesterfield, over 12 months in the making and the result of much planning, preparation and purpose. More...
THE 'ROCKET MAN' PREPARES TO LAND -
The stage is set and, in less than 48 hours, Chesterfield will witness the biggest show to come to the town in years. More...
FINAL TICKETS RELEASED FOR ELTON JOHN AT THE B2NET -
With just over two weeks until the first ever show at the B2net Stadium, the final few tickets for Elton John have been released for sale to the general public. More...
COULD ELTON BE A SECRET SPIREITE -
Well-known football fan Sir Elton John will be taking two pieces of Chesterfield back with him when he performs at the b2net shortly. More...
MUSIC FESTIVAL CELEBRATES A DERBYSHIRE HERO -
Love, Life and Liberty: A celebration of Chesterfield's unique role in inspiring better places for people and the life of Raymond Unwin More...
2CELLOS TO SUPPORT ELTON JOHN AT THE B2NET -
Sir Elton John has announced that very special guests 2CELLOS will join him for his forthcoming live show this summer. More...
SUCH SWEET THUNDER -
Steve Steinhaus, the charismatic singer with the big personality who fronts both his Swing Band and the Dr Teeth Big Band, returns to Whitwell with his brand new show More...
MAGNETS ATTRACTED TO CHESTERFIELD -
They've performed with Blondie and at private parties for the likes of Hugh Grant and Elle McPherson - and now The Magnets are coming to Chesterfield. More...
ELTON JOHN PLAYS CHESTERFIELD FC'S B2NET! -
Superstar Elton John will be the first ever artist to perform at the B2net when he plays there in Summer 2012. More...

600 FOLLOW FEROCIOUS DOG AT MUSIC FESTIVAL! -
Whitwell Forward Community Group and 4Ward Promotions have extended Whitwell Festival Of Music 2011 and attracted 23 top quality bands More...
DO YOU HAVE TALENT? -
For the third year running, the Mayor of Chesterfield will once again be hosting 'Chesterfield's Got Talent' and is looking for talented acts from across the Borough. More...
ON SONG FOR TOWN, CARL NEWTON -
A day of firsts at the B2net on Saturday - first home game of the season and the first unfurling of the Champions Flag - also the first time the new 'Town song' rang out across the terraces More...
A STAR IS BORN... AND SHE'S FROM CHESTERFIELD -
One young girl from Chesterfield says she has to pinch herself every single day after hitting the big time and with her band preparing to launch its first single, next month. More...
HARLEY HANSON PLAYS HARLEY'S BAR-
Harley Hanson, International Singer and Songwriter returns to his home town of Chesterfield to launch his music video's and CD "When My Guitar Crys" and to film for his new video. More...

Music Event Diary -
Here is the place to find the latest Live Music Gigs from around Chesterfield. More...