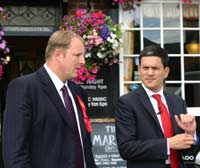 Monday August 23rd 2010
David Miliband, MP for South Shields and one of the front runners for the Labour Leadership, today visited Chesterfield to talk to Labour and Trade Union Members at a meeting in Market Hall during his campaign for the Labour Party Leadership, along with one of his main supporters, Chesterfield MP, Toby Perkins and a quick word with "The Chesterfield Post".


After lunching at the Market Pub in Market Square, Mr Miliband and Mr Perkins went on a short walkabout to meet and chat with some of the local people, some of whom didn't miss the chance to get in a few questions to start the afternoon off right.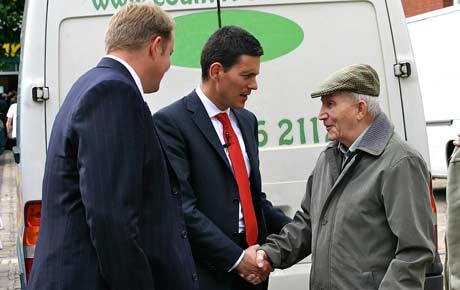 Mr Miliband then climbed the Market Hall stairs to the conference hall where he was greeted by the waiting crowd of Labour Party Members and Trade Unionists.
NOTE! - If you are having problems viewing the videos in Internet Explorer, please update your browser add-ons/plug-ins, specifically the IE Flash plug in, or go to our YouTube Channel to view directly.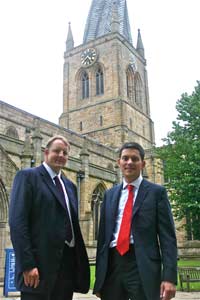 After a short welcome speech, David fielded a series of questions ranging from important local issues to the wider ranging subject of the Labour Party Leadership.

There were questions regarding education, local business, local political support and why things were difficult for Labour in North Derbyshire during the election campaign, unemployment and student issues, among others.

We will be breaking the meeting and relevant questions down into a 2 part article over the next couple of days along with some more video content.






OTHER STORIES
CHESTERFIELD WOMAN ROBBED IN HER OWN HOME - Police are appealing for information after a robbery at a house on Vincent Crescent, Chesterfield on Saturday August 28. More...
MOSQUITO DEVICE ENDS ANTI-SOCIAL BEHAVIOUR - Derbyshire Police report that after an anti-loitering device was fitted in an area of Chesterfield which had been plagued by youths, anti-social behaviour has been reduced by 25 per cent. More...
BUILDING FOR THE FUTURE - Residents in a North Derbyshire village given the chance to take part in fun activities celebrating an ambitious multi million pound redevelopment programme. More...
JOBS BOOST FOR CHESTERFIELD -
80 jobs are being created in Chesterfield by retail giant Matalan.
The company have confirmed today that they have bought the site of the old B&Q... More...
SOMETIMES ITS NOT GOOD TO TALK -
Police in NE Derbyshire are warning members of the public to be vigilant against suspicious telephone calls. More...

BE ALERT TO TOWN CENTRE PURSE THEFTS - Derbyshire Police are warning shoppers in Chesterfield town centre to be vigilant after five people had their purses or wallets stolen in one day. More...
WOMAN MADE TO APOLOGISE FOR TOY THEFT - A woman who stole a toy from a child in a Chesterfield shop has been made to apologise to the youngster's parents face-to-face. More...
DAVID MILIBAND VISITS CHESTERFIELD - Part 2. Questions from the Market Hall Meeting with Labour supporters and Members. More...
SEVEN SWANS A SWIMMING - Seven certainly is the lucky number for the parents of these Cygnets who patrol the waters of the Chesterfield Canal and the River Rother. Experts say it's unusual for as many... More...

Related Tags