Friday August 27th 2010

Residents in a North Derbyshire village were today given the chance to take part in fun activities which celebrated the continuation of an ambitious multi million pound redevelopment programme.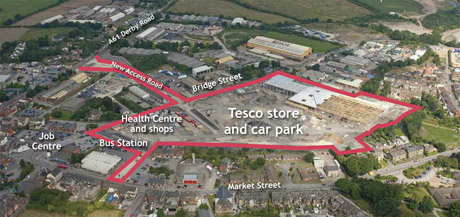 Clay Cross will soon see a new Tesco superstore, retail units, bus station and link road created as part of the New Bridge Street scheme. The second phase which will come on board later this year will see a health centre and more retail units built.

It's been a huge project which has been in the pipeline for many years but, once begun, has kept the community at it's heart. Residents of the village have been consulted at every stage, their views taken into account and have been instrumental in designing artwork including a sculpture which will form a central point of the development.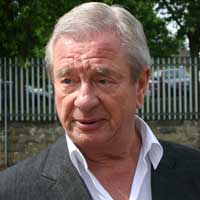 GMI construction Group are the company behind the scheme, Chairman Pete Gilman (pictured left) has been trying to get the project off the ground here for over 20 years.

He says, "Clay Cross deserves this, it's been neglected and this scheme will change it totally - over the next 5 years it'll be totally transformed". He's proud that the community has taken shared ownership of the scheme and says it's an example of how "business and community can work together".

Local schools have been heavily involved, contributing good ideas and enthusiasm. Mr Gilman is hopeful that the scheme will be completed within twelve to eighteen months - the last part of the development will be the affordable housing which will happen in about four or five years when the financial climate improves.

Tesco has begun the building of it's Eco-store, featuring combined heat and power plants, lots of wood used in construction techniques, rainwater harvesting, remover funnels in the roof which will cut down the need for air conditioning and ground breaking refrigeration units, meaning the store will be hugely energy conscious.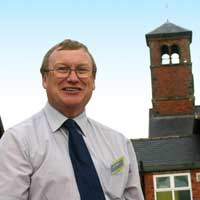 The company will create 270 jobs in the area, with 120 of those part of a scheme to get the long term unemployed back into employment. Tesco has been inundated with applications during this first round of recruitment and are currently reviewing them.

Tony Fletcher (pictured left), the Corporate Affairs Manager of the retail giant says "We're looking forward to bringing the new store to Clay Cross and are hoping it will be open before Christmas, it'll be a very family orientated store and we're looking forward to integrating into the community". He's confident that it will blend well with local traders.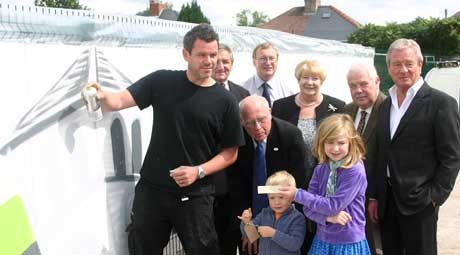 Anthony Donnelly begins work on the Clay Cross mural with Councillors and representatives from GMI and Tesco watching the first ideas handed over by local Clay Cross Children.

Artwork from the community will feature here too with artist Anthony Donnelly from Urban Canvas using ideas from locals to form a mural which will feature in the side wall of the store. He's using memories and nostalgia from local residents - the things that make Clay Cross unique. Stories collected will be painted on to the background of the mural.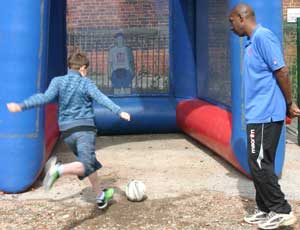 During the community event, balloons were released, families could take part in art and sculptural activities, or try their hand (well, their feet!) on Chesterfield Football Club's speed machine.

Plans for the scheme were on show, along with representatives from all major parties available to answer queries.


OTHER STORIES
ASDA PRICE? - Chesterfield may have to wait a while before it finds out whether an ASDA will be placed on the site of the Netto supermarket on Sheffield Road. More...
STAVELEY MAN
JAILED FOR DRUGS OFFENCES - A man from Staveley has been jailed for more than two years after admitting possession of heroin with intent to supply. More...
EVERY 'ONE' HELPS - Members of the public will be given an opportunity to sign up to volunteer for charity work when a local superstore holds it's Community Day on Sunday the 19th Sept. between 11am and 4.30 pm More...
HAPPY BIRTHDAY MEADOWHALL! -
One of the region's most famous shopping centres (and one familiar to most of us in Chesterfield) celebrates it's 20th birthday... More...
CHESTERFIELD WOMAN ROBBED IN HER OWN HOME - Police are appealing for information after a robbery at a house on Vincent Crescent, Chesterfield on Saturday August 28. More...
FROM THE U.S.A. TO US - A new face has just been appointed to a key position within the 20 million pound Casa Hotel Development in Chesterfield. More...
MOSQUITO DEVICE ENDS ANTI-SOCIAL BEHAVIOUR - Derbyshire Police report that after an anti-loitering device was fitted in an area of Chesterfield which had been plagued by youths, anti-social behaviour has been reduced by 25 per cent. More...
DAVID MILIBAND VISITS CHESTERFIELD - Part 2. Questions from the Market Hall Meeting with Labour supporters and Members. More...
DAVID MILIBAND VISITS CHESTERFIELD David Miliband, MP, has spent today (Monday 23rd August) visiting Chesterfield to talk to Labour and Trade Union Members at a meeting in Market Hall during his campaign for the Labour Party Leadership... More...
CHESTFEST
Despite the mixed weather hundreds of young people gathered in Chesterfield's Queen's Park at the weekend for Chestfest.The music and arts event... More...
CAN YOU HELP A FUTURE STAR TO SHINE? A brave Chesterfield schoolgirl, born with a life threatening heart defect requiring surgery, is now seen as one of the most promising football talents in the UK... More...

Related Tags