Monday August 23rd 2010

After their pub lunch and short walkabout and mini-debates with the Chesterfield market traders and customers, the two MP's headed for their meeting with Supporters, Members and TU representatives in the Market Hall.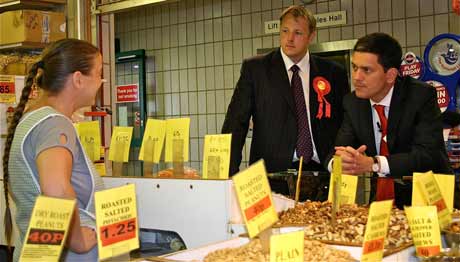 Toby Perkins MP introduced David Miliband with a short speech, in which he referred to the tough fight that he and his team had had to win back the seat from the Lib-Dems after 9 years, recognising that a lot of the people in the Hall with him today had been directly involved in that success. He thanked them for their support and reinforced how important he believes that support will be in Mr Miliband's Labour Leadership campaign and hopefully helping the Labour Party to success in regaining Government.
Mr Perkins said,
"The reason why we're going to be able to regain a Labour Government is that we have the right leader that is going to excite and enthuse the Labour Party and the Trade Union movement, but even more importantly than that, is going to excite and enthuse the wider population.

So one of the key responsibilities we have is to select the leader that's going to be someone we can be proud of, but also someone that's going to get the widespread support and get those voters we've lost back to supporting Labour.

I think that David is the candidate who's got the most experience, the freshest ideas in terms of rebuilding the party, in terms of regenerating our country and in terms of seeing the kind of Britain and values we want to see here in Chesterfield."
Mr Miliband's reply included a thank you to Chesterfield for the work the party in the area had done to help Toby get elected, referring to his visit back in April, and described Toby's win as due to hard work and "him [Toby] being a brilliant candidate! So from me, a big thank you to your supporters hard work in helping you on May 6th."
Mr Miliband and the visitors also welcomed Judy Mallaber, (pictured below) former MP for Amber Valley, to illustrate the fact that Labour had indeed lost talented MP's as well as gained.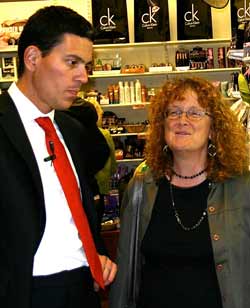 After his opening speech, Mr Miliband took questions from the floor. Here are some of the more 'Chesterfield relevant' questions and replies:
Cllr. Colin Swindell - "The Derbyshire Dales Labour voters generally felt that Labours policies are not particularly geared towards people in the rural areas and what would you do as PM to see that that changes?"
Caitlin Bisknell, High Peak Labour Candidate - "I'd like to start by saying our constituency is equally as pretty as Colin's Derbyshire Dales! Two thirds of our constituency is in the Peak District National Park, two large towns, lots of traditional Labour voters. In High Peak, we felt completely cast adrift from the party during the general election, very little contact, and I wondered what help our marginal seats will get in the future? Because without the support of these kind of seats, Labour will not win a general election."

DM - "On the rural question, I think it's really important that there's a danger to the Labour Party, that it looks like we believe that rural means farming! Now farming is very important, but it's not the only policy issue here. There is a big issue with unemployment in rural areas, there's a big issue on housing, including rural areas which are incredibly popular, they are so popular that there are people who buy their second homes there meaning people can't afford to buy their first homes!.
"There's a massive issue with transport in the rural areas, nevermind the drawback for potential investment. So let's 'plough' our values in urban areas towards rural areas.
"Lucky you though to be a candidate in the Derbyshire Dales, because that must be the nicest place to run a campaign, really, my heart bleeds for you!
"And Caitlin, yes, I agree, we do need the support of constituences like High Peak."
Toby Perkins - "I'd like to expand on that point, I think there's a real danger that the Labour Party is being seen more and more as a city, urban, public sector party and that we are shrinking. We've lost that coalition that we were able to achieve in 1997 where basically anyone who shared our values, supported us.

" We are becoming seen more and more as the party of the unemployed, party of the minority, party of the cities, and anyone outside of that may be thinking that we aren't necessarily on their side and we'd like to recreate that coalition we had in 1997."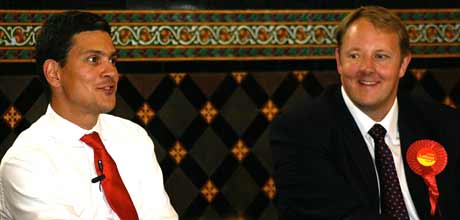 Andy - "What's Labours plans for new building and supply of Council Housing?"
DM - "We shot ourselves in the foot! We spent a great deal of money upgrading Council Houses, which was a fantastic programme, but we put hardly anything into new Council House building.It was a mistake! We set out a ten year leased home programme which people in Chesterfield benefitted from but, there wasn't enough Council house building. We've got to figure out the right way round to plan this stuff, because it's essential."
After this, among other Labour Party 'politicking', Mr Miliband summed up his thoughts and encouraged the Labour Party supporters to get ready for some hard work and future success and appreciated the support they had shown.
Mr Miliband and Toby Perkins then chatted for a short while with the audience and also had a few words with The Chesterfield Post, before taking a walk through the town heading for Mr Miliband's departure to his next appointment on his ongoing leadership campaign.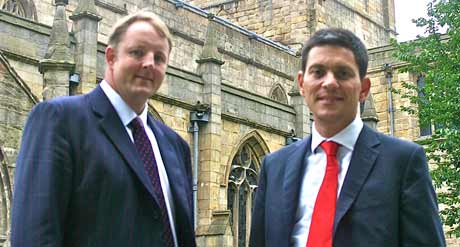 OTHER STORIES
CHESTERFIELD WOMAN ROBBED IN HER OWN HOME - Police are appealing for information after a robbery at a house on Vincent Crescent, Chesterfield on Saturday August 28. More...
MOSQUITO DEVICE ENDS ANTI-SOCIAL BEHAVIOUR - Derbyshire Police report that after an anti-loitering device was fitted in an area of Chesterfield which had been plagued by youths, anti-social behaviour has been reduced by 25 per cent. More...
BUILDING FOR THE FUTURE - Residents in a North Derbyshire village given the chance to take part in fun activities celebrating an ambitious multi million pound redevelopment programme. More...
JOBS BOOST FOR CHESTERFIELD -
80 jobs are being created in Chesterfield by retail giant Matalan.
The company have confirmed today that they have bought the site of the old B&Q... More...
SOMETIMES ITS NOT GOOD TO TALK -
Police in NE Derbyshire are warning members of the public to be vigilant against suspicious telephone calls. More...

BE ALERT TO TOWN CENTRE PURSE THEFTS - Derbyshire Police are warning shoppers in Chesterfield town centre to be vigilant after five people had their purses or wallets stolen in one day. More...
WOMAN MADE TO APOLOGISE FOR TOY THEFT - A woman who stole a toy from a child in a Chesterfield shop has been made to apologise to the youngster's parents face-to-face. More...
DAVID MILIBAND VISITS CHESTERFIELD David Miliband, MP, has spent today (Monday 23rd August) visiting Chesterfield to talk to Labour and Trade Union Members at a meeting in Market Hall during his campaign for the Labour Party Leadership... More...
SEVEN SWANS A SWIMMING - Seven certainly is the lucky number for the parents of these Cygnets who patrol the waters of the Chesterfield Canal and the River Rother. Experts say it's unusual for as many... More...
CHESTFEST
Despite the mixed weather hundreds of young people gathered in Chesterfield's Queen's Park at the weekend for Chestfest.The music and arts event... More...
CAN YOU HELP A FUTURE STAR TO SHINE? A brave Chesterfield schoolgirl, born with a life threatening heart defect requiring surgery, is now seen as one of the most promising football talents in the UK... More...

Related Tags