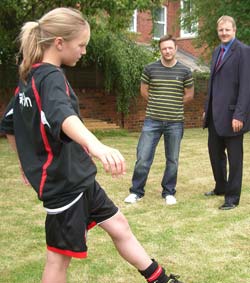 A brave Chesterfield schoolgirl, born with a life threatening heart defect requiring surgery, is now seen as one of the most promising football talents in the UK.

Megan Tinsley who attends Parkside is a rising star at Sheffield United's Football Academy and has the potential to play for the England Women's Football Youth Team.

However, unlike the boy's teams, Megan and her team mates are expected to fund their own kits and equipment which can amount to hundreds of pounds a season. There's also the travel costs between Megan's home, the training ground and match fixtures to find.

It's now hoped that the local business community can help by sponsoring Megan's training and development and helping her realise her potential.

Chesterfield's MP Toby Perkins is supporting the bid, saying: "When I heard about Megan's remarkable story and met her proud parents, Julie and Lyndon, I was taken aback. Megan is a fantastic football player and it's hard to believe that she underwent open heart surgery at just five years old. It is vitally important that the community gets behind such a promising talent. The opportunity is there for a local business or organization to sponsor Megan and her Sheffield United team mates and to make life that little bit easier for her parents. With a little support there is no doubt she can go all the way."

Megan's parents also hope someone can help. Her dad Lyndon commented "After what Megan has been through, we have to pinch ourselves when we see her play for Sheffield United Academy. All her coaches agree that she has the potential to reach the very top and hopefully, with Toby's backing and the help of a sponsor, she will be pulling on an England jersey before we know it."
OTHER STORIES
CHESTERFIELD WOMAN ROBBED IN HER OWN HOME - Police are appealing for information after a robbery at a house on Vincent Crescent, Chesterfield on Saturday August 28. More...
MOSQUITO DEVICE ENDS ANTI-SOCIAL BEHAVIOUR - Derbyshire Police report that after an anti-loitering device was fitted in an area of Chesterfield which had been plagued by youths, anti-social behaviour has been reduced by 25 per cent. More...
BUILDING FOR THE FUTURE - Residents in a North Derbyshire village given the chance to take part in fun activities celebrating an ambitious multi million pound redevelopment programme. More...
JOBS BOOST FOR CHESTERFIELD -
80 jobs are being created in Chesterfield by retail giant Matalan.
The company have confirmed today that they have bought the site of the old B&Q... More...
SOMETIMES ITS NOT GOOD TO TALK -
Police in NE Derbyshire are warning members of the public to be vigilant against suspicious telephone calls. More...

BE ALERT TO TOWN CENTRE PURSE THEFTS - Derbyshire Police are warning shoppers in Chesterfield town centre to be vigilant after five people had their purses or wallets stolen in one day. More...
WOMAN MADE TO APOLOGISE FOR TOY THEFT - A woman who stole a toy from a child in a Chesterfield shop has been made to apologise to the youngster's parents face-to-face. More...
DAVID MILIBAND VISITS CHESTERFIELD - Part 2. Questions from the Market Hall Meeting with Labour supporters and Members. More...
DAVID MILIBAND VISITS CHESTERFIELD David Miliband, MP, has spent today (Monday 23rd August) visiting Chesterfield to talk to Labour and Trade Union Members at a meeting in Market
Hall... More...
SEVEN SWANS A SWIMMING - Seven certainly is the lucky number for the parents of these Cygnets who patrol the waters of the Chesterfield Canal and the River Rother. Experts say it's unusual for as many... More...


Related Tags