Friday 3rd September 2010
One of the region's most famous shopping centres (and one familiar to most of us in Chesterfield) celebrates it's 20th birthday this weekend.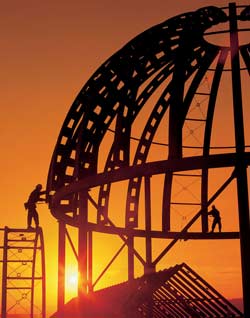 Meadowhall will open it's doors for the 7,000th time on Saturday, marking the event with a huge party on site which will feature acts including X Factor finalists Jamie Archer and Lloyd Daniels, the Tweenies, who will play a huge Pass the Parcel game, and children's characters Bearamy and Harry the Haddock. Well known local Sculptor, 'Stone face', will be on hand to create a bespoke work of art, and is promising to take his inspiration from customers wandering past!.
Currently the sixth largest mall in the UK, the centre was built on the site of a former steelworks. Constructed by Bovis, the most recognisable feature is of course the famous 'dome' (construction pictured above). Now occupying 1,260,000 sq ft it's home to 280 stores, 30 restaurants and an 11 screen cinema.

But it's not just a pretty face ... it's the first UK Shopping Centre to develop an onsite Resource and Recovery Centre (RRC), which sorts, separates and sends material for recycling. In 2006 a rainwater harvesting system was constructed which now supplies non-drinking water to the centre and its landscape. It's also the first shopping centre in the UK and the first location in Sheffield to install electric car charging points.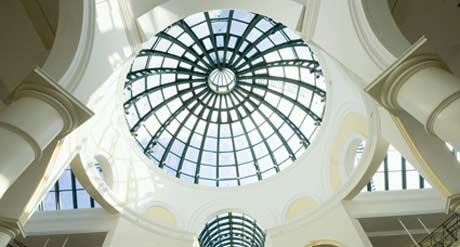 Richard Pinfold, Marketing Director at Meadowhall, commented, "We're very proud to be celebrating twenty years and to mark the occasion we are staging a birthday party with a difference - hosting a day for all the family to enjoy."
He said there's also a lot to look forward to in the coming year, "Meadowhall's 20th year promises to be the biggest and best yet with some ground-breaking events coming to the Centre. October will see the launch of Meadowhall's very first fashion month, as the Centre will see an influx of the biggest names in the fashion world as we aim to really put Yorkshire on the fashion map!".
Events will be happening all day on Saturday 4th September, from 10am.
OTHER STORIES
EVERY VOLUNTEER HELPS -
Despite the murky weather, hundreds of people visited Tesco's Community Fair. More...
WELL DRESSED CHESTERFIELD -
Reviving a tradition
dating back to 1864, Chesterfield this week celebrates Well Dressing. More...
HOTEL BUILD BRINGS CASH TO CHESTERFIELD - As Chesterfield continues to battle these recession-hit times, one new Hotel complex that's under construction is already bringing a much needed jobs and cash boost to the town. More...
HELP SHAPE THE FUTURE OF STAVELEY - Residents of Staveley are being asked by Chesterfield Borough Council to make comments and give their views of a draft appraisal on the Staveley Conservation Area. More...
MEADOWHALL CELEBRATES 7,000 OPENINGS -
Thousands of well-wishers crowded into Meadowhall shopping centre on Saturday to celebrate it's 20th birthday. More...
JOBS AND TOURISM BOOST - Work has begun today on a new multi million pound hotel development that will bring investment and jobs to NE Derbyshire. More...
ASDA PRICE? - Chesterfield may have to wait a while before it finds out whether an ASDA will be placed on the site of the Netto supermarket on Sheffield Road. More...
STAVELEY MAN
JAILED FOR DRUGS OFFENCES - A man from Staveley has been jailed for more than two years after admitting possession of heroin with intent to supply. More...
CHESTERFIELD WOMAN ROBBED IN HER OWN HOME - Police are appealing for information after a robbery at a house on Vincent Crescent, Chesterfield on Saturday August 28. More...
FROM THE U.S.A. TO US - A new face has just been appointed to a key position within the 20 million pound Casa Hotel Development in Chesterfield. More...
DAVID MILIBAND VISITS CHESTERFIELD - Part 2. Questions from the Market Hall Meeting with Labour supporters and Members. More...
DAVID MILIBAND VISITS CHESTERFIELD David Miliband, MP, has spent today (Monday 23rd August) visiting Chesterfield to talk to Labour and Trade Union Members at a meeting in Market Hall during his campaign for the Labour Party Leadership... More...
CHESTFEST
Despite the mixed weather hundreds of young people gathered in Chesterfield's Queen's Park at the weekend for Chestfest.The music and arts event... More...
CAN YOU HELP A FUTURE STAR TO SHINE? A brave Chesterfield schoolgirl, born with a life threatening heart defect requiring surgery, is now seen as one of the most promising football talents in the UK... More...

Related Tags