Sunday 19th September 2010 Despite the murky weather, hundreds of people visited the Tesco Community Fair today.



Charlie and Lily Beck make a new friend at the fair!
Held at Lockoford Lane in Chesterfield, and organised by Community Champion Jackie Boland, the event saw local Charities and Organisations promoting their causes and encouraging visitors to get involved by donating their time or skills. Some were also there to offer advice about health issues.

The store was one of only 100 Tesco outlets to host a Community Fair this year, after a trial of 20 stores last year proved successful. Today's theme was to encourage people to volunteer for charities and give their time to organisations that help others.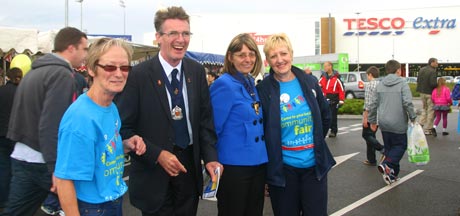 (l to r): Tesco's Community Champion Jackie Boland, the Deputy Mayor of Chesterfield Cllr. Mick Bagshaw and the Deputy Lady Mayoress Cllr. Ruth Perry and Wendy Gray, Tesco's Customer Services Manager

Wendy Gray who is the Customer Services Manager at the Chesterfield store said; "Today's all about supporting local charities and giving them a chance to let people know who they are and what they do. It's a great opportunity for people from the local community to get involved with each other. It's an exciting event for us, we've had a great day and Jackie has done a fantastic job in organising it, it's been a fantastic day. Tesco is part of the community and we want to promote things going on, and get to know the people around us and how we can help them."



Ashgate Hospice, Chesterfield RSPCA, Chesterfield Rotary Club and Walk For Health were just some of the groups represented, along with Chesterfield Football Club and the Ozbox team from Derbyshire Police. Live music from local bands and a free BBQ were provided by the Supermarket to make it a real family event.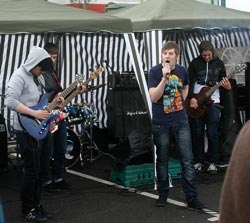 Chloe Shipp who was launching her cake making business 'Inspirations and Celebrations' after many years of baking for family and friends made the event's celebratory cake.

The Deputy Mayor, Councillor Mick Bagshaw, and his Deputy Lady Mayoress Councillor Ruth Perry represented the Mayor, as the day was very much in line with his 'Helping Communities to Help Themselves' theme for the Mayoral Year.

Some of those participating in the event told us why it was an important day for Charities in Chesterfield.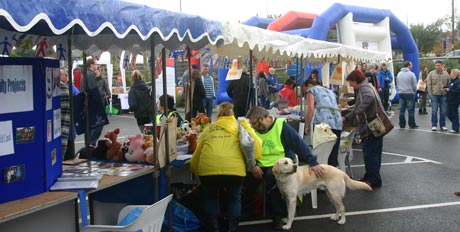 Stuart Cavell was representing Guide Dogs for The Blind. They're a Charity that trains and homes especially skilled dogs that help blind people live a more independent life in the community.

He said: "Guide dogs usually work for 6 years, and retire at 9 so they need a lot of cash to train and support. We get no funding from any national sources or any Government funding, every penny is raised through voluntary fundraising, so events like this are vital in raising awareness of the Charity."

They have a couple of upcoming events to which the Public are invited:

1) A Charity Auction at the Rose and Crown in Brampton on 7th October at 7pm. Lots to bid for include a Day with the Red Arrows and an Anfield Tour.

2) A walk in the Park - on the 8th October at Rother Valley Country Park. Turn up with your dog and have a sponsored walk round. It starts at 10am. Please ring Pam on 07879 432181 for more information.

The British Legion will see its 2010 Poppy Appeal launched by the Mayor Of Chesterfield on the 30th Oct at the Low Pavements in Chesterfield Town Centre. Margaret Topley is from the Organisation and she told us that it's important to remember that the cash raised is as valuable to serving soldiers in Afghanistan and their families as it is still to Veterans. Margaret said: "My Son- in Law is in the Forces and he says that for every soldier who tragically loses his life there are 4 that are severely maimed. The money raised from these campaigns helps to give these soldiers a life again, to rehabilitate them and maybe even help them return to the Forces."

Cancer touches most of us and it's important that when it does we get the right help and support. Marie Curie Nurses provide that support to many terminally ill patients who choose to die at home rather than in a hospice. Michelle King is the face of Marie Curie Cancer Care in Chesterfield and she told us: "Days like this are so important - they help us to get the volunteers to get the fundraisers out there which provides the cash we need to provide the services. We provide free care to help those who want to spend their last days at home. Every penny counts - we don't get any Government funding at all so we run on donations." She told us there are 22 nurses in Chesterfield at the moment; with 1600 nationwide. 2000 patients a week require their services. Michelle told us she'd found the day "humbling - it's lovely to see how many people want to help us because they have had relatives we've helped. Now they want to give something back in return."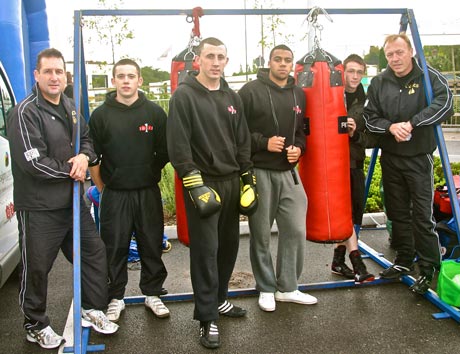 The Ozbox Team: Steve Osbaldeston (right), Simon Carlisle, Jacob Aley, Ricky Gardiner, Josh Hudison, Darren Commins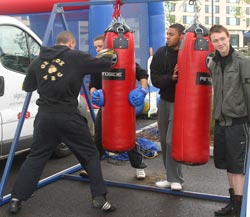 Founded in 2002 by Detective Inspector Steve Osbaldeston, Ozbox is a programme for 12-19 year olds who may be heading towards crime or anti social behaviour. By following this boxing based fitness activity they become engaged and focussed and begin to take pride in themselves and their community. Courses and advice are also run alongside this on healthy eating and fitness. Staffed by off duty Officers, the scheme has been a huge success and has been rolled out across the County.

One group trying to recruit volunteers there was the Buddy plus Mentoring Service. Run by the Youth Offending service, they're keen to recruit volunteers to help youngsters who are finding transition into adulthood difficult. Tony Faulkner who runs the service told The Chesterfield Post, "You don't need special qualifications to help. Volunteer Mentors spend a couple of hours a week with young people who are at risk of getting involved with Anti social behaviour, helping to steer them away from trouble." You need a CRB check and have to be over 21, a good communicator, who has empathy with young people, and be non judgemental. Anyone who wishes to get involved should contact Tony by email - tony.Faulkner@derbyshire.gov.uk
RECENT STORIES
MARCH AGAINST THE INCINERATOR -
On Saturday 9th October members of the public march to protest against the planning application for a hazardous waste incinerator on Dunston Road. More...
MORE ABOUT 'DESTINATION CHESTERFIELD' -
The Chesterfield Post brought you news of an exciting new project, run by business leaders and councillors in the town and launched earlier this week. We now can tell you more... More...
MULTI-MILLION POUND CASH BOOST FOR CHESTERFIELD -
Over 600 million pounds of significant development potential is around Chesterfield waiting to be accessed over the next few years. More...
NEW LOOK FOR AN OLD FAVOURITE -
Wilkinsons on Vicar Lane is set for a makeover this month as part of the company's nationwide initiative to invest in local towns. More...
HAVE YOUR SAY ON CHESTERFIELD'S TAXIS -
Chesterfield residents, taxi drivers and operators are being asked for their views on a new taxi licensing policy. More...
UK OLDER PEOPLE"S DAY 2010 -
'Getting and Staying active in later life' - that's the theme for this
Year's Older People's Day 2010. More...
21st CENTURY DESIGN COMES TO CHESTERFIELD -
"We simply wanted a good quality hotel for Chesterfield which would also benefit the local people in the town." More...
DON'T MESS AROUND -
Chesterfield Borough Council has launched a new campaign aimed at tackling dog owners who don't clean up their dog mess. More...
WELL DRESSED CHESTERFIELD -
Reviving a tradition
dating back to 1864, Chesterfield this week celebrates Well Dressing. More...
HOTEL BUILD BRINGS CASH TO CHESTERFIELD - As Chesterfield continues to battle these recession-hit times, one new Hotel complex that's under construction is already bringing a much needed jobs and cash boost to the town. More...
HELP SHAPE THE FUTURE OF STAVELEY - Residents of Staveley are being asked by Chesterfield Borough Council to make comments and give their views of a draft appraisal on the Staveley Conservation Area. More...
MEADOWHALL CELEBRATES 7,000 OPENINGS -
Thousands of well-wishers crowded into Meadowhall shopping centre on Saturday to celebrate it's 20th birthday. More...
JOBS AND TOURISM BOOST - Work has begun today on a new multi million pound hotel development that will bring investment and
jobs to NE Derbyshire. More...
CHESTERFIELD WOMAN ROBBED IN HER OWN HOME - Police are appealing for information after a robbery at a house on Vincent Crescent, Chesterfield on Saturday August 28. More...
FROM THE U.S.A. TO US - A new face has just been appointed to a key position within the 20 million pound Casa Hotel Development in Chesterfield. More...
DAVID MILIBAND VISITS CHESTERFIELD - Part 2. Questions from the Market Hall Meeting with Labour supporters and Members. More...
DAVID MILIBAND VISITS CHESTERFIELD David Miliband, MP, has spent today (Monday 23rd August) visiting Chesterfield to talk to Labour and Trade Union Members at a meeting in Market Hall during his campaign for the Labour Party Leadership... More...
CHESTFEST
Despite the mixed weather hundreds of young people gathered in Chesterfield's Queen's Park at the weekend for Chestfest.The music and arts event... More...
CAN YOU HELP A FUTURE STAR TO SHINE? A brave Chesterfield schoolgirl, born with a life threatening heart defect requiring surgery, is now seen as one of the most promising football talents in the UK... More...

Related Tags