Friday 1st October 2010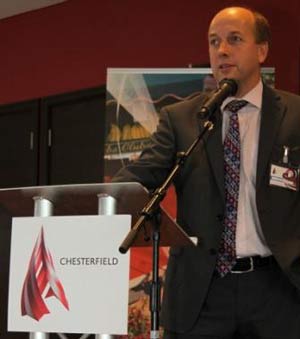 The Chesterfield Post brought you news of an exciting new project, run by business leaders and councillors in the town and launched earlier this week. We now can tell you more about 'Destination Chesterfield'.
Chesterfield Borough Council Chief, Huw Bowen (left), and key local business people have driven the project that builds on existing achievements to deliver a new approach in promoting the town and Borough's many assets and regeneration projects to further improve what Chesterfield has to offer. Funding has now been secured from the European Regional Development Fund to deliver this new approach with the local business community playing a central role in its success.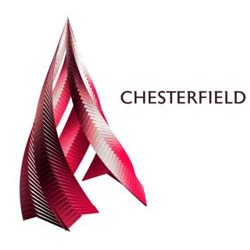 The town, famous for its iconic Crooked Spire and markets, is attracting interest and investment from a number of key developers and it's physical assets, along with it's central location, rich heritage, and modernity are all helping to build it's confidence and reputation as a place to live, study, invest and visit.
Cllr Ray Russell, Leader of Chesterfield Borough Council said: "This is a project of strategic importance to the Borough. No single organisation owns the place of Chesterfield. We all have a stake in its future and this project brings together public and private sectors to speak confidently about the place and what Chesterfield has to offer to business, investors and visitors."

A variety of marketing materials have been produced to support the Destination Chesterfield project. These are available through the 'Chesterfield Champions' programme that encourages businesses to positively promote Chesterfield and help make the town more competitive, attract new investment and improve its offer.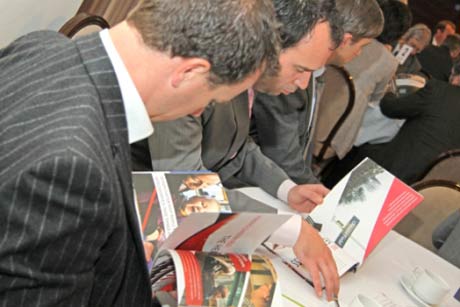 Bolsterstone Group plc, one of the organisations behind the town's largest regeneration project - 'Chesterfield Waterside' -has become one of the first 'Chesterfield Champions' and Pete Swallow, Managing Director said: "It's a very competitive time for places and businesses and it's important for potential investors and visitors to understand what we have to offer so they can choose to come here.

The Destination Chesterfield project is a great opportunity for all organisations in the town to come together and share their part in promoting the Chesterfield story with more confidence and consistency, which will benefit the whole of the local economy in the longer term. We jumped at the chance to join and to influence how we promote ourselves."
To find out more about the Destination Chesterfield project, visit www.investinchesterfield.co.uk
OTHER STORIES
IT STARTED AS A NORMAL DAY IN THE OFFICE -
7/7 2005 saw Matlock GP Dr Peter Holden at his offices at the BMA in Tavistock Square where he spends two days a week. More...
TORNADO HITS BARROW HILL! -
Don't worry, not a freak weather incident, but around 1,000 people flocked to Barrow Hill Roundhouse Railway to ride behind the famous A1 steam locomotive 'Tornado' More...
NEDDC LIFEGUARDS ARE THE BEST IN THE COUNTRY -
Lifeguards working for North East Derbyshire District Council have been recognized as being the best in the UK after coming top in a competition. More...
REPORT FROM THE FRONTLINE - THE INCINERATOR MARCH -
Chesterfield Post Editor Karen Johnson spoke with Campaign Leader Julie Harrington and local MP's Toby Perkins and Natascha Engel for their thoughts on the Campaign and march. More...
OFFICIAL LAUNCH OF THE CHESTERFIELD POST -
The Chesterfield Post was officially launched today at a lunchtime ceremony at the Winding Wheel Ballroom in Chesterfield Town Centre. More...
NEW LOOK FOR AN OLD FAVOURITE 2 -
Shoppers shared in the fun and watched The Mayor and Mayoress of Chesterfield cut the ceremonial ribbon to officially open the revamped Wilkinson's store, More...
TWICE AS NICE -
A pair of High street electronics giants is hoping to prove that two in to one really will go... More...
MARCH AGAINST THE INCINERATOR -
On Saturday 9th October members of the public march to protest against the planning application for a hazardous waste incinerator on Dunston Road. More...
MULTI-MILLION POUND CASH BOOST FOR CHESTERFIELD -
Over 600 million pounds of significant development potential is around Chesterfield waiting to be accessed over the next few years. More...
NEW LOOK FOR AN OLD FAVOURITE -
Wilkinsons on Vicar Lane is set for a makeover this month as part of the company's nationwide initiative to invest in local towns. More...
UK OLDER PEOPLE"S DAY 2010 -
'Getting and Staying active in later life' - that's the theme for this
Year's Older People's Day 2010. More...
HAVE YOUR SAY ON CHESTERFIELD'S TAXIS -
Chesterfield residents, taxi drivers and operators are being asked for their views on a new taxi licensing policy. More...
DON'T MESS AROUND -
Chesterfield Borough Council has launched a new campaign aimed at tackling dog owners who don't clean up their dog mess. More...
EVERY VOLUNTEER HELPS -
Despite the murky weather, hundreds of people visited Tesco's Community Fair. More...
WELL DRESSED CHESTERFIELD -
Reviving a tradition
dating back to 1864, Chesterfield this week celebrates Well Dressing. More...
HOTEL BUILD BRINGS CASH TO CHESTERFIELD - As Chesterfield continues to battle these recession-hit times, one new Hotel complex that's under construction is already bringing a much needed jobs and cash boost to the town. More...
HELP SHAPE THE FUTURE OF STAVELEY - Residents of Staveley are being asked by Chesterfield Borough Council to make comments and give their views of a draft appraisal on the Staveley Conservation Area. More...
MEADOWHALL CELEBRATES 7,000 OPENINGS -
Thousands of well-wishers crowded into Meadowhall shopping centre on Saturday to celebrate it's 20th birthday. More...
JOBS AND TOURISM BOOST - Work has begun today on a new multi million pound hotel development that will bring investment and
jobs to NE Derbyshire. More...
CHESTERFIELD WOMAN ROBBED IN HER OWN HOME - Police are appealing for information after a robbery at a house on Vincent Crescent, Chesterfield on Saturday August 28. More...
FROM THE U.S.A. TO US - A new face has just been appointed to a key position within the 20 million pound Casa Hotel Development in Chesterfield. More...
DAVID MILIBAND VISITS CHESTERFIELD - Part 2. Questions from the Market Hall Meeting with Labour supporters and Members. More...
DAVID MILIBAND VISITS CHESTERFIELD David Miliband, MP, has spent today (Monday 23rd August) visiting Chesterfield to talk to Labour and Trade Union Members at a meeting in Market Hall during his campaign for the Labour Party Leadership... More...
CHESTFEST
Despite the mixed weather hundreds of young people gathered in Chesterfield's Queen's Park at the weekend for Chestfest.The music and arts event... More...
CAN YOU HELP A FUTURE STAR TO SHINE? A brave Chesterfield schoolgirl, born with a life threatening heart defect requiring surgery, is now seen as one of the most promising football talents in the UK... More...

Related Tags