Wednesday 8th September 2010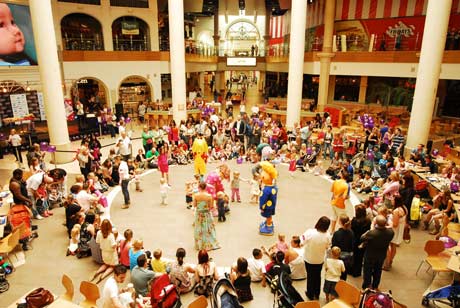 Thousands of well-wishers crowded into Meadowhall shopping centre on Saturday to celebrate it's 20th birthday. As we reported in the Chesterfield Post last week, several events were planned and celebrity guests invited.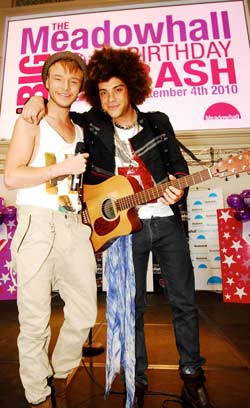 Particularly popular were children's TV stars The Tweenies who played pass the parcel with tots in the Oasis Court, and a rockin' live performance by X Factor's Jamie Archer and Lloyd Daniels.
Whilst at the party we caught up with Centre's Marketing Director, Richard Pinfold. He told us about Meadowhall's big day and how it had fared during the difficult economic times, saying, "It's a great day for the centre - people have grown up with Meadowhall. One retailer had a son of six when Meadowhall opened, now he's 26 and a store manager himself.

"There's a real sense of community here right across the centre, a real sense of pride in Meadowhall. It's the strongest retail line that we've ever had here. New customers are coming all the time, we've just had the first research figures through and they show that people are travelling from further away to come here."

He added, "People today are interested in Meadowhall, what's happening in and around, people follow blogs and twitter all the time online. What makes Meadowhall successful is it's constantly changing – there's always something new. It's special - it's in their hearts. And it makes a significant contribution to the local economy - employing 7,000 people at peak times and consistently using local suppliers."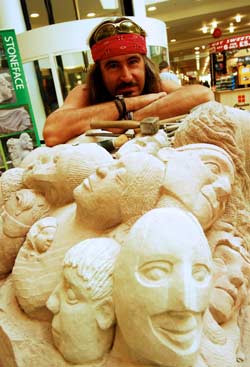 He admitted though that, "during the recession, like any business, it's been tough, and we've had to look inward - it's not been immune. We've had to streamline our operation, but what's pleasing is that we've come out stronger. We've consulted customers and asked them what's important to them and aligned our brands accordingly - that's actually driven 30 or 40 new retail brands coming in."

There are exciting times ahead for the mall. It's shortly to host a 'Celebration of Fashion' month in October, with a fashion show compered by Wayne Hemingway. The main event will be a "Charity Chintz Shop" with clothing donated by the likes of Sienna Miller and Fearne Cotton. TV Star Fern Britton has donated the actual dress she wore on her last 'This Morning'. All items will be available to buy by auction during the event. Details will be available nearer the time.
RECENT STORIES
HAVE YOUR SAY ON CHESTERFIELD'S TAXIS -
Chesterfield residents, taxi drivers and operators are being asked for their views on a new taxi licensing policy. More...
UK OLDER PEOPLE"S DAY 2010 -
'Getting and Staying active in later life' - that's the theme for this
Year's Older People's Day 2010. More...
21st CENTURY DESIGN COMES TO CHESTERFIELD -
"We simply wanted a good quality hotel for Chesterfield which would also benefit the local people in the town." More...
DON'T MESS AROUND -
Chesterfield Borough Council has launched a new campaign aimed at tackling dog owners who don't clean up their dog mess. More...
EVERY VOLUNTEER HELPS -
Despite the murky weather, hundreds of people visited Tesco's Community Fair. More...
WELL DRESSED CHESTERFIELD -
Reviving a tradition
dating back to 1864, Chesterfield this week celebrates Well Dressing. More...
HOTEL BUILD BRINGS CASH TO CHESTERFIELD - As Chesterfield continues to battle these recession-hit times, one new Hotel complex that's under construction is already bringing a much needed jobs and cash boost to the town. More...
HELP SHAPE THE FUTURE OF STAVELEY - Residents of Staveley are being asked by Chesterfield Borough Council to make comments and give their views of a draft appraisal on the Staveley Conservation Area. More...
JOBS AND TOURISM BOOST - Work has begun today on a new multi million pound hotel development that will bring investment and
jobs to NE Derbyshire. More...
CHESTERFIELD WOMAN ROBBED IN HER OWN HOME - Police are appealing for information after a robbery at a house on Vincent Crescent, Chesterfield on Saturday August 28. More...
FROM THE U.S.A. TO US - A new face has just been appointed to a key position within the 20 million pound Casa Hotel Development in Chesterfield. More...
DAVID MILIBAND VISITS CHESTERFIELD - Part 2. Questions from the Market Hall Meeting with Labour supporters and Members. More...
DAVID MILIBAND VISITS CHESTERFIELD David Miliband, MP, has spent today (Monday 23rd August) visiting Chesterfield to talk to Labour and Trade Union Members at a meeting in Market Hall during his campaign for the Labour Party Leadership... More...
CHESTFEST
Despite the mixed weather hundreds of young people gathered in Chesterfield's Queen's Park at the weekend for Chestfest.The music and arts event... More...
CAN YOU HELP A FUTURE STAR TO SHINE? A brave Chesterfield schoolgirl, born with a life threatening heart defect requiring surgery, is now seen as one of the most promising football talents in the UK... More...

Related Tags