Wednesday 15th September 2010
Reviving a tradition dating back to 1864, Chesterfield this week celebrates Well Dressing. Two sites - the Town Pump in the Market Place, and the Crooked Spire will be dressed.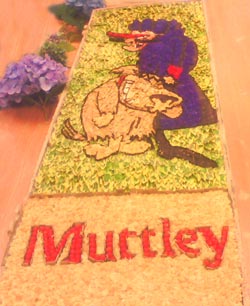 The custom itself is unique to Derbyshire, but returned to Chesterfield in 1991 after a break of many years. Next year will see the twentieth year of Well Dressing in the town.
This year's design on the Town Pump is Hanna Barbera, a fun theme, chosen because it has the widest range of Cartoon Characters to choose from. It will feature the Flintstones, Scooby Doo and Shaggy with Dastardly and Mutley along for the ride too.

The Church will feature a design based on one of the stained glass windows in the church, and will depict the Madonna and Child.


Labour of Love
If you're like me you'll have often seen these around the County and wondered how they're formed.

Thankfully, the team behind the dressings spend a week beforehand preparing them in the Pavements, showing off the art to the public.

It's an arduous process with layers of flower petals being pressed onto wet clay by hand - the theory being that the water in the clay will keep the flowers fresh.

Alison Barnes, from the Tourist Information Centre is the creative force behind the project and she said "Preparing the well dressings in public is something visitors are interested in, seeing how they're put together ... it's a long process from start to finish - we start talking about the design around May. It normally takes about a week to put together and the well dressings should last a week. The dirtiest job is filling the frames with clay, it's a filthy job, with the clay needing to be about an inch deep .The petals are added by hand, using a variety of flowers of the right colours. As the top layer dries, it hardens around the petal so too much shouldn't fall off, and hopefully the weather won't be too brutal - heavy rain or high wind will fetch off the top layer. The petals are overlapped so any rain should hit it and run off."
The dressings are up now at the Pump and the Church, where they'll be till Sat the 18th. All donations raised are in aid of The Mayor's Appeal, in support of Fairplay and The Samaritans .
RECENT STORIES
MORE ABOUT 'DESTINATION CHESTERFIELD' -
The Chesterfield Post brought you news of an exciting new project, run by business leaders and councillors in the town and launched earlier this week. We now can tell you more... More...
MULTI-MILLION POUND CASH BOOST FOR CHESTERFIELD -
Over 600 million pounds of significant development potential is around Chesterfield waiting to be accessed over the next few years. More...
NEW LOOK FOR AN OLD FAVOURITE -
Wilkinsons on Vicar Lane is set for a makeover this month as part of the company's nationwide initiative to invest in local towns. More...
HAVE YOUR SAY ON CHESTERFIELD'S TAXIS -
Chesterfield residents, taxi drivers and operators are being asked for their views on a new taxi licensing policy. More...
UK OLDER PEOPLE"S DAY 2010 -
'Getting and Staying active in later life' - that's the theme for this
Year's Older People's Day 2010. More...
21st CENTURY DESIGN COMES TO CHESTERFIELD -
"We simply wanted a good quality hotel for Chesterfield which would also benefit the local people in the town." More...
DON'T MESS AROUND -
Chesterfield Borough Council has launched a new campaign aimed at tackling dog owners who don't clean up their dog mess. More...
EVERY VOLUNTEER HELPS -
Despite the murky weather, hundreds of people visited Tesco's Community Fair. More...
HOTEL BUILD BRINGS CASH TO CHESTERFIELD - As Chesterfield continues to battle these recession-hit times, one new Hotel complex that's under construction is already bringing a much needed jobs and cash boost to the town. More...
HELP SHAPE THE FUTURE OF STAVELEY - Residents of Staveley are being asked by Chesterfield Borough Council to make comments and give their views of a draft appraisal on the Staveley Conservation Area. More...
MEADOWHALL CELEBRATES 7,000 OPENINGS -
Thousands of well-wishers crowded into Meadowhall shopping centre on Saturday to celebrate it's 20th birthday. More...
JOBS AND TOURISM BOOST - Work has begun today on a new multi million pound hotel development that will bring investment and
jobs to NE Derbyshire. More...
CHESTERFIELD WOMAN ROBBED IN HER OWN HOME - Police are appealing for information after a robbery at a house on Vincent Crescent, Chesterfield on Saturday August 28. More...
FROM THE U.S.A. TO US - A new face has just been appointed to a key position within the 20 million pound Casa Hotel Development in Chesterfield. More...
DAVID MILIBAND VISITS CHESTERFIELD - Part 2. Questions from the Market Hall Meeting with Labour supporters and Members. More...
DAVID MILIBAND VISITS CHESTERFIELD David Miliband, MP, has spent today (Monday 23rd August) visiting Chesterfield to talk to Labour and Trade Union Members at a meeting in Market Hall during his campaign for the Labour Party Leadership... More...
CHESTFEST
Despite the mixed weather hundreds of young people gathered in Chesterfield's Queen's Park at the weekend for Chestfest.The music and arts event... More...
CAN YOU HELP A FUTURE STAR TO SHINE? A brave Chesterfield schoolgirl, born with a life threatening heart defect requiring surgery, is now seen as one of the most promising football talents in the UK... More...

Related Tags