Saturday 25th September 2010

"We simply wanted a good quality hotel for Chesterfield which would also benefit the local people in the town." That's the ethos of the man behind the new £20 million CASA hotel development which is being built on Whittington Moor on the A61 corridor.

Due to open in November this year, after a 58-week build, it will bring a touch of 21st century architecture to Chesterfield.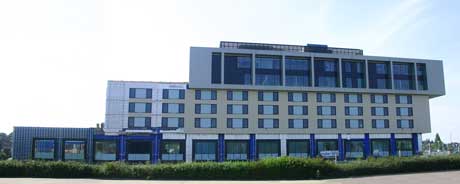 The Chesterfield Post was lucky enough to have a 'hard hat' tour of the hotel to see first hand the work in progress and talk to the local people and businesses behind it.

Stuart Downham, the General manager has been working on the project for the last two years, much of it behind the scenes, working on the design and the detail. It's the first time he's ever been involved in a project of this size from scratch, but having worked with the Hilton Chain, amongst other places, he's brought a wealth of experience to the design and management of the facility. Thrilled with the way it's evolved he thinks it'll be a huge boost for Chesterfield. They've built close links with the nearby Chesterfield Football Club and already have had enquiries from other teams facing Chesterfield this year at the B2 Net about staying there.

But, despite it's attractions to visitors, the hotel is all about Chesterfield. Steve Perez, the owner, is the brain behind Global Brands UK, better known as VK. Born and bred in the town, he wanted to take his business to the next level and stay here to do it. The hotel will reflect what is best from in and around the town, with as much locally sourced timber and materials as possible and 85% of the building construction staff from a 40-mile radius.

It's a family business too, with Steve's brother Seb keeping an eye on the construction side of things and offering advice and support where needed.

Staff are local too, meaning that the hotel can offer a high quality knowledge of the surrounding area to visitors, with key staff already in place from the town. Much of the produce will be local and again, representing the best of what the Chesterfield has to offer. In a nod to the family's Spanish roots (they hail from Barcelona) there's a Spanish theme running through the hotel, with Spanish tiles and again, goods from that area, sourced and brought over to lend authenticity.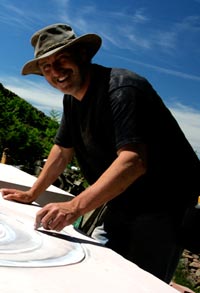 Guests will enter via a tree-lined driveway, to be greeted by two specially created sculptures either side of the Entrance. Carved from stone from Birchover Quarry by sculptor, Stuart Marsh (pictured left), they'll be linked by a carved stone riverbed - lit up at night.
Many of the interior features are unique. It will be the only hotel in the UK that has hot tubs on the balconies of some of the suites. It has state of the art kitchen equipment, including Josper Ovens that will add authentic Spanish flavours to the food. These can also be wheeled out onto the terrace area to form an impromptu BBQ area should the event warrant it.
The double sized entrance atrium will feature a huge stone desk, with copper plate features on the walls, rising up onto the first floors and arcing back down. Spanish tiles line the floors and feature staircases, again made from local timber, will carry guests upstairs.
The 100 seater Restaurant upstairs is built to an open plan design with the cooking area on show, making the chefs themselves part of the dining experience. There's no dress code either, so it's an informal environment for everyone.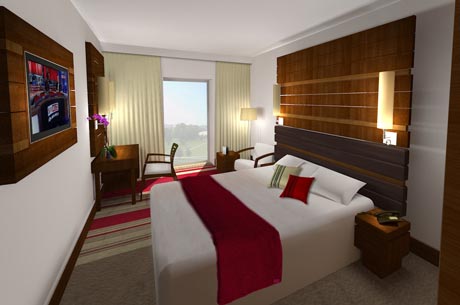 Of 100 rooms, 94 are traditionally furnished, alongside 6 suites - some with hot tubs. The bathrooms were specially designed and built off site, and craned into each room individually when they were ready.

The complex will also be a working environment - with the offices of Global UK on the 5th floor, and accessible by separate entrances and lifts.

Building is on schedule, with the opening due to take place in the first week of November.






RECENT STORIES
NEW LOOK FOR AN OLD FAVOURITE 2 -
Shoppers shared in the fun and watched The Mayor and Mayoress of Chesterfield cut the ceremonial ribbon to officially open the revamped Wilkinson's store, More...
TWICE AS NICE -
A pair of High street electronics giants is hoping to prove that two in to one really will go... More...
MARCH AGAINST THE INCINERATOR -
On Saturday 9th October members of the public march to protest against the planning application for a hazardous waste incinerator on Dunston Road. More...
MORE ABOUT 'DESTINATION CHESTERFIELD' -
The Chesterfield Post brought you news of an exciting new project, run by business leaders and councillors in the town and launched earlier this week. We now can tell you more... More...
MULTI-MILLION POUND CASH BOOST FOR CHESTERFIELD -
Over 600 million pounds of significant development potential is around Chesterfield waiting to be accessed over the next few years. More...
NEW LOOK FOR AN OLD FAVOURITE -
Wilkinsons on Vicar Lane is set for a makeover this month as part of the company's nationwide initiative to invest in local towns. More...
HAVE YOUR SAY ON CHESTERFIELD'S TAXIS -
Chesterfield residents, taxi drivers and operators are being asked for their views on a new taxi licensing policy. More...
UK OLDER PEOPLE"S DAY 2010 -
'Getting and Staying active in later life' - that's the theme for this
Year's Older People's Day 2010. More...
DON'T MESS AROUND -
Chesterfield Borough Council has launched a new campaign aimed at tackling dog owners who don't clean up their dog mess. More...
EVERY VOLUNTEER HELPS -
Despite the murky weather, hundreds of people visited Tesco's Community Fair. More...
WELL DRESSED CHESTERFIELD -
Reviving a tradition
dating back to 1864, Chesterfield this week celebrates Well Dressing. More...
HOTEL BUILD BRINGS CASH TO CHESTERFIELD - As Chesterfield continues to battle these recession-hit times, one new Hotel complex that's under construction is already bringing a much needed jobs and cash boost to the town. More...
HELP SHAPE THE FUTURE OF STAVELEY - Residents of Staveley are being asked by Chesterfield Borough Council to make comments and give their views of a draft appraisal on the Staveley Conservation Area. More...
MEADOWHALL CELEBRATES 7,000 OPENINGS -
Thousands of well-wishers crowded into Meadowhall shopping centre on Saturday to celebrate it's 20th birthday. More...
JOBS AND TOURISM BOOST - Work has begun today on a new multi million pound hotel development that will bring investment and
jobs to NE Derbyshire. More...
CHESTERFIELD WOMAN ROBBED IN HER OWN HOME - Police are appealing for information after a robbery at a house on Vincent Crescent, Chesterfield on Saturday August 28. More...
FROM THE U.S.A. TO US - A new face has just been appointed to a key position within the 20 million pound Casa Hotel Development in Chesterfield. More...
DAVID MILIBAND VISITS CHESTERFIELD - Part 2. Questions from the Market Hall Meeting with Labour supporters and Members. More...
DAVID MILIBAND VISITS CHESTERFIELD David Miliband, MP, has spent today (Monday 23rd August) visiting Chesterfield to talk to Labour and Trade Union Members at a meeting in Market Hall during his campaign for the Labour Party Leadership... More...
CHESTFEST
Despite the mixed weather hundreds of young people gathered in Chesterfield's Queen's Park at the weekend for Chestfest.The music and arts event... More...
CAN YOU HELP A FUTURE STAR TO SHINE? A brave Chesterfield schoolgirl, born with a life threatening heart defect requiring surgery, is now seen as one of the most promising football talents in the UK... More...

Related Tags