Saturday 11th September 2010
As Chesterfield continues to battle these recession-hit times, one new Hotel complex that's under construction is already bringing a much needed jobs and cash boost to the town.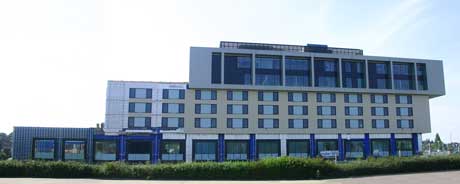 The Casa development, on the A61 corridor on Whittington Moor, will be opening towards the end of the year - offering state of the art facilities:
4 stylish suites, 2 with balcony hot tubs; a 100 seater restaurant serving top-class traditional Spanish tapas; and have the latest leisure facilities in the Boost Gym. There'll also be open terraces and landscaped gardens to enjoy.
There's no doubt that the design of the building has provoked a reaction amongst locals, but we were keen to find out about the economic impact the facility would have on the town. The Chesterfield Post contacted the owner, Steve Perez, to find out exclusively how the project would benefit the area.
Steve began by explaining to us why the hotel is being built on Whittington Moor. A Chesterfield lad himself, he was keen to keep this project in the town. "The A61 corridor" he says, "was a natural choice for the new facility - on the main arterial route, in an area undergoing huge regeneration, and with many future projects such as the Chesterfield Waterside Development still to come."

He went on to say that despite the uncertain financial climate there was never any doubt that the project could go ahead. "The company is committed to the project and it's completion. In fact, the only thing that has held the schedule up so far has been the harsh Derbyshire weather!"

The Chesterfield Post has learned that the jobs boost to the town will not be insignificant, 500 posts have been created though construction and staffing. 120 people will be employed within the hotel when open - with most, if not all, from the town or surrounding area. In what is seen a sign of the times the company was inundated with applications and recruitment continues, with some key posts about to be filled.

We'll leave it to Steve himself to sum up the benefit to the area, "Casa will be a high quality business and tourism destination for Chesterfield, providing much needed employment, mostly from the surrounding area. We hope the hotel will attract national corporate and conference business with its state of the art facilities and its excellent location. Short breaks and weekend banqueting business will provide lucrative weekend visitors to the town also."


Local Lad Appointed To Key Position


In a separate development, news today of a key appointment at the Hotel. Matthew Rushton, from Clay Cross, has been appointed as Head Chef at the new Casa hotel.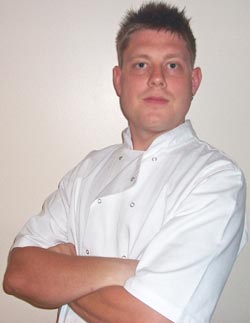 Matthew started his career in Guernsey before moving on to work alongside Gordon Ramsey in his 3 Michelin Starred, 5 AA Rosette 'Gordon Ramsey restaurant', in Chelsea. Returning to Derbyshire, Matthew earned his own accolades - 2 AA Rosettes and title 'Restaurant of the Year' from the Which Guide - as Head Chef of The Peacock Hotel at Rowsley. Immediately prior to Casa Matthew was Head Chef at The White Horse, Woolley Moor.

He's excited at the project and the prospect of returning to his roots, saying "It's always been a dream of mine to return to Chesterfield as a well established Chef and working for Casa really is a dream come true. I've always had fantastic drive and ambition and to be appointed by Casa is an excellent opportunity for me to shine in my home town. I'm looking forward to working at Casa and developing menus that incorporate a subtle Spanish theme as well as maintaining a strong local flavour."

The hotel menu will have a truly local flavour too - Casa is keen to work with local suppliers and Matthew is already working with a local farmer to source meat, vegetables and dairy products. The head gardener on the same farm has also agreed to grow herbs for the hotel.

Stuart Downham, Operations Director at Casa, said. "The pace is really picking up at Casa as we welcome a number of new additions to the team. We already knew Matthew by his excellent reputation and he was an easy choice when choosing our Head Chef. Matthew is already proving to be a fantastic addition, sharing his thoughts, ideas and creations. The menus are almost complete and we are looking forward to sharing them with our customers in the coming months."
RECENT STORIES
MULTI-MILLION POUND CASH BOOST FOR CHESTERFIELD -
Over 600 million pounds of significant development potential is around Chesterfield waiting to be accessed over the next few years. More...
NEW LOOK FOR AN OLD FAVOURITE -
Wilkinsons on Vicar Lane is set for a makeover this month as part of the company's nationwide initiative to invest in local towns. More...
HAVE YOUR SAY ON CHESTERFIELD'S TAXIS -
Chesterfield residents, taxi drivers and operators are being asked for their views on a new taxi licensing policy. More...
UK OLDER PEOPLE"S DAY 2010 -
'Getting and Staying active in later life' - that's the theme for this
Year's Older People's Day 2010. More...
21st CENTURY DESIGN COMES TO CHESTERFIELD -
"We simply wanted a good quality hotel for Chesterfield which would also benefit the local people in the town." More...
DON'T MESS AROUND -
Chesterfield Borough Council has launched a new campaign aimed at tackling dog owners who don't clean up their dog mess. More...
EVERY VOLUNTEER HELPS -
Despite the murky weather, hundreds of people visited Tesco's Community Fair. More...
WELL DRESSED CHESTERFIELD -
Reviving a tradition
dating back to 1864, Chesterfield this week celebrates Well Dressing. More...
HELP SHAPE THE FUTURE OF STAVELEY - Residents of Staveley are being asked by Chesterfield Borough Council to make comments and give their views of a draft appraisal on the Staveley Conservation Area. More...
MEADOWHALL CELEBRATES 7,000 OPENINGS -
Thousands of well-wishers crowded into Meadowhall shopping centre on Saturday to celebrate it's 20th birthday. More...
JOBS AND TOURISM BOOST - Work has begun today on a new multi million pound hotel development that will bring investment and
jobs to NE Derbyshire. More...
CHESTERFIELD WOMAN ROBBED IN HER OWN HOME - Police are appealing for information after a robbery at a house on Vincent Crescent, Chesterfield on Saturday August 28. More...
FROM THE U.S.A. TO US - A new face has just been appointed to a key position within the 20 million pound Casa Hotel Development in Chesterfield. More...
DAVID MILIBAND VISITS CHESTERFIELD - Part 2. Questions from the Market Hall Meeting with Labour supporters and Members. More...
DAVID MILIBAND VISITS CHESTERFIELD David Miliband, MP, has spent today (Monday 23rd August) visiting Chesterfield to talk to Labour and Trade Union Members at a meeting in Market Hall during his campaign for the Labour Party Leadership... More...
CHESTFEST
Despite the mixed weather hundreds of young people gathered in Chesterfield's Queen's Park at the weekend for Chestfest.The music and arts event... More...
CAN YOU HELP A FUTURE STAR TO SHINE? A brave Chesterfield schoolgirl, born with a life threatening heart defect requiring surgery, is now seen as one of the most promising football talents in the UK... More...

Related Tags