Wednesday 20th October 2010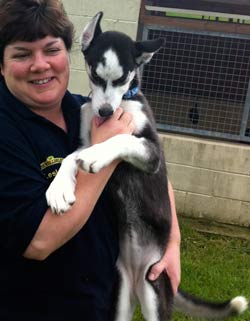 Chesterfield RSPCA is asking for your help in re homing dogs (and kittens) like this one.
Alaska, (seen here with Lesley Darling, one of the workers at RSPCA's Spital Kennels) is a 14-week-old husky pup. Sadly she is one of FIVE huskies in the kennels at Spital at the moment.

The others - Rebel, Rio, Samson and Sasha are all aged between 18 months and 4 years old, and all but one of the five came to the RSPCA from the same original home after their owner had died.
Centre manager Richard Woodward is desperate to see these dogs back in a loving family home, but advises that dogs like these need owners who know the breed.

He says theses types of dogs would be better in experienced homes, with an active family who have strict ground rules. Large gardens with at least six-foot fencing would be advisable too.
Can you help? If you can please call Richard on 01246 273358.


Charity begins at Home?

The RSPCA is also over run with cats and kittens and are putting out an urgent appeal for Cat 'Foster families'.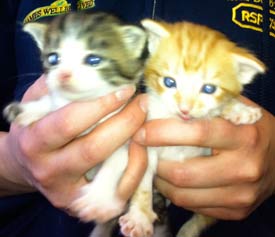 Richard Woodward, Manager of the Chesterfield Centre, told The Chesterfield Post that the centre is "Simply unable to cope with the volume of cats at the moment with all cages full."
They would urge anyone who could offer a temporary home for an orphaned litter of kittens (who would need hand rearing), nursing Queens, or maybe injured cats recovering from accidents to please get in touch.
Experience of cats would be ideal and the Centre does provide all food and equipment for the duration of the Cat's stay.
If you think you could help the Centre, then please get in touch with the centre on 01246 273358.
RECENT STORIES
MAKING LIFE BETTER FOR LOCAL
CHARITIES -
A local supermarket is making life better for local charities as it undergoes a major refurbishment of its premises. More...
NEW LOCAL CHARITY LAUNCHES -
A new charity 'Embracing Life', has opened in Chesterfield, aiming to provide an opportunity for carers and family members of local residents affected by long term and debilitating illnesses. More...
NEW BASE FOR CHESTERFIELD CHARITY -
A major charity in Chesterfield that provides help, support and advice for elderly people in the town has moved into new premises. More...
COULD YOU BE A GOOD SAMARITAN? -
"We're the listening ear"... That's Wendy, volunteer with Chesterfield Samaritans, talking about the Charity's work and how it's there for the people of Chesterfield on a daily basis. More...
WELCOME TO THE NENNA KIND CENTRE
A new voluntary, self funding group will soon be able to offer families and friends of cancer sufferers a place to talk with and offer support to other people going through the same thing.
READ MORE...