Tuesday 14th June 2011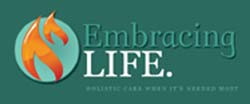 A new charity has opened in Chesterfield, aiming to provide an opportunity for carers, and family members of local residents affected by long term and debilitating illnesses.


'Embracing Life' will provide the opportunity for 'time out' in a relaxed, friendly and no clinical environment and will offer complimentary therapies, support and information.

At a recent launch event and open day at their Chester Street premises, Embracing Life welcomed a host of local business owners, representatives from the Borough Council and local dignitaries, including our new Mayor of Chesterfield, Cllr Peter Barr, all interested in finding out more about this excellent cause.

After the successful event, Embracing Life team member Karen Carroll commented; "We are overwhelmed with the positive response and generous attitude that people have shown to this emerging charity. We have been humbled by people who have been touched in some way by a debilitating illness, coming forward and wanting to help either through giving their time, or money.

"We know we have a long way to go, and are looking for major sponsors to help us start giving these rewarding complementary therapies and the information and support to local people who really deserve them."

Further events will be organised. However, in the meantime, anyone wishing to help with the project either by volunteering or through financial assistance, can contact the charity on info@embracinglife.co.uk
RECENT STORIES
MAKING LIFE BETTER FOR LOCAL
CHARITIES -
A local supermarket is making life better for local charities as it undergoes a major refurbishment of its premises. More...
NEW BASE FOR CHESTERFIELD CHARITY -
A major charity in Chesterfield that provides help, support and advice for elderly people in the town has moved into new premises. More...
COULD YOU BE A GOOD SAMARITAN? -
"We're the listening ear"... That's Wendy, volunteer with Chesterfield Samaritans, talking about the Charity's work and how it's there for the people of Chesterfield on a daily basis. More...
CAN YOU GIVE A DOG (OR KITTEN) A HOME? -
Chesterfield RSPCA is asking for your help in re homing dogs (and kittens) like this one. More...
WELCOME TO THE NENNA KIND CENTRE
A new voluntary, self funding group will soon be able to offer families and friends of cancer sufferers a place to talk with and offer support to other people going through the same thing.
READ MORE...