Thursday 23rd December 2010

A major charity in Chesterfield that provides help, support and advice for elderly people in the town has moved into new premises.
Age Concern Chesterfield & District now has offices in New Square and will provide an information centre that can offer advice and support about any situation that may occur in later life. Previously based in offices at Stephenson's Place, the new building offers better disabled access.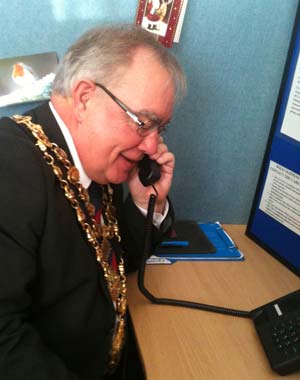 Their new home was opened by the Mayor and Mayoress of Chesterfield who saw first hand the facilities on offer and even made Careline calls to vulnerable and lonely people in their homes during their visit (pictured left).

Careline is just one of the services that the Charity offers on a daily basis - it's a telephone befriending service which means that lonely and isolated elderly residents receive a telephone call from volunteers at the centre up to three times a week.

It ensures that, not only do the elderly have contact with the outside world, but that any problems that crop up with utilities or bills can be addressed quickly and reduce worry.

The service is run by volunteers and Chief Officer John Siddall explained to The Chesterfield Post what a valuable service they provide saying "It's a one stop service - we work closely with Derbyshire County Council, signposting valuable services in order to address needs in one visit wherever possible.The need for our services has grown as families become more spread out".

He added, "We have many campaigns going at the moment - the main one is the Winter Warmth initiative which has generated a big take up .Old people really suffer during the cold weather, and during the recent two week freeze, volunteers have been in touch with many across the town and have managed to get services to them".

The Centre also provides an Advocacy service that gives help at times when the elderly need advice or support to stay in their own homes or to help choose a care home. John says they always remember that, "What we do here is very person centred - it's about what they want rather than what we think they need."

Anyone who can help by becoming a volunteer or knows anyone who may benefit from the charity can contact the centre on the details below between 10am - 2pm on a weekday.

New Address:
Age Concern Chesterfield & District
87 New Square
Chesterfield
S40 1AH

Telephone - 01246 273333
Fax - 01246 520879

Website - www.ageconcernchesterfield.org.uk
RECENT STORIES
MAKING LIFE BETTER FOR LOCAL
CHARITIES -
A local supermarket is making life better for local charities as it undergoes a major refurbishment of its premises. More...
NEW LOCAL CHARITY LAUNCHES -
A new charity 'Embracing Life', has opened in Chesterfield, aiming to provide an opportunity for carers and family members of local residents affected by long term and debilitating illnesses. More...
COULD YOU BE A GOOD SAMARITAN? -
"We're the listening ear"... That's Wendy, volunteer with Chesterfield Samaritans, talking about the Charity's work and how it's there for the people of Chesterfield on a daily basis. More...
CAN YOU GIVE A DOG (OR KITTEN) A HOME? -
Chesterfield RSPCA is asking for your help in re homing dogs (and kittens) like this one. More...
WELCOME TO THE NENNA KIND CENTRE
A new voluntary, self funding group will soon be able to offer families and friends of cancer sufferers a place to talk with and offer support to other people going through the same thing.
READ MORE...