Friday 24th September 2010
On Friday September 24th, Brimington Bowls Club was the venue for an World's Biggest Coffee Morning event ,raising money for Macmillan Support.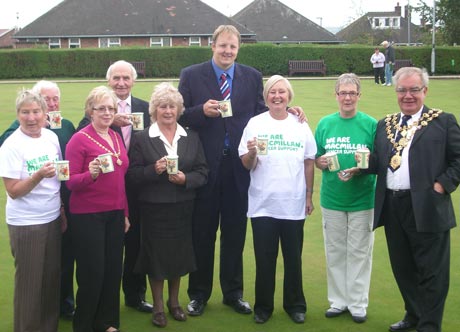 Labour Member of Parliament, Toby Perkins, joined dozens of local residents and crown green bowlers who all donated money while enjoying cups of tea, hot and cold food, and a raffle.

The event finale saw the climax of the daylong bowls tournament on the bowling green.

The event has been going for over two decades in Brimington. Pamela Green, secretary of Brimington Bowls Club, raised a total of £17 in its inaugural year. Last year, over £1,500 was raised and donated to Macmillan Support to help those affected by cancer in the local area.

Mr. Perkins was given a tour of the Bowls Club facilities at which he is attending the annual presentation evening next month, including the clubhouse with its collection of memorabilia. He visited stalls selling everything from paintings to fresh fruit and vegetables.

Mr. Perkins is looking forward to next year already, saying : "I would like to congratulate Pamela and the team for organizing such a fantastic event. The bowling competition, the cups of tea and good food raise huge sums of money for such a worthwhile cause.

"The event attracted people of all ages who came to have a good time and support Macmillan, despite the cold weather. Unfortunately my bowls is not up to the standard of those taking part but I hope to find time to practice in time for next year's event!"
RECENT STORIES
VICTORY FOR CHESTERFIELD! -
Chesterfield MP Toby Perkins celebrated with delighted residents, businesses and campaigners as DCC rejected plans for a waste incinerator plant on Dunston Road. More...
NATASCHA ENGEL MP CHECKS ON NEW SERVICES AT LOCAL SURGERY -
North East Derbyshire MP, Natascha Engel, has seen first hand how the introduction of new initiatives has benefitted patients in Clay Cross. More...
CHESTERFIELD MP AWARDED A FRONT BENCH ROLE -
A few days after the Shadow Cabinet was announced by new Labour leader Ed Miliband, news comes that Chesterfield MP, Toby Perkins, has been awarded a post on the frontbench team.More...
TOBY PERKINS MP SPEAKS ABOUT NEW SHADOW CABINET -
Chesterfield Post Editor Karen Johnson spoke with Toby about his thoughts on the new Shadow Cabinet announced by Ed Miliband on friday. More...
CHESTERFIELD LABOUR PARTY NUMBERS RISE -
After Ed Miliband was elected Leader of the Labour Party at the party Conference last week, Chesterfield Labour Party is reporting a rise in it's membership, More...
LOCAL MP "DELIGHTED" BY ED MILIBAND WIN -
Natascha Engel, Labour MP for NE Derbyshire has declared she is "delighted" after Ed Miliband was elected Leader of the Labour Party. More...
VANDALS 'HAVEN' IS UNSAFE SAYS MP -
Residents and businesses near to a Chesterfield skate park are claiming they're under siege from youths who congregate there. More...

SUPPORT FOR EDUCATION FOR
ALL CHILDREN WORLDWIDE -
Chesterfield MP Toby Perkins joined TV presenter Gary Lineker and his wife Danielle to support for the 1 GOAL campaign at the Houses of Parliament. More...