Saturday 2nd October 2010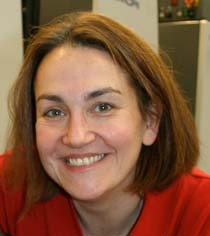 Natascha Engel, Labour MP for NE Derbyshire has declared she is "delighted" after Ed Miliband was elected Leader of the Labour Party.

As previously reported in the Chesterfield Post, Natascha was supporting Ed in his bid to win the contest.

The result, announced this time last week at the Labour Party Conference in Manchester, comes as Labour has gained a lead in the opinion polls.

Locally in a couple of local council by elections, Labour retained the seat on Eckington Town Council with Jane Austen winning the North Ward seat.

Their party candidate also came second in the Gosforth Valley council by election. Izzy Price (Lib Dems) previously held the seat - he was a well-known and well-regarded local councillor but sadly died earlier in the year.

Previously not natural labour territory, the party were well behind in third place the last time this seat was contested.

This time the Tory candidate John Dennis McGrory won the ward and the Lib Dems were in third place.

A spokesman for Natascha Engel remarked, "It should be very interesting come next May in both Chesterfield and NE Derbyshire."
RECENT STORIES
VOLUNTEER SHINES AT AWARDS -
A Chesterfield Law Centre worker is celebrating after winning a prestigious award at a ceremony aimed at celebrating the work of volunteers at organisations in the town. More...
MP TAKES TO THE SHOP FLOOR... -
Visitors to Barnardo's charity shop in Chesterfield were served by a very familiar face last Saturday.Toby Perkins MP for Chesterfield, joined the shop's workforce for the day. More...
CHESTERFIELD MP SPEAKS OUT AGAINST SPENDING REVIEW -
Toby Perkins MP told the Chesterfield Post: "Chesterfield is going to be badly affected b the cuts, probably more so than anywhere else in Derbyshire" More...
VICTORY FOR CHESTERFIELD! -
Chesterfield MP Toby Perkins celebrated with delighted residents, businesses and campaigners as DCC rejected plans for a waste incinerator plant on Dunston Road. More...
NATASCHA ENGEL MP CHECKS ON NEW SERVICES AT LOCAL SURGERY -
North East Derbyshire MP, Natascha Engel, has seen first hand how the introduction of new initiatives has benefitted patients in Clay Cross. More...
CHESTERFIELD MP AWARDED A FRONT BENCH ROLE -
A few days after the Shadow Cabinet was announced by new Labour leader Ed Miliband, news comes that Chesterfield MP, Toby Perkins, has been awarded a post on the frontbench team.More...
TOBY PERKINS MP SPEAKS ABOUT NEW SHADOW CABINET -
Chesterfield Post Editor Karen Johnson spoke with Toby about his thoughts on the new Shadow Cabinet announced by Ed Miliband on friday. More...
CHESTERFIELD LABOUR PARTY NUMBERS RISE -
After Ed Miliband was elected Leader of the Labour Party at the party Conference last week, Chesterfield Labour Party is reporting a rise in it's membership, More...
SUPPORT FOR EDUCATION FOR
ALL CHILDREN WORLDWIDE -
Chesterfield MP Toby Perkins joined TV presenter Gary Lineker and his wife Danielle to support for the 1 GOAL campaign at the Houses of Parliament. More...
VANDALS 'HAVEN' IS UNSAFE SAYS MP -
Residents and businesses near to a Chesterfield skate park are claiming they're under siege from youths who congregate there. More...
WORLD'S BIGGEST COFFE MORNING HITS THE SPOT IN BRIMINGTON -
On Friday September 24th, Brimington Bowls Club was the venue for an World's Biggest Coffee Morning event ,raising money for Macmillan Support. More...