Friday 1st October 2010
Chesterfield MP Toby Perkins joined TV presenter Gary Lineker and his wife Danielle to support for the 1 GOAL campaign at the Houses of Parliament.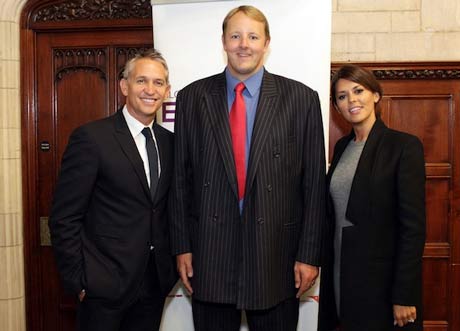 Gary Lineker is an Ambassador for 1 GOAL, an initiative that aims to promote education for everyone through the power of football.

During the World Cup Danielle Lineker joined 1 GOAL on an education trip to Khayleitsha, one of the fastest growing townships in South Africa, where opportunities for children are very limited.

The parliamentary event was held to highlight the global education crisis which saw world leaders meeting in New York to review progress on the UN Millennium Goals - 2 of the 8 goals involve tackling poverty by ensuring that all boys and girls complete primary schooling by 2015. With just 5 years to go there are still 72 million children who are being denied even a basic primary education.

The Global Campaign for Education, which organises 1 GOAL, states that education is not only a human right but the fastest route out of poverty and says it is vital that the UK government must stand by its existing financial commitment of £1billion per year, until 2015, to support education internationally.

Mr. Perkins said: "1 GOAL is a fantastic campaign set on improving the education of millions around the world. As a recognized face across the world of sport, Gary Lineker and the campaign team are doing a great job highlighting the lack of education for countless numbers of children in the poorest nations. As the 1995 Rugby World Cup showed us, sport is a unique way of improving the health and education of the developing world. 1 GOAL is just a start, but after meeting such an ambitious and passionate team it could become a hugely successful way of delivering education worldwide."

Gary Lineker said: "Delivering education for the 72 million children that are currently denied access to education is an achievable dream. We know that the world has the resources to deliver it. Now it's time for world leaders to make it happen - for rich countries to deliver the funding needed, and for governments of developing countries to ensure that education is the top priority in their country."

David Archer, International Board Member for the Global Campaign for Education said: "This year 1 million pupils, in 9000 schools across the UK, joined the Global Campaign for Education's 1GOAL 'Send My Friend to School' campaign, linked to the World Cup, which focused on getting every child in the world into school. Pupils and teachers understand the importance of this issue.

The UK government has already committed to keep up overall spending on aid but we need them to become a real champion by recommitting to the target of
£1 billion in aid to education each year and by calling on other world leaders to put their hands up for education at the UN Summit next week."
RECENT STORIES
MP TAKES TO THE SHOP FLOOR... -
Visitors to Barnardo's charity shop in Chesterfield were served by a very familiar face last Saturday.Toby Perkins MP for Chesterfield, joined the shop's workforce for the day. More...
CHESTERFIELD MP SPEAKS OUT AGAINST SPENDING REVIEW -
Toby Perkins MP told the Chesterfield Post: "Chesterfield is going to be badly affected b the cuts, probably more so than anywhere else in Derbyshire" More...
VICTORY FOR CHESTERFIELD! -
Chesterfield MP Toby Perkins celebrated with delighted residents, businesses and campaigners as DCC rejected plans for a waste incinerator plant on Dunston Road. More...
NATASCHA ENGEL MP CHECKS ON NEW SERVICES AT LOCAL SURGERY -
North East Derbyshire MP, Natascha Engel, has seen first hand how the introduction of new initiatives has benefitted patients in Clay Cross. More...
CHESTERFIELD MP AWARDED A FRONT BENCH ROLE -
A few days after the Shadow Cabinet was announced by new Labour leader Ed Miliband, news comes that Chesterfield MP, Toby Perkins, has been awarded a post on the frontbench team.More...
TOBY PERKINS MP SPEAKS ABOUT NEW SHADOW CABINET -
Chesterfield Post Editor Karen Johnson spoke with Toby about his thoughts on the new Shadow Cabinet announced by Ed Miliband on friday. More...
CHESTERFIELD LABOUR PARTY NUMBERS RISE -
After Ed Miliband was elected Leader of the Labour Party at the party Conference last week, Chesterfield Labour Party is reporting a rise in it's membership, More...
LOCAL MP "DELIGHTED" BY ED MILIBAND WIN -
Natascha Engel, Labour MP for NE Derbyshire has declared she is "delighted" after Ed Miliband was elected Leader of the Labour Party. More...
VANDALS 'HAVEN' IS UNSAFE SAYS MP -
Residents and businesses near to a Chesterfield skate park are claiming they're under siege from youths who congregate there. More...
WORLD'S BIGGEST COFFE MORNING HITS THE SPOT IN BRIMINGTON -
On Friday September 24th, Brimington Bowls Club was the venue for an World's Biggest Coffee Morning event ,raising money for Macmillan Support. More...