Monday 29th November 2010

Despite the widely reported cuts in Higher Education funding that have caused protest and anger amongst students worried about tuition fee implications, one less reported fact is the rise in funding for the Apprenticeship scheme.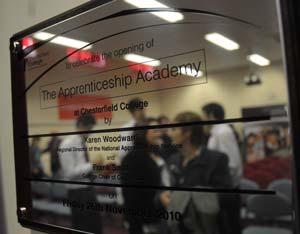 In fact, the Chesterfield Post can today report that £250 million of additional funding has been made available by the Government to support in work training facilities for students.

In Chesterfield that funding has already reaped rewards - with Chesterfield College launching it's innovative Apprenticeship Academy based at it's Tapton Campus.

The college is fully committed to the scheme, reporting that it has seen a rise In the level of apprenticeship placements, with the amount of young people joining at the college nearly doubling in comparison to the previous year.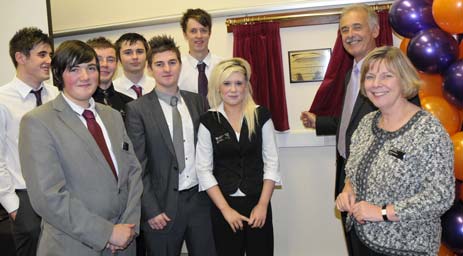 Judith McArthur, College Principal and Frank Smith (Right), Chair of Corporation and Apprentices launch the new Academy

Employing apprentices aged between 16 and 25, all working towards Level 2 and 3 Apprenticeships, the Academy trains them in a variety of roles such as sales and business administration.

Julie Richards, Executive Director of the College's Business Enterprise Unit explains, "The main objective of the Academy is to prepare these young people for the world of work and support them to secure sustainable employment beyond their time with us. In today's climate, gaining a job at the end of any training is paramount and we have already placed our first apprentices into secure employment out in industry, receiving excellent feedback."

The Chesterfield Post attended the launch of the academy, attended by apprentices and business leaders on Friday 26th and spoke with the College leaders, Apprentices and employers who had already benefitted from the scheme.

Karen Woodward, Regional Director of National Apprenticeship Service, who herself began as an apprentice and worked up through the ranks informed students during her speech that 281,000 trained every year with over 82,000 employers.

Trevor Clay is Deputy Principal at the College. He told us that he was proud to be launching the Academy saying, "14 students have so far worked through the Academy and one of the main ways they are helping the academy is to help recruit apprenticeship candidates for local employers with whom we're generating lots of interest.

"The growth of the scheme is fantastic - 240 students on the scheme 2 years ago, this year we're likely to exceed 2,000. Apprenticeships are available over a whole range of industries and services. It's the preferred route for 16 -18 year olds for the Government, one area they are focusing growth on is apprenticeships.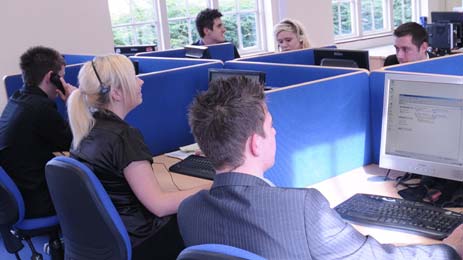 "The last Government believed in the scheme too - they pledged that by 2020, 1 in 5 would choose apprenticeships as a way forward. Lots of 16 year olds have had enough of the class environment - they're thrown in at the deep end here, they get the experience in the work place and move on to employment."

He went on to tell us that it's not just 16-18 year olds that will benefit from the funding either, "The Government last week launched the New Skills Strategy and have committed to fund an additional 75,000 adult apprenticeship places by 2014, so there's a real emphasis on older employees as well as 16-18 year olds."

Matt Barnes, Director of Spire Estates in Chesterfield has had an Apprentice working with him for a few months and is hugely positive about the experience, believing that it has benefitted his business.

After telling us he'd heard about the scheme on TV and then received a flier from the college he went on to say that any concerns he'd had were taken away by the college's commitment to the process for both parties, "I was worried about the pain of interviewing lots of young people and them not being right but the College worked with me to vet and interview candidates and linked me with Sam who was the best person for us."

Matt went on to say that he also has a personal reason for wanting to get involved as he revealed, "I started myself on a YTS, and I've also tried to have a young person working with us though the last few years have been tough. When things started to get busy again I felt that it was the right opportunity to get some young blood in and train someone in the right way."

He advises that it's worth being involved but cautions, "We were very lucky with Sam, she had all the right skills for the job but you have to go through a lot of hard work - you need to get the right person for the job, and be prepared to spend time with that person. With the right person you can make it work."

Sam Haynes is a trainee negotiator with Matt's company and doesn't regret joining up, "I just wanted to work, this way I'm learning whilst I'm working so am doing both. I'd definitely recommend It to others. Go for it. I'm loving it."
RECENT STORIES
YOU CAN 'STOMP' THE BEAT -
'Stomp' the percussion based street performance and award winning West End and International show visited Chesterfield College. More...
CHESTERFIELD APPRENTICES 'FIRED UP' -
With Apprenticeships on the rise and becoming a popular alternative to A levels, National Apprenticeship Week (7th-11th Feb) aims to celebrate students work as well as the scheme itself. More...
CLEANING UP THE FUTURE OF OUR PARKS -
Chesterfield Borough Council's Street Scene Enforcement team has been working with pupils at Parkside School to help improve local parks. More...
£2.5m INVESTMENT BOOST FOR CHESTERFIELD -
Good news today for both businesses and the unemployed in Chesterfield with news that £2.5m of new funding and grants is now available More...
BACK TO SCHOOL FOR CHESTERFIELD MP -
Schoolchildren in Chesterfield heard first hand about life in Parliament when MP Natascha Engel visited their school More...
"SHUTTING THE DOOR ON THE ASPIRATIONS OF YOUNG PEOPLE" -
That's Chesterfield College lecturer and Union Representative James Eadon's view on the Government's proposals to withdraw EMA. More...
BRINGING HISTORY
TO LIFE -
During a period when most schools in Chesterfield closed as a result of the bad weather, one actually opened its doors - for the first time in more than 40 years. More...
SCHOOL CLOSURES DUE TO SNOW FROM
NOV 30th 2010 -
Here's a list of schools closed today that we know of. If you have any more to add to the list, go to our forum More...
BEST SCHOOL FROM NOTTINGHAM TO LEEDS! -
A Chesterfield School is celebrating after climbing 41 places in the league table and becoming the highest performing prep school between Leeds and Nottingham. More...
'JOG DERBYSHIRE' JOG GROUP LAUNCHED AT COLLEGE -
Chesterfield College has become the first employer in the area to launch an official jogging group for its members of staff. More...
STUDENTS TAKE A 'PREGNANT PAUSE' AT LONDON STATION -
Chesterfield College Childcare and Health and Social Care students took part in a 'Flash Mob' alongside other volunteers including Holby City star Duncan Pow at London's Victoria Rail Station More...
COLLEGES SALON QUALITY ATTRACTS INDUSTRY PROS FROM FAR AND WIDE -
The reputation of Chesterfield College's hair and beauty salon attracted visitors from Japan this week More...
CHESTERFIELD'S GRADUATES PUBLIC SHOW OF SUCCESS -
It was a first for Chesterfield College when more than 100 proud graduates celebrated at the Crooked Spire, after a procession through the town centre More...
NEW FACILITIES FOR CHESTERFIELD HIGH SCHOOL -
A Chesterfield Secondary School is celebrating the opening of its new Student Resource and Learning Centre. More...
BUILDING LIFE
SKILLS -
Year six children at New Whittington Community Primary school got a taste of town planning when they took part in a unique project designed to coincide with 'money week' in school. More...