Monday 13th December 2010

"Shutting The Door On Aspirations Of Young People" - that's Chesterfield College lecturer and Union Representative James Eadon's view on the Government's proposals to withdraw EMA for young people from poor families as part of the spending review.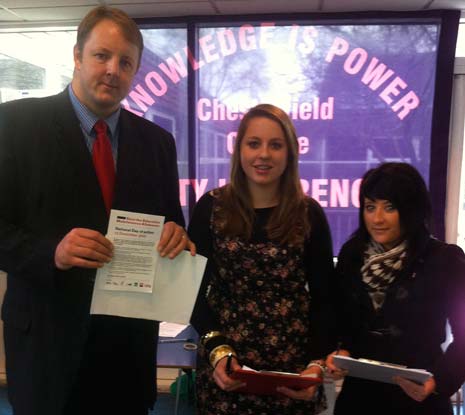 Toby Perkins , MP for Chesterfield with Chesterfield College students Lana Booth and Amara Linacre who had just signed the petition asking the Coalition Govt to stop the abolition of EMA

Like many places Chesterfield College took part in a national day of action today, to campaign against the cuts and make Whitehall aware of the strength of opposition to the proposed abolition of the allowance and the impact it will have on low-income families.

Over 2,000 students at the College receive the Educational Maintenance Allowance of up to £30 per week.

It's means tested and therefore helps students from poorer backgrounds complete their education and has supported a rise in people from less well off backgrounds going to college.

Campaigners and students say that stopping it will mean many students could now be forced to drop out of college and we will return to a system of elitism.
The Chesterfield Post went along to their Day of Action to witness first hand the depth of feeling and implications of the possible axe and talk to those affected by this decision.

James Eadon believes it will be hugely discriminatory, telling us that, "the allowance is a vital support for poorer students, and taking it away will really affect learners. Since it started we've had an increase in retention and attendance of students which is good for their futures.

"With over 2,000 of our students receiving it, if it stops then the whole provision of places like this will be affected, failure to retain and recruit students will mean that funding will be affected too. We're told that young people should stay in education, in reality the changes being introduced will affect their ability to do this."
His message to Nick Clegg and David Cameron was clear, "They need to keep EMA. It's a really important to our poorest students and that's why its important it stays."

Chesterfield MP Toby Perkins (pictured above) was supporting the Day of Action before his return to London and his work on the Shadow front bench as Education Minister.

His message to Government was emphatic, "Stop the sustained attack on the next generation - you've given us the biggest rise in Tuition fees, changed the way Higher Education is funded and now there's the impact of taking away £30 a week from 2,300 families in Chesterfield which is a drastic step and one which will make the futures of young people less bright".
He went on, "People are amazed - at the same time they reduce future jobs funds and make people pay more to go University, cutting that off for many, they then take money off students wanting to make a career in jobs like hairdressing, mechanics etc.

"They don't have the same commitment to the lifelong learning of our young people who may now have less life chances than people before them. There's a real fear amongst people that vulnerable and poorer people are being left behind.

And he had this advice for students and their families who are opposed to the cuts - "Sign petitions, write to your MP, let them know that we're not going to take this lying down - we cannot sacrifice the future of the next generation.

"The strength of feeling against these proposals needs to be known to those in Westminster who never have faced the challenges that some people do".

Samuel Stewart studies at the college, doing A-levels in Politics, Communications and Culture, and Sociology. He has been campaigning for months against the abolition of the EMA and says that for many of the students he's talked to, the allowance is quite simply, a lifeline. He feels that the Coalition has, "Declared class war and that Nick Clegg should be ashamed of himself".

During his time talking to students many have told him, "they would have to stop coming to college because they simply couldn't afford to continue - they couldn't afford transport or food .The coalition is denying students the chance to better themselves and is shattering dreams not only in Chesterfield but in town and cities across the UK."
Samuel added, "It's absolutely tragic what they have done. EMA means a lot for a lot of students - often it's the difference between them coming or not coming to college.

"It also helps in other ways - when you fill in your UCAS form for university it costs £21, each re-sit costs £18 - if you don't get EMA how can you afford that?"

His final message on behalf of many students at the College was simple... "David Cameron and Nick Clegg - it's shameful what you've done!"
RECENT STORIES
COLLEGE FACES CUTS OF £2.8m -
There are expected to be job losses at Chesterfield College as the centre faces a £2.8m funding cut this coming financial year. More...
STANLEY DYSON'S LEGACY LIVES ON -
Three children aged between 8 and 11 were feted in London after winning a special art competition celebrating the life and work of a recently discovered local talent. More...
FATAL ROAD CRASH AT CHESTERFIELD COLLEGE? -
The scene outside Chesterfield College at lunchtime was of a fatal collision which took place just outside the entrance on Infirmary Road. Or was it? More...
YOU CAN 'STOMP' THE BEAT -
'Stomp' the percussion based street performance and award winning West End and International show visited Chesterfield College. More...
CHESTERFIELD APPRENTICES 'FIRED UP' -
With Apprenticeships on the rise and becoming a popular alternative to A levels, National Apprenticeship Week (7th-11th Feb) aims to celebrate students work as well as the scheme itself. More...
CLEANING UP THE FUTURE OF OUR PARKS -
Chesterfield Borough Council's Street Scene Enforcement team has been working with pupils at Parkside School to help improve local parks. More...
£2.5m INVESTMENT BOOST FOR CHESTERFIELD -
Good news today for both businesses and the unemployed in Chesterfield with news that £2.5m of new funding and grants is now available More...
BACK TO SCHOOL FOR CHESTERFIELD MP -
Schoolchildren in Chesterfield heard first hand about life in Parliament when MP Natascha Engel visited their school More...
BRINGING HISTORY
TO LIFE -
During a period when most schools in Chesterfield closed as a result of the bad weather, one actually opened its doors - for the first time in more than 40 years. More...
SCHOOL CLOSURES DUE TO SNOW FROM
NOV 30th 2010 -
Here's a list of schools closed today that we know of. If you have any more to add to the list, go to our forum More...
NO SUGAR - BUT LIFE STILL SWEET FOR CHESTERFIELD APPRENTICES -
Chesterfield College launching it's innovative Apprenticeship Academy based at it's Tapton Campus. More...
BEST SCHOOL FROM NOTTINGHAM TO LEEDS! -
A Chesterfield School is celebrating after climbing 41 places in the league table and becoming the highest performing prep school between Leeds and Nottingham. More...
'JOG DERBYSHIRE' JOG GROUP LAUNCHED AT COLLEGE -
Chesterfield College has become the first employer in the area to launch an official jogging group for its members of staff. More...
STUDENTS TAKE A 'PREGNANT PAUSE' AT LONDON STATION -
Chesterfield College Childcare and Health and Social Care students took part in a 'Flash Mob' alongside other volunteers including Holby City star Duncan Pow at London's Victoria Rail Station More...
COLLEGES SALON QUALITY ATTRACTS INDUSTRY PROS FROM FAR AND WIDE -
The reputation of Chesterfield College's hair and beauty salon attracted visitors from Japan this week More...
CHESTERFIELD'S GRADUATES PUBLIC SHOW OF SUCCESS -
It was a first for Chesterfield College when more than 100 proud graduates celebrated at the Crooked Spire, after a procession through the town centre More...
NEW FACILITIES FOR CHESTERFIELD HIGH SCHOOL -
A Chesterfield Secondary School is celebrating the opening of its new Student Resource and Learning Centre. More...
BUILDING LIFE
SKILLS -
Year six children at New Whittington Community Primary school got a taste of town planning when they took part in a unique project designed to coincide with 'money week' in school. More...