Friday 19th April 2013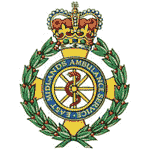 East Midlands Ambulance Service (EMAS) hosted Awards where nine winners have been crowned in a ceremony which aimed to recognise ambulance service staff and volunteers who are the pride of the NHS.

East Midlands Ambulance Service NHS Trust's (EMAS) first ever 'Values and Recognition Awards' were held at the Colwick Hall Hotel, Nottingham, yesterday evening (Thursday 18th April) at 6pm.

The event was made possible by the generosity of local businesses who offered sponsorship and donations, and the EMAS Charitable Trust.

More than 120 nominations were received for the awards which singled-out those who exemplify EMAS' values including teamwork, integrity and respect.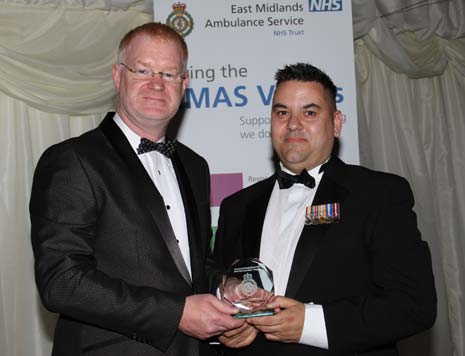 EMAS' Chief Executoive Phil Milligan (left) presents an Award to Chesterfield Emergency Care Practitioner Tim Evans

Winners and those highly commended, represent the best of the service through dealings with patients, colleagues and other healthcare professionals.
They included:
Nottingham's Bob Street, 59, of Beeston, who has dedicated nearly 40 years to the service and was described as 'one in a million' by colleagues


EMAS Events Manager Clifford Ward, 64, of Hinckley, who fully immerses himself in all things EMAS, providing operational cover when normal resources are under pressure and being someone colleagues can turn to for help whatever the problem


Chesterfield Emergency Care Practitioner Tim Evans, 43, (pictured receiving his award above) who was first on scene to a house fire and dragged a patient to safety - then later that day attended a major road traffic accident where his skills allowed him to stitch minor wounds by the roadside


Leicestershire paramedic and EMAS' Locality Manager Michael Jones who was credited with helping to improve his division's performance


Leicestershire team Rachel Makin, 33 and John Rushin, 63, for going above and beyond what would be expected of them to ensure that a new scheme which provides certain patients with transport to A&E in a vehicle other than a frontline ambulance, is fully utilised and makes a difference


Volunteer Marcus Hacker who founded and coordinates a community first responder group in St Giles, Lincoln.
The awards were open to all of EMAS' clinical staff such as paramedics, technicians and control staff but also volunteer community first responders and the non-clinical teams who support frontline staff.

Accolades were presented across seven categories, five of which reflect EMAS' core values of: respect, integrity, contribution, teamwork and competence.

Teamwork award winner Rachel Makins said: "We started to realise we'd won when the Chairman read out the introduction to our category and we were totally overwhelmed. I'm really proud to have won an award for something that I so enjoy."

A Willetts Award was given to a Leicestershire ambulance crew made up of Tony Barber, 44, an emergency medical technician and Dan Sneath, 29, paramedic, both from Melton Mowbray.

This award, in memory of Nottingham soldier Michael Willetts, recognises bravery above and beyond the call of duty. It was given to the pair after they attended a serious assault.

They arrived on scene before Police, yet made the decision to proceed because they feared the victim was seriously injured. Inside the property they found a patient with multiple stab wounds and another person who was armed with a knife. They managed to persuade that individual to put down the weapon and wait for the Police.

Despite difficult circumstances the pair gave all the treatment they could. Sadly, they were unable to save the patient who later died.

The men received a standing ovation when they went up to collect the award.

Former Eastenders-star Dean Gaffney presented the Willetts Award and was also reunited with the EMAS crew who came to his aid when he was injured in a car accident in Derby earlier this year.

The evening saw the introduction of an award to recognise the special contribution of EMAS' volunteers, who support clinicians by acting as community first responders across the region.

The Paul Richard Basford Award for Volunteers was sponsored by the family of Paul Basford, who died in a tragic road-accident in Nottinghamshire in 2001. Family and friends have fundraised in Paul's memory for many years, including buying defibrillators for EMAS.

Marcus Hacker, from Lincoln was the first winner of the trophy, in recognition of his work setting up a community first responder scheme for Lincoln's St Giles' estate.

The scheme was described as exemplary as it has both helped EMAS respond to life-threatening calls and given local people the chance to learn life-saving skills.

EMAS' Chairman Jon Towler hosted the evening which also saw 45 Long Service Awards being presented to staff who have been with EMAS for 20 years or more.

The Long Service Awards were presented by EMAS' Chief Executive Phil Milligan and Nottinghamshire's Vice Lord-Lieutenant Colonel Tim Richmond.

EMAS' Chairman, Jon Towler, said: "The evening was a fantastic opportunity to take the time to thank our dedicated staff and volunteers for a job well done.

"I'm proud of the 122 people and teams who were nominated for awards and know that they represent the commitment and professionalism of EMAS as a whole.

"The amazing stories we heard tonight are a reminder of the difference colleagues and all volunteers - medical first responders, co-responders, doctors and community first responders - make to patient's lives every single day."
RECENT STORIES
THE AIR AMBULANCE SERVICE LAUNCHES IT'S 'POWER HOUR' APPEAL -
The Air Ambulance Service (TAAS) is launching an appeal to attract local business men and women to take part in 'Power Hour', as part of its volunteering campaign. More...
DLRAA LIFTS MAN TO HOSPITAL AFTER INDUSTRIAL ACCIDENT IN DRONFIELD -
A 55-year-old man has been airlifted to hospital after being injured in an industrial accident in Dronfield, Derbyshire. More...
AIR AMBULANCE SERVICE MOURNS LOSS OF ACTOR ROGER LLOYD-PACK -
After the sad news this morning of the death of Actor Roger Lloyd Pack from pancreatic cancer at the age of 69, a local Charity chief has paid tribute to the actor and his support for the Air Ambulance Service. More...
DON'T START 2014 IN AN AMBULANCE.
EMAS GIVES ADVICE ON STAYING SAFE -
East Midlands Ambulance Service NHS Trust (EMAS), is preparing for New Year's Eve with a plea to those celebrating to start 2014 safe and well. More...
DLRAA ATTENDS RTA AND PICKS UP 69 YEAR OLD FALL VICTIM -
On Saturday, a 27-year old female was airlifted by the Derbyshire, Leicestershire & Rutland Air Ambulance to hospital following a road traffic collision in Baslow, Derbyshire. More...
EAST MIDLANDS AMBULANCE SERVICE STAR IN C4 SERIES -
EMAS will feature in a Channel 4 documentary series which airs from Monday 7th October at 9pm, with the potential to attract 3 million viewers. More...
AIR AMBULANCE (DLRAA) CALLED TO AID OF CLAY CROSS MAN -
Derbys, Leics & Rutland Air Ambulance (DLRAA) were called out to an incident in Clay Cross, Derbyshire on the evening of Thursday 26th September. More...
IOSH STAFF GAMES RAISE CASH FOR AIR AMBULANCE -
Staff at a Leicestershire-based health and safety organisation have been competing in a week of sporting activities to raise cash for a life-saving charity. More...
£120k AMBULANCE SERVICE INVESTMENT IN LIFE-SAVING MACHINES -
Thousands of pounds have been invested by East Midlands Ambulance Service to purchase and install life-saving machines in the community to help save lives. More...
EMAS BRINGS IN MORE STAFF AND VEHICLES TO IMPROVE CARE -
Patients needing an ambulance to deal with their emergency will soon benefit from more frontline staff and vehicles being introduced by EMAS More...
EMAS SIGN JOINT LEARNING AGREEMENT -
The signing of a Joint Learning Agreement shows a commitment between EMAS, Unison, GMB and the RCN to support staff with their continued learning and development. More...
EMAS 'SNOWED' UNDER WITH CALLS DUE TO WEATHER -
Freezing conditions over the weekend have seen East Midlands Ambulance Service NHS Trust (EMAS) deal with 900 more calls than during the same period last year More...
NEW YEAR CELEBRATIONS CRITICAL FOR EMAS -
As predicted, the New Year brought a challenging time for East Midlands Ambulance Service, who were busy responding to people who needed help More...
EMAS WARNS 'DON'T START 2013 IN AN AMBULANCE' -
East Midlands Ambulance Service NHS Trust (EMAS) is preparing for New Year's Eve with a plea to those celebrating to start 2013 safe and well. More...
LEARN HOW TO SAVE A LIFE THIS SEPTEMBER -
St John Ambulance, the nation's leading first aid charity, is again running its 'Save a Life September'. More...
CHERYLES MARATHON FUNDRAISER FOR ST JOHN AMBULANCE -
Clay Cross woman Cheryle Berry has completed this year's London Marathon in aid of St John Ambulance - and hopes to raise at least £2,000. More...
BOLSOVER CADETS WIN ROYAL RECOGNITION -
Two Bolsover St John Ambulance Cadets have won royal recognition for their achievements during an official reception at Buckingham Palace.
More...
LESSONS IN LIFE SAVING THANKS TO £500 AWARD -
Young first aiders in Clay Cross will be able to learn vital life-saving techniques thanks to a £500 award from the Mansfield Building Society's Community Support Scheme. More...
CAROL CLOCKS UP 25 YEARS WITH BOLSOVER BADGERS -
Cadet Carol Owen was just 19 when St John Ambulance launched its Badger movement for the under 10s - and this week she led the group's 25th anniversary celebrations. More...
ST JOHN AMBULANCE PREPARES FOR WINTER -
St John Ambulance staff and volunteers in Derbyshire are now busy making preparations to support the emergency services More...
YOUNG FIRST AIDERS HONOURED IN COUNTY'S INAUGURAL AWARDS -
Nine-year-old Emily Salmon didn't panic when her mum fainted in the bathroom, she put her in the recovery position and raised the alarm. More...
CHESTERFIELD VOLUNTEER RECEIVES TOP HONOUR -
Ken Cook, a leading influence within St John Ambulance Derbyshire over the past decade, has been honoured with investiture as a Commander of the Order of St John More...
FIRST AIDER'S LIFE SAVING SUPPORT FOR CHARITY -
A routine 'First Aid At Work' course proved to be a life-changer for Chesterfield banker Ian Boston who became a volunteer for St John Ambulance More...
LIFE SAVERS TAKE TO THE STREETS -
Chesterfield's new 'street pastors' will be equipped with life-saving skills when they take to the town centre next month - thanks to St John Ambulance. More...
PUTTING THEIR SKILLS TO THE TEST -
St John Ambulance members from across Derbyshire put their skills to the test last weekend in a bid to become county champions. More...
FESTIVE SAFETY
TIPS -
With the Big day nearly upon us, St John Ambulance in Derbyshire has issued some festive tips to help people enjoy an injury-free Christmas and New Year. More...
MOVING ON... -
After three years in post, one of the St John's Ambulance most respected members has retired from his role as Chair of Council. More...
DRUMMING UP SUPPORT FOR LOCAL BAND -
Local musician Claire Atack is drumming up support and trying to secure the future of one of the area's longest-established brass bands. More...
VOLUNTEERS RAISE £600 - Derbyshire volunteers who staged a six-hour sponsored first aid marathon raised £600 for the charity that taught them. More...
Volunteers at a Charity's Chesterfield HQ took part in a six hour fundraiser today.
St John's Ambulance members in the town held a sponsored resuscitation event to raise cash for the branch. More...
DO YOU KNOW HOW TO SAVE A LIFE -
Now, if you're planning to visit any of the shows, matches or carnivals around in Chesterfield this summer you may come across the St John's Ambulance Service there... More...