Sunday 13th March 2011
Destination Chesterfield was bowled over to sign Derbyshire County Cricket Club as it's 50th member of the 'Chesterfield Champions' scheme.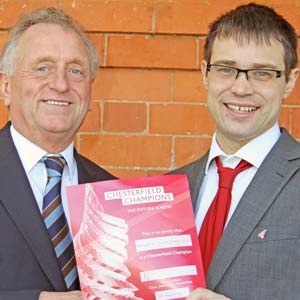 Don Amott (pictured left), Chairman of Derbyshire County Cricket Club received the Membership Certificate from Dom Stevens, Destination Chesterfield Manager.

The Chesterfield Champions initiative forms part of Destination Chesterfield, a scheme funded with money from the European Regional Development Fund aiming to help improve the economic prosperity of the town through a campaign to promote Chesterfield as a modern contemporary destination.

It relies heavily on the local business community playing a central role in its success by leading an independent board of Directors for Destination Chesterfield, and businesses pledging their support to become Chesterfield Champions.

Peter Swallow, Chair of Destination Chesterfield said "We are delighted to welcome Derbyshire County Cricket Club as our 50th Champion and look forward to working in partnership with the club promoting Chesterfield as a sporting destination.

"Our champions range from sole traders to multi national companies and we want to involve any trade or company who is of the view, as we are that raising the profile of Chesterfield will benefit their business and the development of the town."

Derbyshire County Cricket Club Chief Executive Keith Loring said: "We are proud to bring first-class cricket to Chesterfield each year and delighted to become a partner in the Champions scheme.

"With our historical connection to the town through cricket and the massive enjoyment coming to Chesterfield brings to our players, staff, sponsors and supporters, we certainly believe it to be a place worthy of championing.

"Our Festival of Cricket in August will bring six days of cricket to Queen's Park including a Clydesdale Bank 40 local derby against Yorkshire Carnegie."

Further information about the Destination Chesterfield project and the Chesterfield Champions Scheme can be found at www.chesterfield.co.uk and details of Derbyshire County Cricket Clubs 2011 fixtures can be found at www.derbyshireccc.com
RECENT STORIES
MANSFIELD & DISTRICT CRICKET LEAGUE RESULTS -
For Sunday May 15th More...
SHEAF SPORTS YORKS / DERBYS CRICKET LEAGUE RESULTS & REPORTS -
For Saturday May 14th 2011 More...
ALL CHANGE AT DCCC-
The General Committee of Derbyshire County Cricket Club has today decided not to extend the contract of Head of Cricket John Morris beyond 30th September 2011. More...
DERBYSHIRE DUO CAPPED -
Derbyshire County Cricket Club has announced that Wayne Madsen and Tim Groenewald have been capped. More...
KHAWAJA FACES SHORT LAYOFF -
Derbyshire overseas player Usman Khawaja misses the LV = County Championship opener against Gloucestershire with a thigh strain. More...
CHRIS GRANT ELECTED CHAIRMAN OF DCCC -
Chris Grant has been appointed Chairman of Derbyshire County Cricket Club following the Annual General Meeting at The County Ground. More...
DERBYSHIRE CCC ON BARBADOS TOUR -
Derbyshire's players and coaching staff departed for Barbados early yesterday morning where they will step up their pre-season preparations. More...
LONGER INNINGS FOR CRICKET IN CHESTERFIELD -
Chesterfield will continue to host County Cricket in Queen's Park after securing a new 5 year deal with DCCC, also hosting a 6 day Cricket Festival... More...