Sunday 13th March 2011

Chesterfield will continue to host County Cricket in Queen's Park after securing a further five-year deal with Derbyshire Cricket Club. It will also host a six-day Cricket Festival in August.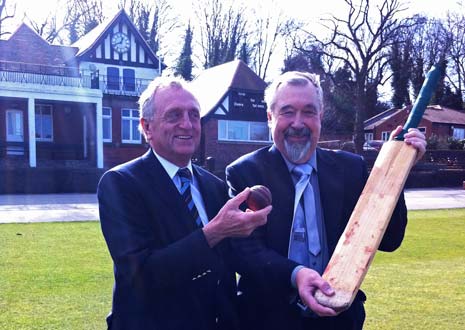 DCCC Chairman Don Amott (left) and Cllr David Stone celebrate a further 5 year deal to keep County Cricket at Queen's Park in Chesterfield

The club signed the deal with Chesterfield Borough Council last week, after the original five year deal - which saw cricket return to the ground, often said to be the most scenic ground in England - finished in 2010.

Derbyshire returned to Queen's Park in 2006 and the summer festival has gone from strength to strength, attracting healthy crowds and proving to be popular venue with both supporters and players. They will now be able to enjoy the facilities until 2015.

The new Chesterfield Cricket Festival (14th - 21st August, 2011) will include a four day LV = County Championship match against Northamptonshire plus Clydesdale Bank 40 one-day matches against Yorkshire Carnegie and Middlesex Panthers.

The Chesterfield Post attended the official signing of the deal and we spoke with Cllr David Stone, Lead Member for Safe, Healthy and Active Communities who told us that it was a huge boost for Chesterfield, saying: "Today is the launch of a five year deal with a County Cricket club to keep County Cricket in Queen's Park. It's vitally important here - when you look out over it, it's the best ground in the country.

"The wicket plays well, it's a lovely setting and it's wonderful to be able to seal the deal for 5 years. It benefits everyone, there are not just cricket fans but tourists to the town too. In previous years we have done checks and hotels were booked up and car parks have more use."

Don Amott, Chairman of Derbyshire County Cricket Club said: "We are delighted to sign this new agreement with Chesterfield Borough Council. The partnership over the past five years worked extremely well and we're looking forward with increased enthusiasm to the six day festival in August.

"Since our return to the ground in 2006, Chesterfield has become a memorable and integral part of our cricketing summer."
RECENT STORIES
MANSFIELD & DISTRICT CRICKET LEAGUE RESULTS -
For Sunday May 15th More...
SHEAF SPORTS YORKS / DERBYS CRICKET LEAGUE RESULTS & REPORTS -
For Saturday May 14th 2011 More...
ALL CHANGE AT DCCC-
The General Committee of Derbyshire County Cricket Club has today decided not to extend the contract of Head of Cricket John Morris beyond 30th September 2011. More...
DERBYSHIRE DUO CAPPED -
Derbyshire County Cricket Club has announced that Wayne Madsen and Tim Groenewald have been capped. More...
KHAWAJA FACES SHORT LAYOFF -
Derbyshire overseas player Usman Khawaja misses the LV = County Championship opener against Gloucestershire with a thigh strain. More...
CHRIS GRANT ELECTED CHAIRMAN OF DCCC -
Chris Grant has been appointed Chairman of Derbyshire County Cricket Club following the Annual General Meeting at The County Ground. More...
DERBYSHIRE CCC ON BARBADOS TOUR -
Derbyshire's players and coaching staff departed for Barbados early yesterday morning where they will step up their pre-season preparations. More...
DCCC STEPS UP TO BAT AS NEW CHAMPION -
Destination Chesterfield was bowled over to sign Derbyshire County Cricket Club as it's 50th member of the 'Chesterfield Champions' scheme. More..